The steady rise in mercury here in the UAE calls for plenty of refreshing and delicious summer coolants. I've always wanted to make ice creams at home but somehow that never really worked out. A couple of years ago I found the recipe in the Friday magazine and quickly tried it out. It was almost perfect and everybody loved it but I wanted to try it again and tweak the recipe a bit before I could share it here on the blog. Somehow over a period of time I just forgot about the recipe. Just last month I rediscovered it while hunting for another recipe and I wanted to try it right away. I got around to making it just yesterday and we have spent two blissful summer afternoons enjoying this deliciously creamy kulfi!
Kulfi by the way, is a popular frozen milk dessert in the Indian subcontinent and is similar to ice cream but is more dense and creamy. The texture too is slightly harder than ice cream as the thickened, semi condensed (reduced) milk that is the base of a kulfi is not whipped like the ice cream. Ice cream is easier to scoop out and hence melts faster while kulfis are more solid and harder and take longer to melt. But, alas! despite the fact that the kulfi takes longer to melt, this was perhaps one of the most difficult photoshoots I've done. The weather outside was so hot that the poor kulfi began to melt faster than my camera's shutter speed! I did prolong the shoot as the weather has been pretty bleak these past few days and it was hard to work with the available natural light. I wish the circumstances were better or I was more prepared. Better luck next time I guess!
For me, making the kulfi was a long wait – don't get me wrong, it won't take you more than half an hour to get the mixture together and a few hours of freezer time before you can sink your teeth into one. The wait was long for me as I was very particular of making them in proper kulfi moulds. My last trip to Mangalore saw me hunting for them relentlessly. Finally I found them in a small shop but to my dismay it was the last box of moulds with some pretty damaged ones in them. I placed the order for a new set and got it just in time before I left for Dubai. So after a long wait I finally got the chance to make these yesterday – procrastination at its best! In my defence, the weather in Dubai is not always as hot so the kulfi had to wait for its turn to chill in my freezer!
Besides craving for a frozen milky dessert my tastebuds were also craving for some Alphonso mangoes. Having grown up in Mangalore I have eaten plenty of mangoes and so many different varieties of them that I don't really consider myself of an Alphonso buff but suddenly last week I developed a craving for them. Call it homesickness – I missed Mumbai and its summers (compared to the arabian summers, the heat in Mumbai is not as bad) and perhaps because the Alphonso was the only variety easily available to me when we were in Mumbai (maybe I never went looking for other varieties. Maybe I am an Alphonso buff, who knows!)
When I served the kulfi with the Alphonso it was a match made in heaven – the awesomeness of the Alphonos and the creaminess of the coconut & lime kulfi is something you need to experience bite after bite! Everything about this is summery! This is a pair, or should I say, a trio you shouldn't miss this summer!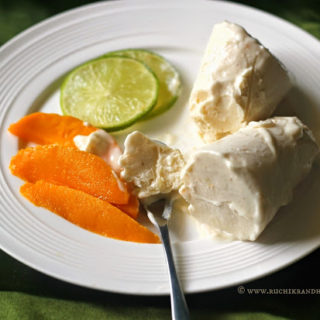 Creamy Lime & Coconut Kulfi
This classic Indian ice cream, made with the flavours of lime and coconut is just what you need on a hot summer's day
Print
Pin
Rate
Ingredients
2

cups

(500 ml) whole milk (don't use low fat)

1

cup

(250 ml) sweetened condensed milk (like Milkmaid/Amul Mithaimate) * see notes

1

cup

(250 ml) heavy cream/fresh cream * see notes

1/4

cup

freshly grated coconut * see notes

zest of 1 lime * see notes

1

teaspoon

or more lime or lemon juice * see notes
To serve:
mangoes

preferably or any fresh pulpy fruit

toasted coconut slivers

to garnish (optional)
Instructions
Place the milk, condensed milk and fresh cream in a heavy based pan and whisk lightly until smooth and lump free. Place the pan over a medium heat and cook until the mixture reduces to one third of its quantity (when the mixture has thickened and begins to coat the back of the spoon and looks visibly reduced from the quantity you started off with). Remove from heat and let it cool.

In the meanwhile on a medium heat, toast the grated coconut and when the milk mixture has cooled down completely, add the toasted coconut to it. Add the lime zest and lime juice a few drops at a time, whisking the mixture vigorously, tasting along the way, until you are satisfied with its flavour. Pour the mixture into kulfi moulds and freeze overnight.

To serve, hold a warm cloth around each mould and gently press it to release onto a serving dish. Serve with mangoes or fresh fruit of your choice. Garnish with toasted coconut slivers if desired.
Notes
1. I used the Milkmaid condensed milk that comes in a 397 gm tin. I didn't need to use it completely and was left with approx a little less than 1/4 cup remaining which I used for another dish. You can go ahead and use up the entire tin if you wish (if you cant think of anything to do with the remainder) but for the given quantity of milk the kulfi may turn out a tad too sweet, so you can adjust the sweetness by adding another 1/2 cup of milk and proceeding with the rest of the recipe.
2. I used the Al Marai fresh cream (total of 2-1/2 tubs of 100 gram each). You can use Amul fresh cream if you are in India or if the Nestle thick cream tins are available you can use them too – they have a longer shelf life.
3. The original recipe called for 2 teaspoons of lime zest (grated rind/outer skin of a lime) and 3 tablespoons of the juice. I suggest you use less of both and increase it after tasting the mixture. I have made this kulfi twice with different amounts of lime. Some people don't like the excessive lime flavour as it may taste like the cream has curdled. Also, the zest may be too strong for some, so I recommend using very little lime juice and zest – just enough to give that hint of lime but one that does not overpower the entire flavour of the kulfi.
4. The original recipe called for 1/2 cup of grated coconut which in my opinion was too much. You can use as much coconut as you wish.
Nutrition
Nutrition Facts
Creamy Lime & Coconut Kulfi
Amount per Serving
% Daily Value*
* Percent Daily Values are based on a 2000 calorie diet.
Disclaimer
The nutritional values are only indicative.
Tried this recipe?
Please leave a comment & rate the recipe below or share a photo on Instagram and tag me @ruchikrandhap