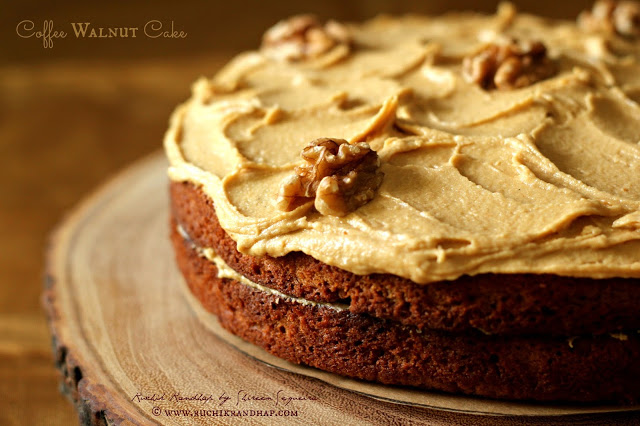 I have always loved simple cakes and so when I flipped through the little book on Coffee called 'Coffee, 100 Everyday Recipes' that I bought a few years ago, I fell in love with the picture of a simple coffee and walnut cake. I had bookmarked it long ago but was able to try it out only last month. I decided that for a coffee lover like me, it was only apt that my birthday cake should be of this flavour. Although I had planned to improvise on my fondant making skills in November and decided that my birthday cake would be next in line, for such improvisation (a.k.a scapegoat for practice), I eventually dumped the plans and stuck to my favourite way to frost a cake – buttercream!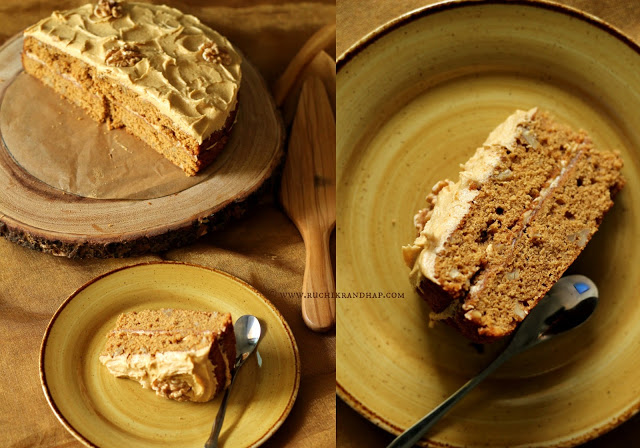 In my opinion, nothing is more tasty and wholesome than simple buttercream icing. Fondant is lovely too – but is perhaps more suited for children's cakes (again, just my opinion) and plus the work that goes into creating a masterpiece is a lot and owing to the busy Christmas month I was not willing to spend more than the required time in the kitchen, slaving over my own cake! It's not like I was going to impress someone else with a fancy cake, right? So why bother?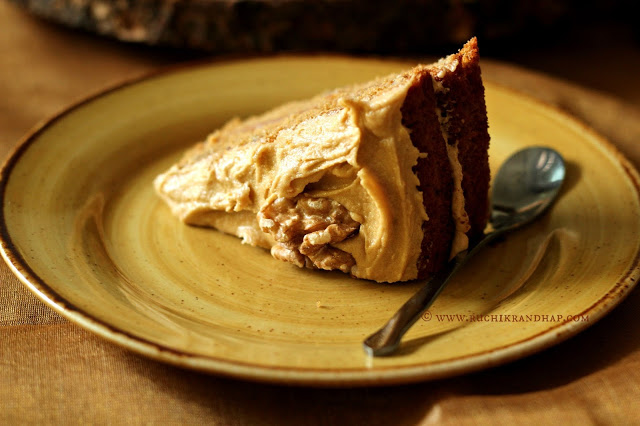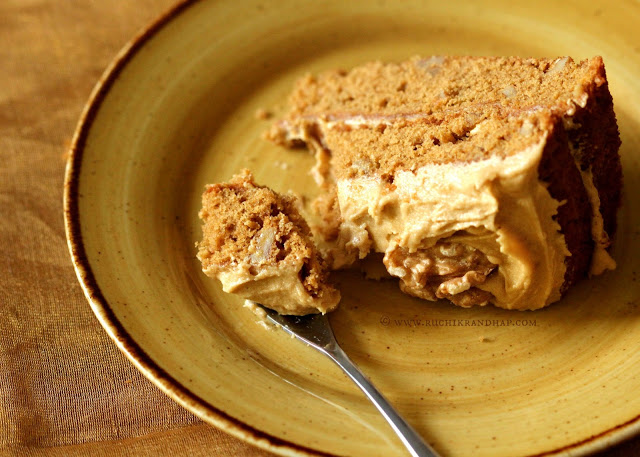 So folks, back to my cake now. If you enjoy simple cakes, then this cake is for you. It makes for a perfect celebratory cake and an anytime, any mood cake too! Enjoy!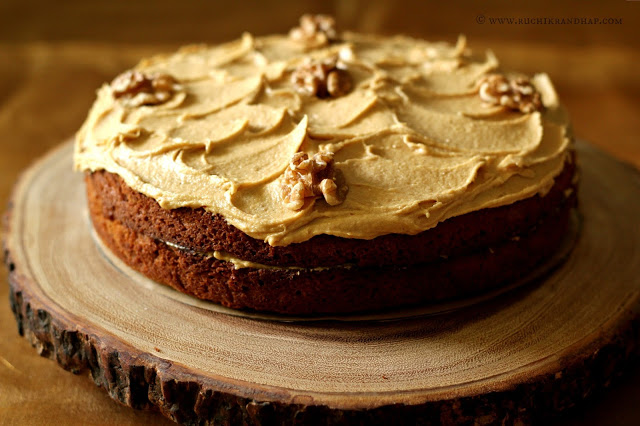 New here? Subscribe to my free newsletters with my latest recipes!
If you give this recipe a try do leave a comment on this post down below and don't forget to give it a star rating! It will really help more readers discover my recipes! Don't forget to check out my latest videos on my YouTube channel. If you like what you see, do give me a thumbs-up (like), share & comment and subscribe to my channel so that the gods of YouTube (a.k.a algorithms) recommend my channel to a wider audience with similar tastes and more & more people can discover my videos!
And while you're here, do follow me on Instagram, Pinterest,  Facebook and Twitter. If you'd like to say hello or have detailed queries do send an email at ruchikrandhap@gmail.com. I'd love to hear from you!
Click the image below to save this recipe on Pinterest!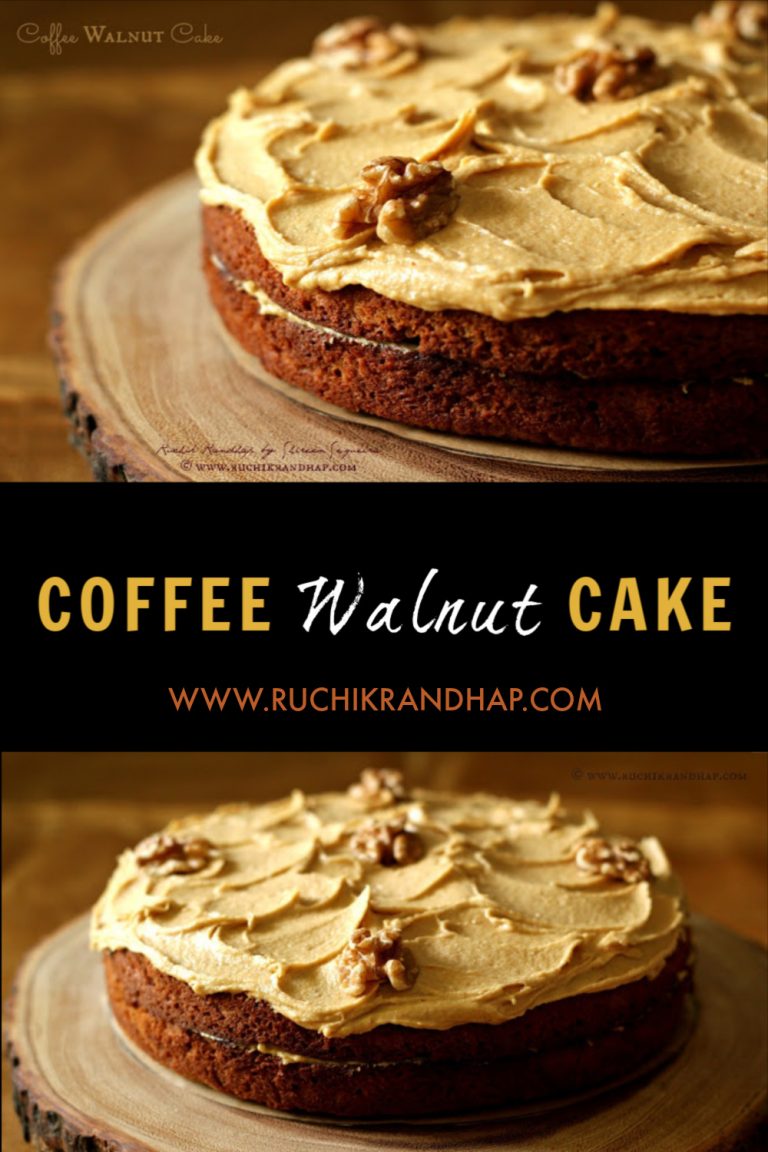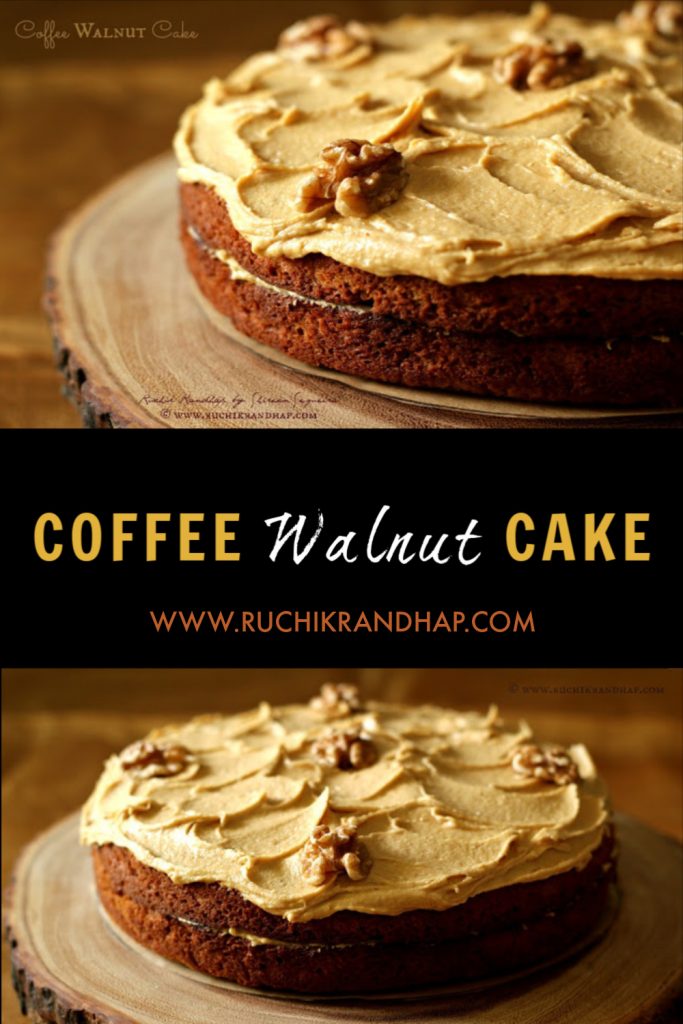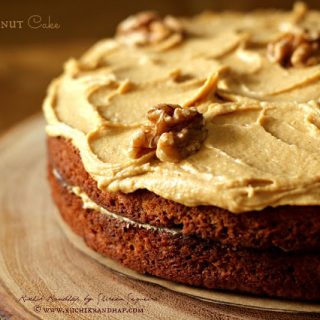 Coffee Walnut Cake
A simple coffee sponge cake with delicious buttercream sandwiched between two layers. Makes for a simple celebratory cake or a tea time accompaniment.
Keyword:
Coffee, Coffee Cake
Ingredients
175

grams

(6 oz) unsalted butter, at room temperature

175

grams

(6 oz) light muscovado (soft deep brown) sugar

3

large eggs, lightly beaten

3

tablespoons

strong black coffee, cooled * see notes

175

grams

(6 oz) all purpose flour

2

teaspoons

baking powder

1/4

teaspoon

salt

115

grams

(4 oz) walnuts, coarsely chopped plus extra walnut halves to decorate
For the frosting/icing:
115

grams

4 oz unsalted butter, at room temperature

200

grams

icing sugar

1

tablespoon

strong black coffee, cooled

1/2

teaspoon

vanilla extract
Instructions
Preheat oven to 175 degrees C. Grease and line two 8 or 9 inch round pans with baking parchment and keep aside

2 In a large bowl, beat the butter and the muscovado sugar till pale. Add the eggs, one at a time beating well after each addition. Now add the coffee and beat well.

Sift in the flour, baking powder and salt into the mixture and using a spatula fold lightly. Add the chopped walnuts fold gently.

Divide the mixture between the two pans and level off the surface. Bake in the preheated oven for about 20-22 mins. Check with a skewer, if it comes out with a slight crumb on it (but clean otherwise), it's okay (as long as you don't get uncooked batter when you pull out the skewer). Remove the pans out. If you overbake this cake it will turn out dryish.

Place the pans on a wire rack to cool for about 5-6 mins, then turn out the cakes gently and let cool completely.

While the cakes are cooling, prepare the frosting. Place all the ingredients mentioned under 'For the frosting/icing' in a bowl and beat till everything is well incorporated.

Place one cake upside down (so that the dome side is facing down and the flat side is facing upwards) on a cake stand or serving plate and apply half of the frosting mixture over it. Then place the second cake over it (upside down again) and apply the remaining frosting on top. Use a palette knife to make swirls/wave like design on top. Decorate with walnut halves and serve.
Recipe Notes
If you have coffee/chicory essence you may use 1 tablespoon of that instead of freshly brewed coffee.
Baking Essentials
Disclaimer: This is an affiliate link to Amazon India. If you purchase the product using this link I may earn a small commission from the sale. Thank you!