I love a hearty South Indian breakfast, so I go that extra mile to make the traditional breakfast that I've grown up eating – Idli, Dosa, Appam, Sanna, Panpolay, Mutli – aah, what is life without them? But then if you want to have a proper breakfast then it is also important to team it up with the right accompaniment. South Indian breads (as mentioned above) are usually fermented (except Neer Dosa & Mutli/Dumplings) and when served with a piping hot Sambhar (spiced & seasoned mixed vegetable broth) or a coconut chutney feels like a complete breakfast providing the body with the right nourishment to kick start one's metabolism.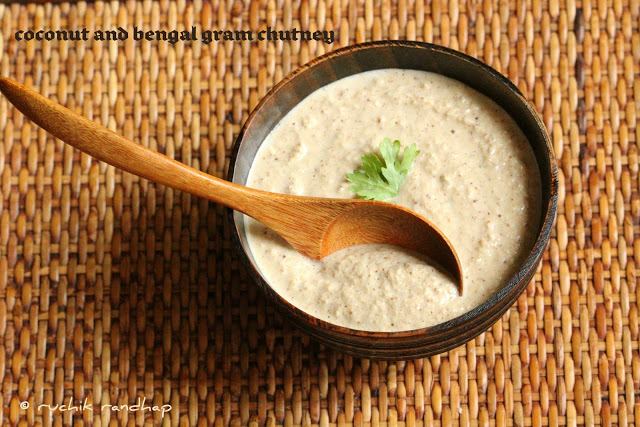 Since we usually rush through the mornings, I don't quite prepare both the Sambhar & the Chutney (although I'd love to do that someday), so usually I make a simple
Coconut & Coriander Chutney
or the
Curry Leaves (Kadipatta) Chutney
, but I recently tasted this Roasted Chana Dal Chutney that adds that extra taste that roasted gram imparts. It was made by my friend's Cook and we liked it instantly. I tried to make it at home by modifying the ingredients each time that I tried it and it has been my husband's favourite ever since so I find myself trying this more often these days – or until I find another new recipe 🙂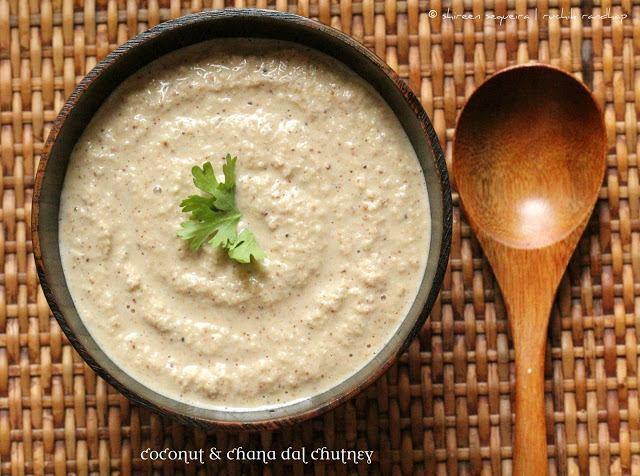 Coconut & Roasted Chana Dal Chutney
You Need:
1/2 cup or 1 fistful grated coconut
1-1/2 tbsp chana dal (Bengal gram)
1/2 inch ginger
1 clove garlic
2 small green chillies
2 tbsp sour curds (yoghurt)
Method:
On a hot tawa lightly roast the chana dal – do not brown them too much or they will taste bitter. Grind all the ingredients above to a coarse texture. Add boiled & cooled water only to assist grinding or to adjust consistency.