Christmas is all about giving and sharing and this festive season brings with it great memories of food. While my childhood revolved around traditional Mangalorean goodies called the Kuswar my adulthood had a mixture of goodies from everywhere, especially after I got married and reached Bombay. I have eaten several types of goodies and I am really excited to recreate them this Christmas. While that is still happening in the background everyday with a many hits and a few flops there is this amazing recipe I decided to share with you today. Actually my fingers have been itching to post this recipe for quite sometime now. It is a delectable Middle Eastern cake that is made with semolina instead of all purpose flour (maida) and one that is drenched in sugar syrup. Hang in there! Don't let the mention of sugar syrup put you off! I personally don't like things that are ultra sweet and as we figuratively say "drenched in sugar". This is a beautiful and genius of a dessert cake that I got to know about after coming to Dubai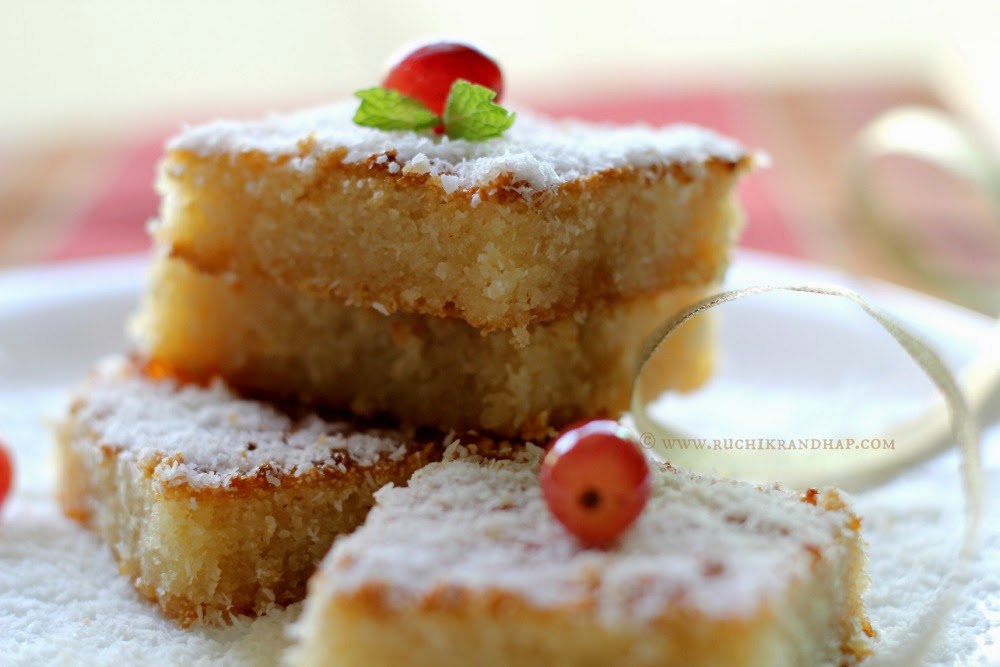 My friend Veda had come home last year during Diwali and she brought me some basbousa. The minute we opened the pretty tin box the delicious aroma of ghee wafted out of it and we dived into it and ate almost all the pieces in no time. This included my brother's family and us. The basbousa was gone in no time and everyone wondered what this wonderful cake was called. I noted down her recipe and intended to try it out but a whole year passed before I saw another recipe with coconut this time in the Friday magazine and off I went to try it out. It was as if the basbousa was begging to be tried out immediately.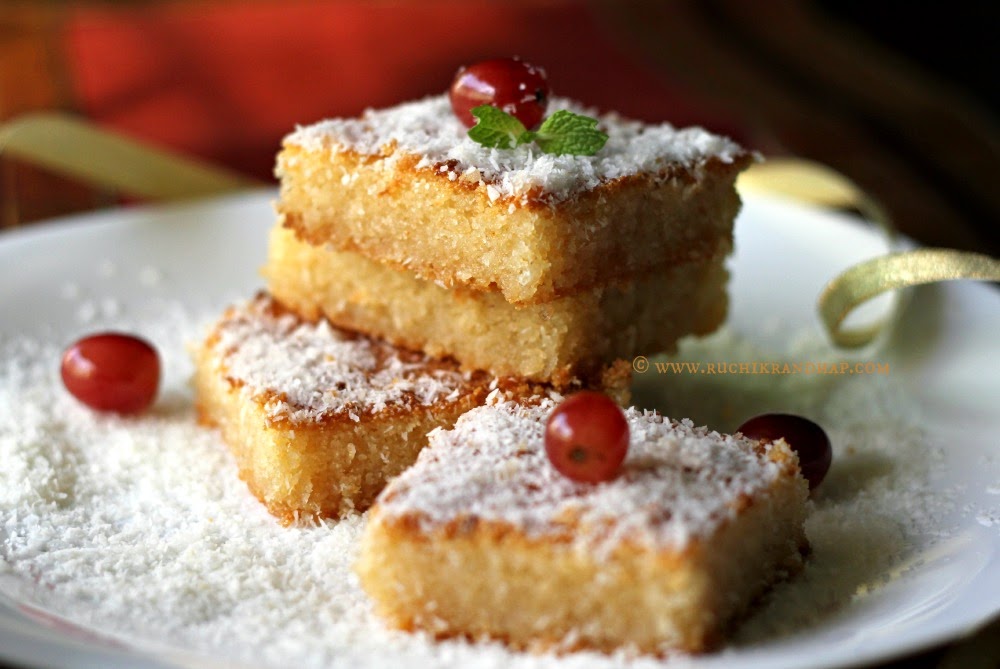 The recipe was simple and easy to follow and the basbousa was out of the oven in no time. My cousins who had come over enjoyed every slice of it and the whole evening was spent discussing this marvellous and beautiful dessert cake. I decided then that it must be a part of my culinary repertoire and most definitely be a part of the Christmas food tradition at home. We so loved this cake that I've made it several times over and gifted it to friends.
Given the ease of this recipe ideally I would have liked to post this closer to Christmas but I just couldn't resist. It is my most favourite dessert cake so far. For some sinful indulgence microwave the cake a bit before serving with chocolate ice cream. The combination of hot & cold is mind blowing!
Do give it a try and I am sure you'll fall in love with it!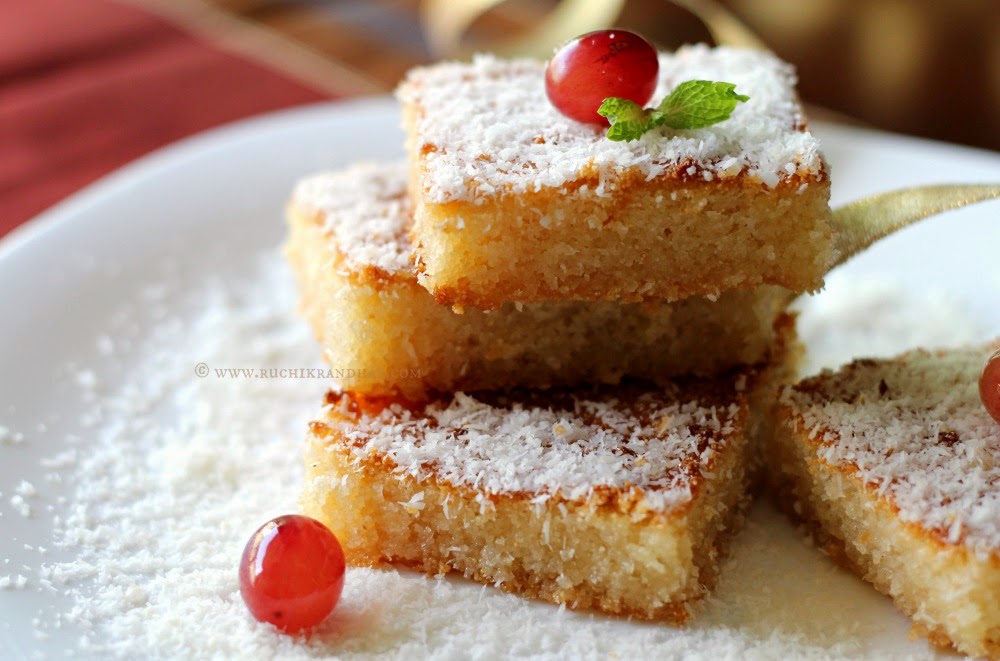 Coconut Basbousa
Prep time: 5 mins | Baking time: 30-35 mins | Yield: 16 squares
Ingredients:
1 tablespoon tahina (sesame paste) * see notes
100 grams ghee, at room temperature (softened or melted)
1 tin (397grams) condensed milk
1 teaspoon baking powder
320 grams (1-3/4th cups plus 2 tablespoons) semolina/rava * see notes
100 grams desiccated coconut plus extra to garnish
1 cup (240ml) water
For the syrup:
300 grams (1-1/2 cups) sugar
250 ml water
1 teaspoon lemon juice
1 tablespoon orange blossom water (or rose water)
Method:
1. Preheat oven to 190 degrees C. Smear a 28×24 cm baking dish (glass or tin) with the tahina and keep aside.
2. In a bowl, mix the ghee, condensed milk and baking powder. Add the semolina, dessicated coconut and water to form a thick paste.
3. Pour this mixture into the prepared pan and level out the surface using a spatula or the back of a spoon. Bake in the preheated oven for 33-35 minutes or until the top is golden brown.
4. While the basbousa is baking make the syrup. In a heavy based saucepan add the sugar and water and bring it to a boil. Reduce the heat and let it simmer for 6-8 minutes.
5. Remove the saucepan from the heat and add the lemon juice and the orange blossom water (or rosewater) and let it cool to room temperature.
6. When the basbousa is done, remove it from the oven and immediately pour the prepared syrup evenly over it – to do this use a tablespoon and pour our part by part so that you cover the entire surface of the basbousa with the syrup. Take care not to dump the syrup all in one go in one are – we need the whole thing soaking in the syrup.
7. Let the basbousa soak in all the syrup – for best results, keep it aside for 45mins – 1 hour before serving.
8. To serve, cut into slices, sprinkle some desiccated coconut and garnish with berries or mint leaves.
Notes:
1. Tahina is a popular condiment in Arabic/Middle Eastern cuisine. It is a thick paste made of white sesame seeds and olive oil and is popularly used in the preparation of hummus – a chickpea dip. If you don't have it you can make your own at home but since this recipe needs just 1 tablespoon of it you can skip it and use ghee or butter to grease the pan.
2. 1 cup semolina is 175 grams. 3/4th cup = 125 grams and 2 tablespoons is 20 grams of semolina. So all in all you need 320 grams (1-3/4th cups + 2 tablespoons)
3. I used a glass baking dish that was slightly longer in length than the required measurement and so the basbousa required approx 32 mins to bake.
4. The syrup needs to be poured onto the basbousa when it is just out of the oven and still in the pan. Leave it in the pan to soak up the syrup for at least 45 mins. To cut, just run a knife through it and remove the pieces. If you wish you can transfer it onto a board but the pieces may break so be careful.
5. You may use almonds (skinless/blanched) to decorate – in this case, decorate them over the batter before placing the tray in the oven. You may even garnish with flaked almonds just before serving.
6. This cake keeps well for 3-4 days at room temperature. If you wish to gift it to someone do make sure you line the box/tin with baking parchment (butter paper) so that the excess ghee/syrup doesn't leak out. An airtight box would be the best bet.