It's been a while since I posted a breakfast recipe. Since I love repeating myself, let me do it once again – I LOVE a hearty breakfast! I am such a breakfast person that I totally look forward to the most important meal of the day. A good breakfast not only helps me jump start the day, it also provides a big boost to my energy levels. Thanks to the blog I've had the great fortune of exploring cuisines and I am always on the look out for good recipes. However, if you ask me, I am always happy & contented with our typical South Indian breakfast options – there are loads of them although broadly categorized under idlis, dosas & upmas. There are a myriad ways in which you can fix your daily breakfast even if you are just making an idli or a dosa. Not to forget the humble upma which is often not the preferred breakfast option for many – but it is prepared at least once in ten days at my place. The sheera is a much loved sweet dish that Roshan loves having once a while – loaded with ghee, raisins and nuts, his favourite is the one which includes a few chunks of fresh pineapple. Now what if both these breakfast items are served to you on a platter? Call it the chow chow bhath!
Chow chow bhath is popularly found on breakfast menus across restaurants in Karnataka except Mangalore (it wasn't on the menu cards the last time I checked). A lot of these small pure veg hotels in Bangalore serve it – I haven't been to other places in Karnataka. My first tryst with this amazing breakfast combo was when I was working in Bangalore (I refuse to call it Bengaluru!) a decade ago and I remember digging into a nice plate of savoury khara bhath with its faithful friend on the side – the kesari bhath.
Khara bhath is nothing but savoury semolina or upma, uppittu or sajjige – call it what you like. Kesari bhath popularly known as sheera or rawa halwa is this beautifully smooth blob of bright yellow semolina drenched in aromatic ghee and so delicious that it just melts in your mouth. I am sure that those of you who have lived/live in Bangalore have at least had the good fortune of tasting it at least once. What??? Never tasted it? Are you kidding me?? Go and have a plateful of it at Shiv Sagar or any of these little pure veg restaurants that serve some. If that's not possible, just make some this weekend. The recipe's right here for you. I say weekend because, let's face it – making two different items is going to take you some time and its best done in a leisurely manner. This dish deserves patience and appreciation. It needs respect!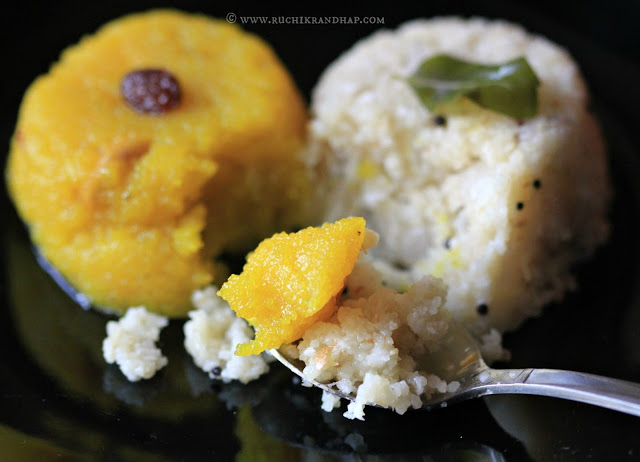 About this dish
A lovely breakfast combo of sweet & savoury semolina. Each balancing the other so well – takes your taste buds to experience flavours and aromas on a different level. It is however a bit of extra work as you need to make two items and serve them as a combo, however, trust me, it's worth it. The sheera/kesari bhath is typically made with loads of pure ghee – so much that it oozes out of it and hence it is usually served on a banana leaf which can be discarded after the meal is finished and one can do away with scrubbing greasy dishes. However, if you are health conscious do adjust the amount of ghee and sugar to suit your taste buds.
Chow Chow Bhath
Kesari Baath (Sheera / Rawa Kesari / Sooji Halwa)
You Need:
1 cup fine semolina/rawa (Bombay sooji)
1/2 cup ghee *see note#1
1-1/2 cups sugar *see note#2
3 cups water or milk (or use half of each)
25 grams cashew nuts
25 grams raisins
1/3 cup fresh pineapple pieces (optional)
2-3 drops of yellow food colouring or a few strands of saffron dissolved in 2 tbsp milk * see note#3
Method:
Heat ghee in a large kadai and on a medium low flame lightly fry the cashew nuts till light golden, add the raisins till they just plump up. Remove immediately (before they burn) and set aside.
2. To the same pan add the semolina and roast on a medium low heat for about 4-5 minutes. While the semolina is roasting bring the water (and/or) milk to a boil and add it to the semolina. Add the saffron milk or food colouring dissolved in milk. Be careful as the hot bubbling mixture will splutter – so keep your face at a safe distance.
3. Add the sugar and mix well. Continue stirring until the mixture comes together like a ball (ghee begins to leave from it). Add the roasted raisins and cashew nuts and pineapple pieces if using. Cover the pan and cook on a low flame for about 2 minutes. Turn off the flame and keep the pan covered till ready to serve.
4. Serve hot!
Notes
1. You may increase the ghee to upto 1 cup for a really greasy, heavy duty yet delicious sheera.
2. You can reduce the ghee to 1-1/2 cups of sugar in case you won't be preparing the upma to go along with it
3. Use saffron instead of food colouring for a lighter hue of yellow – it is far more healthy than using artificial colouring especially if you are serving the dish to kids.
Khara Baath (Upma/Uppittu/Sajjige)
You Need:
1 cup thick semolina (coarse rawa / lapsi of medium thickness)
3 cups water (use less water if you are using fine semolina/Bombay sooji * see note#1
2-3 tablespoons oil
1-2 small green chillies slit (adjust to taste)
1 inch ginger finely chopped
1 sprig curry leaves (kadipatta)
1/4 teaspoon mustard
1 large onion chopped
2 tablespoons grated coconut (optional)
2 tablespoons grated carrots (optional)
1 tablespoon frozen green peas (optional) * see note#2
2-3 drops of lime juice
Salt to taste
Method:
1. Heat oil in a large kadhai/ heavy bottomed pan and add the mustard. Once they splutter add the green chillies, onions and curry leaves and fry till the onions turn pale (pinkish). While the onions are frying boil the water in another pan.
2. Add the semolina to the fried onions and fry for a couple of minutes. Add the boiling water and salt to taste (approx 3/4th level teaspoon) and mix. Be careful as the hot bubbling mixture will splutter – so keep your face at a safe distance.
3. Cover the pan and let it cook on a low flame for about 2 minutes. Add the coconut, carrots & peas (if using) and cover till cooked. Sprinkle the lime juice and stir once just before turning off the flame.
4. Serve hot.
Notes:
1. The usual semolina to water ratio is 1:2 (1 cup semolina needs 2 cups of water) – however, to make it really smooth and mushy you need to add an extra cup as we are using a thicker variety of semolina here.
2. If you are using fresh peas, make sure you blanch them in advance before adding it to the rawa in order to cook fast. I use store bought frozen peas which are pre-cooked.