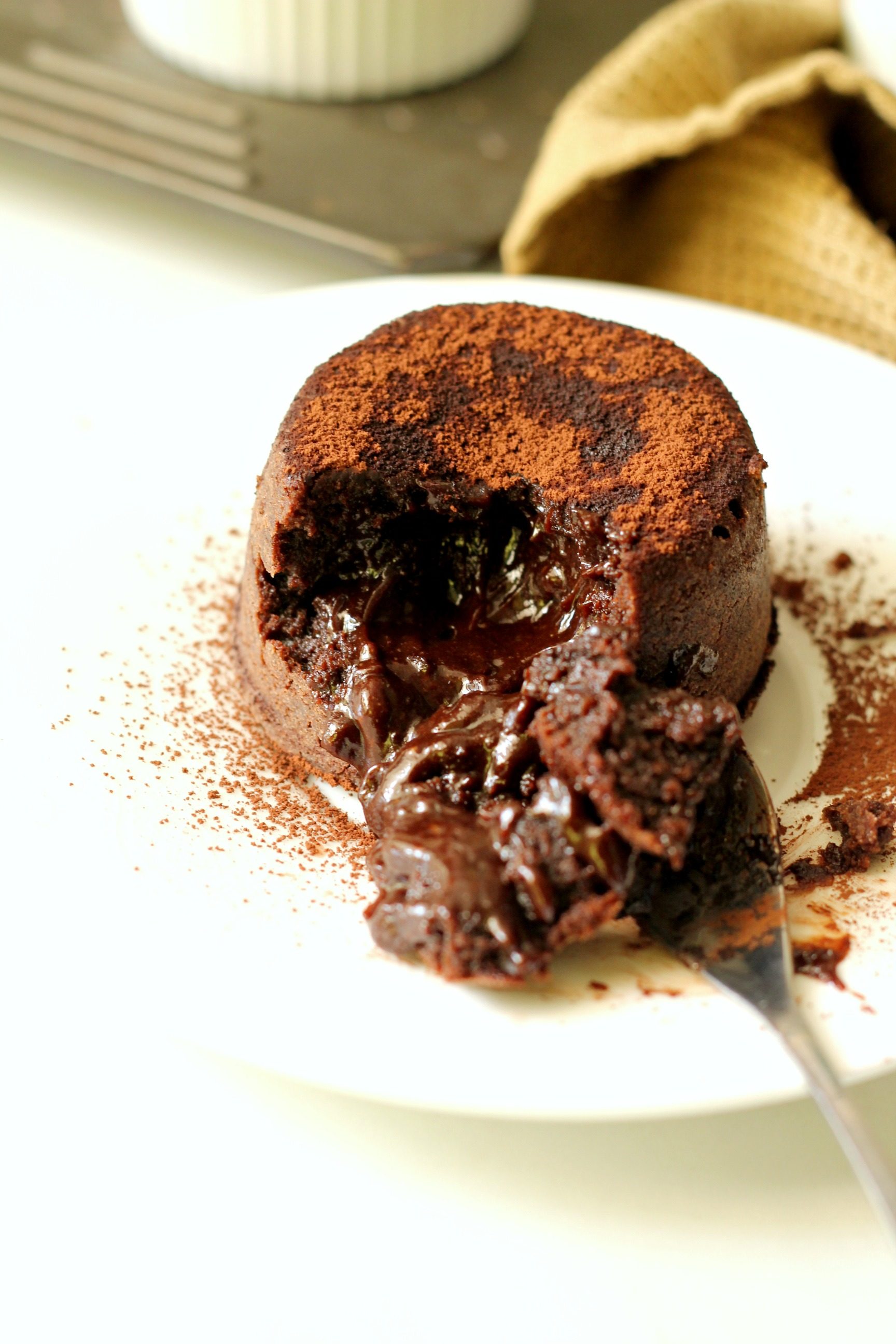 Pin
Baking for kids is one of my favourite things to do during vacations. Let's put it this way – baking is my most favourite thing to be honest, but if I bake a lot and there are no takers (due to whatever reasons) then it really doesn't feel like a fruitful exercise however, if there are super active kids who enjoy the goodies and can burn off the extra calories, then that's a fair deal, isn't it? I am so glad that we have a lot of kids around who polish off the stuff I bake and these lava cakes or 'fondants' as they are officially called, were polished off in minutes. Well, actually it took longer than that as three out of the four kids are as obsessed with taking food pictures as I am 🙂 Each one spent some time taking pictures of their lava cakes before proceeding to gobble them up. It was fun to watch them race against time as the sun was setting and getting good pictures was really hard. I am glad that they are really patient kids.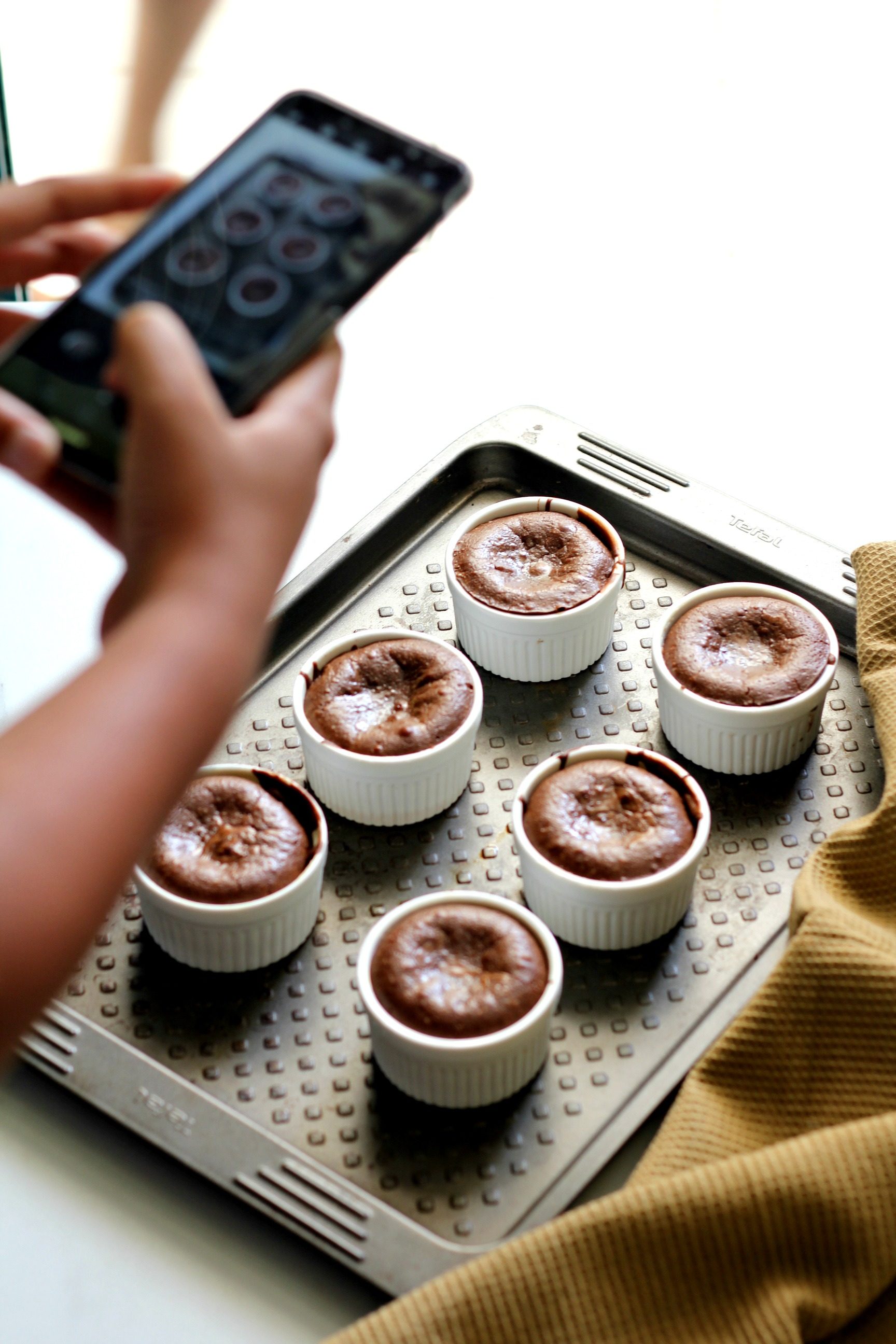 Pin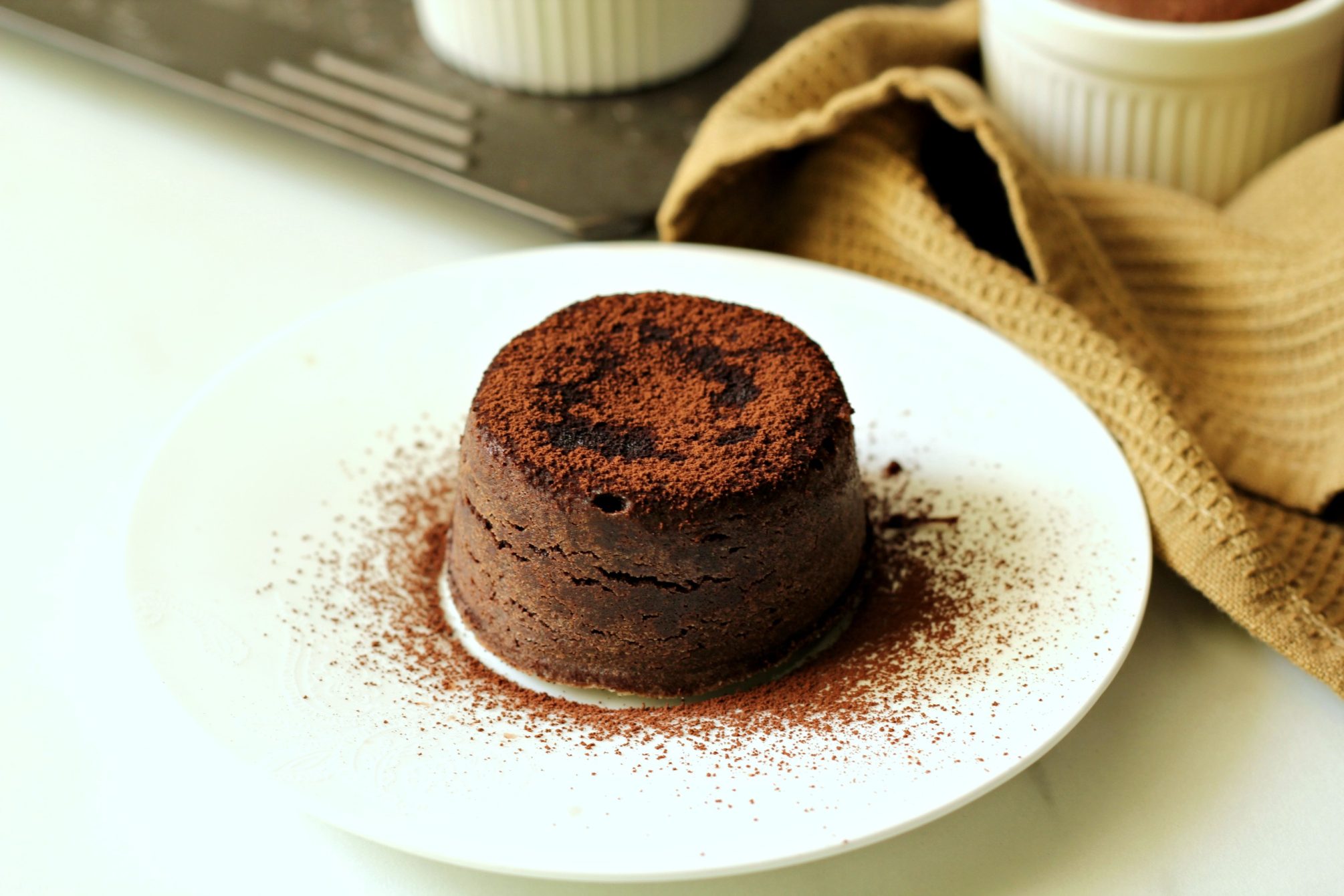 Pin
Over the years I have come across several chocolate fondant recipes. In India they are popularly known as 'Lava Cakes' with the first of the lot being dished out by Dominos Pizza in its dessert menu. This was a few years ago, when I still lived in India. Not sure if they still have these cakes on their menu. Along with the twisty garlic bread served with a cheesy dip, these lava cakes were a must have whenever we ordered some pizza. Dominos used to be our pizza of choice as their delivery was on time too. I never really bothered trying out any recipes in those days. I probably would not have had tried these too if I hadn't come across a recipe cutting from my huge collection. I just decided to make them on a whim as a means to keep hungry kids entertained and satiated at the same time. These fondant cakes are delicious and rich besides being gooey. They are a perfect treat for little ones, as a dessert on your party menu, as a midnight snack and also something you'd want to sink your teeth into on a moody rainy day (heard that the rains have gripped most part of South India as I type this)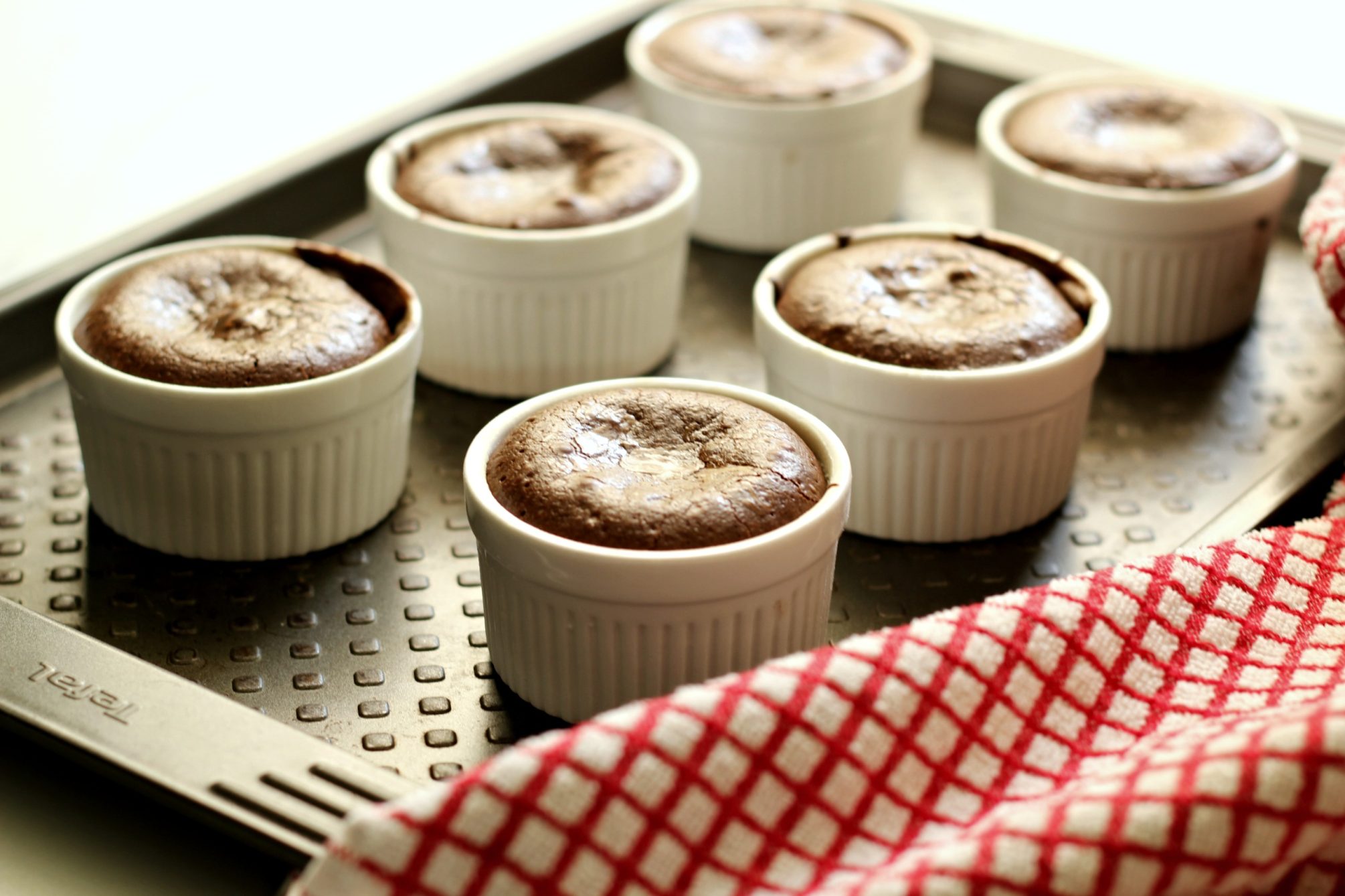 Pin
Chocolate fondants are also called as lava cakes because they ooze out hot, liquid chocolate like volcanic lava. I baked them for an extra minute than required and the liquid had already begun to dry up so I strongly recommend you keep an eye out and not over bake them or you may not get ooey-gooey lava cakes as desired.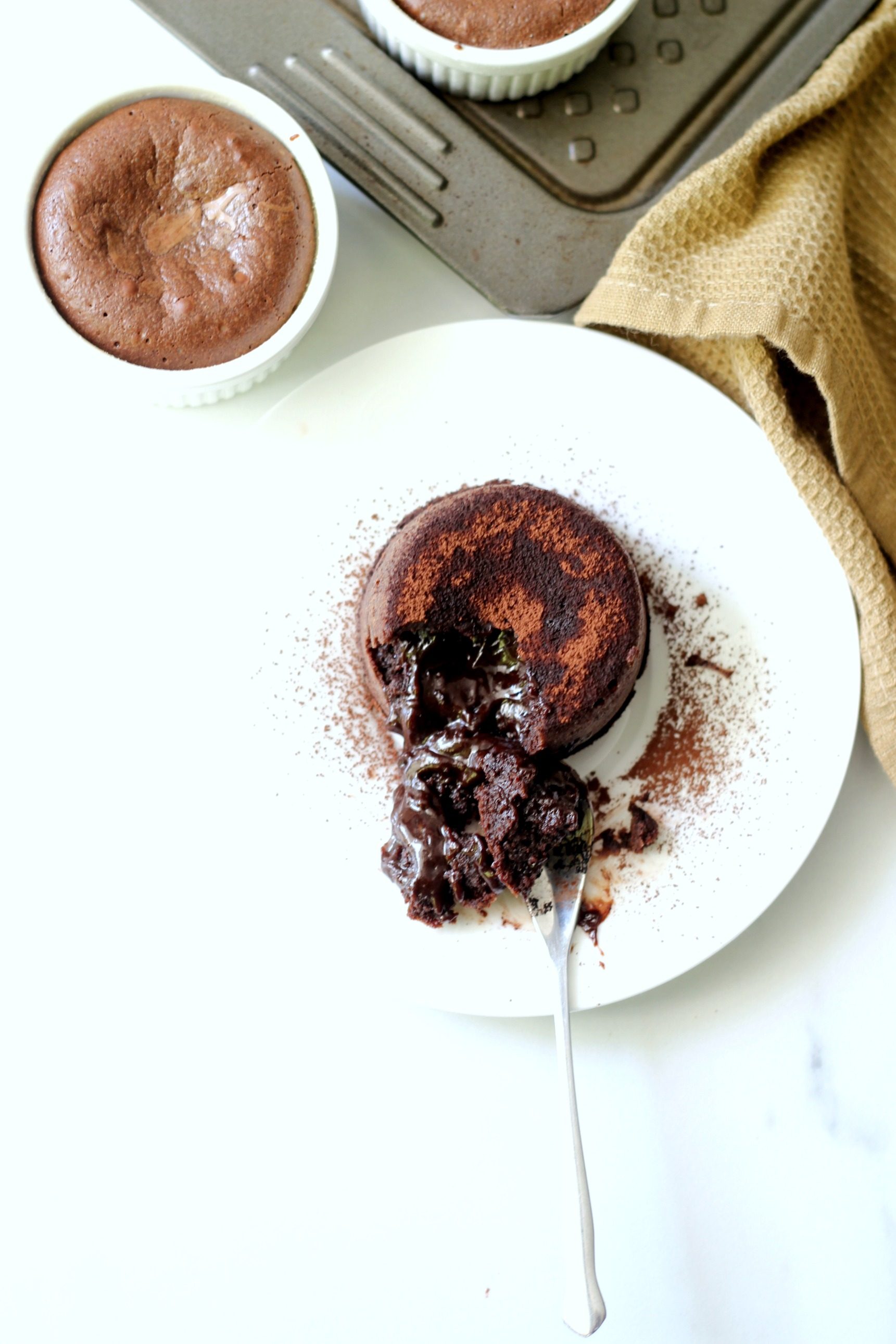 Pin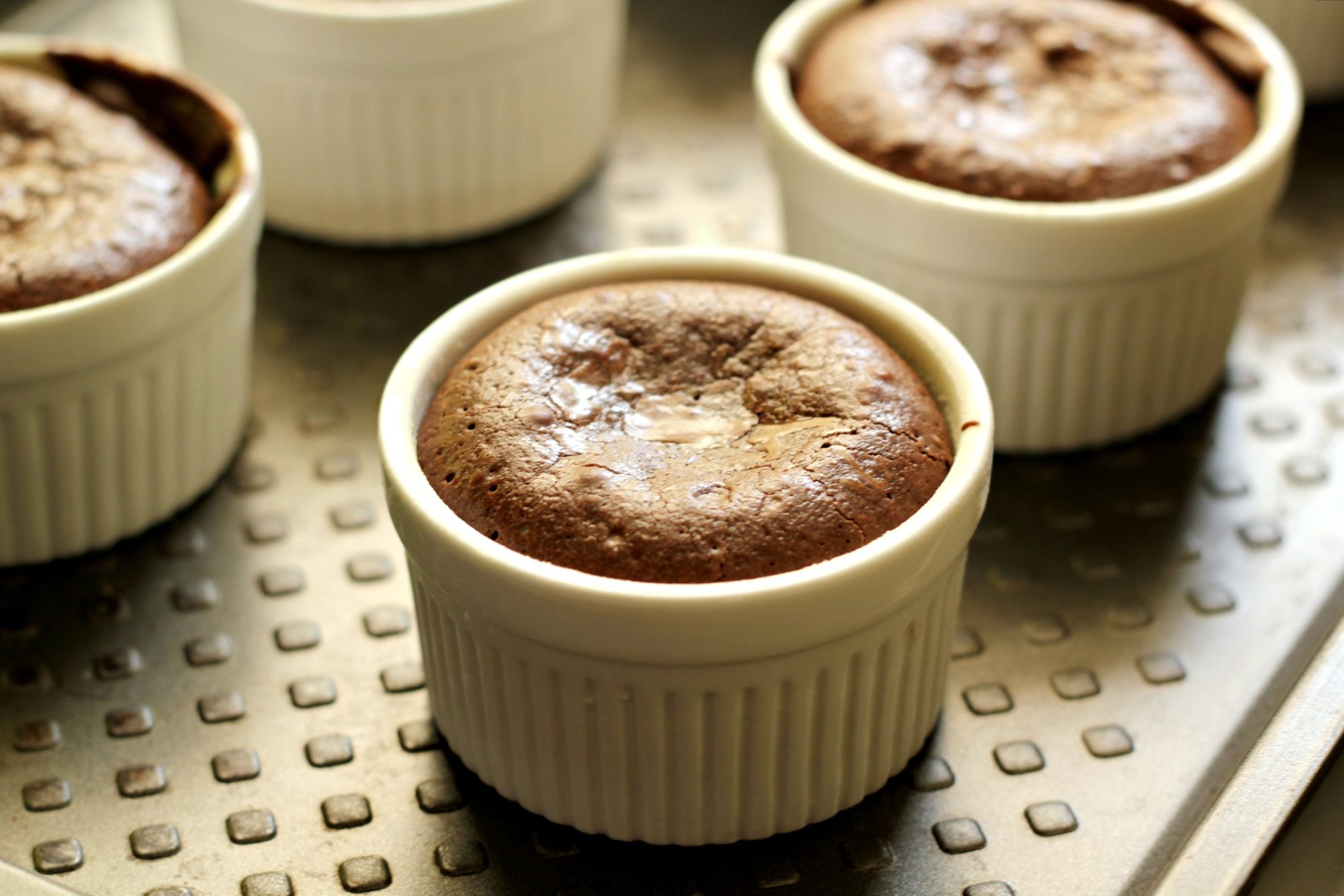 Pin
Click to save this recipe on Pinterest!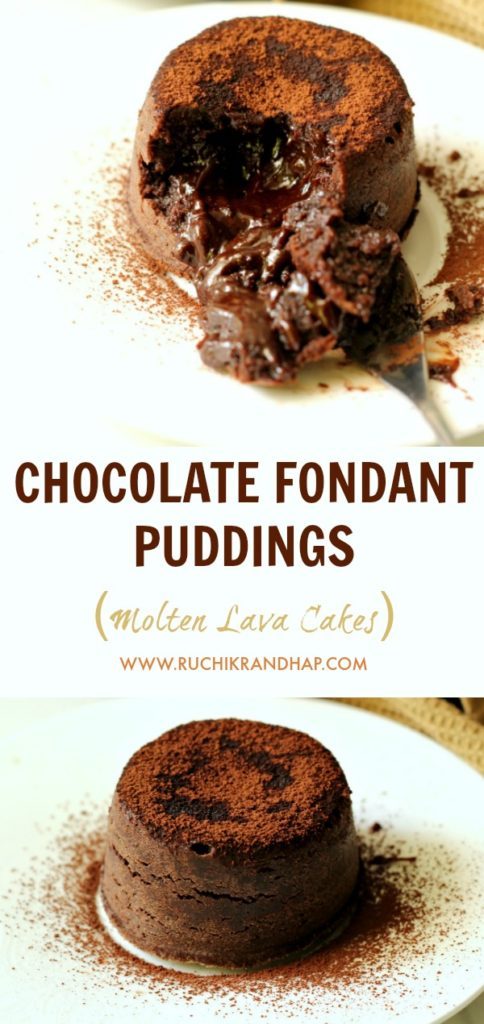 Pin
Chocolate Fondant Puddings
These much loved and delightful little puddings with chocolate that oozes out are a perfect end to a meal or as an occasional indulgence! 
Print
Pin
Rate
Ingredients
120

grams

butter

softened, plus extra to grease the moulds

35

grams

plain flour

plus extra to coat the moulds

200

grams

plain dark chocolate

chopped

2

eggs

2

yolks

110

grams

caster sugar

2

tablespoons

cocoa powder to dust
Instructions
Preheat the oven to 175 degrees C. Grease 6 ramekins or pudding moulds with butter. Dust each of them with flour and tap out the excess. Place all of them on a baking tray

Melt the chocolate and the butter in a bowl set over a simmering saucepan of water. Ensure that the bottom of the bowl does not touch the water and neither should any steam get into the bowl as the chocolate will seize (harden). You may also use a microwave to melt the chocolate for 20 seconds, remove, stir and pop it back into the microwave and continue till you get a smooth, lump free mixture. Remove and keep aside to cool

In another bowl whisk together the eggs, yolks and sugar till thick and pale. Add the melted and cooled chocolate mixture to this and mix till incorporated. Fold in the flour till you have a smooth batter.

Divide the mixture between the moulds and bake in the preheated oven for 10-12 minutes or till the fondants begin to pull away from the edges of the moulds. Do not over bake or the fondants will not have the molten chocolate oozing out. The tops will be springy and a few cracks may have formed. Remove and cool the fondants for about 2 minutes

Run a knife along the edges of the moulds to ease the fondants out of them. Invert on to serving plates, dust with the cocoa powder and serve immediately
Disclaimer
The nutritional values are only indicative.
Tried this recipe?
Please leave a comment & rate the recipe below or share a photo on Instagram and tag me @ruchikrandhap