Well, so here we are in the month of November. It's almost the end of the year. Ten full months have passed by and 'time flies' is an understatement! Well, wasn't it just yesterday that we wished everyone a Happy New Year?! I am sure that as you read this your thoughts are wandering back to the beginning of this year and all the events that unfolded as the months rolled by. Have I accomplished anything significant this year? Have I kept up to the promises I made to myself? The New Year resolutions sometimes remain just resolutions. I am glad I don't make any resolutions on Jan 1st anymore. Everyday is the 1st of January if you are serious about  getting something done. Anyway, before I make this sound like a speech usually made on 31st of December, let me tell you that I have achieved many a milestone as far as my blog is concerned. Apart from the page hits & growing list of followers, I have made some great blogger friends. It's amazing how we make more friends sitting inside the confines of our home via the internet than we actually make outside our homes. Friends we have never met check on us out of genuine concern when we disappear for a few days from the blogosphere. Among the many I would like to mention two such co-bloggers who I have never met before. Radhika of Tickling Palates who hosts Blog Hop Wednesdays and Charishma Shetty of Cherie's Stolen Recipes with whom I am paired with for today's hop.
Schedule 1 of Blog Hop Wednesdays has been a very good experience and today is the beginning of Schedule 2. I was more than happy to note that I was paired with Charishma (Cherie) for three reasons. 1.) I had already tried & loved recipes from her blog earlier (and posted them too on my blog!) 2) Cherie has an amazing collection of recipes with a focus on Bunt style recipes – one of my most favourite cuisines. 3) She's a friend!
After having gone through her recipe index many times before, it wasn't too difficult to select the recipe for today. In fact I selected two. A vegetarian & a non vegetarian recipe and I made both for our Sunday lunch which was well received by my family. For now I am posting the Chicken Ghee Roast recipe which I have tweaked in terms of the spice level to suit my taste. Will post the recipe of the
Bhende Puli
(Okra in Tamarind Gravy) soon
Ghee Roast is a preparation that is native to coastal Karnataka and apparently originated in Kundapur (near Udupi). It is one of the famous dishes on most restaurant menus in Mangalore and I have loved it for as long as I can remember. The best tasting Chicken Ghee Roast that I remember eating was at 'Cellar' – the little restaurant on the road that leads to St. Aloysious College from Bishop's House, Mangalore. When I got my first job in Mangalore, I along with a group of colleagues would plan to have our lunches in style – at restaurants that served some great Mangalorean food. I've had many a Ghee Roast at several places but the one at Cellar was undoubtedly the best. However, strangely, I never attempted to make it after I set up my own kitchen. Blog Hop was probably the perfect reason why I decided to make it today.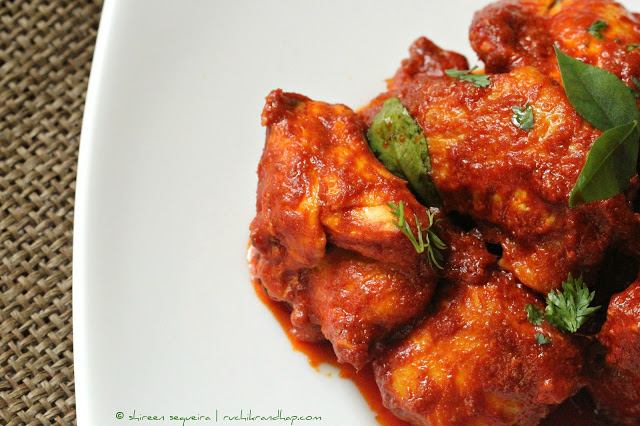 Chicken Ghee Roast is a marvellous invention that tastes best when made with the generous dollops of ghee that the recipe calls for. Don't skip the ghee & replace it with oil (like I tend to do for most recipes) – it will greatly alter the taste & it would be like killing the main ingredient. However, feel free to reduce it like I did. I am sure it will taste divine if you use home made ghee but store bought ghee works just fine. Ideally Mangalorean/Coastal food tastes the way it does because of the signature flavour rendered by local chillies namely Bedgi/Byadge (long dry red chillies) or Harekala (short dry red chillies) – you may try a blend of both. Since the recipe constitutes a large amount of chillies that give the required quantity for the masala, you may substitute the chillies mentioned above with Kashmiri chillies.
Try the Ghee Roast if you've never eaten it before – but it's definitely not something you can eat everyday as it is extremely rich thanks to the ghee. A perfect accompaniment to Neer Dosa, Dosa, Boiled Rice or even Chapathis and a perfect party dish.



Chicken Ghee Roast
Serves 4 – 5
You Need:
1 kg chicken
1/2 cup ghee (clarified butter) * see notes
2 tsp sugar
a few curry leaves
2 tbsp chopped coriander
For the marinade
juice of 1 lime
1/2 cup thick curds (yogurt)
1 tsp turmeric powder
salt to taste
For the masala
10 Kashmiri chillies * see notes before you proceed
8 Kumti/Bedgi chillies * see notes before you proceed
12 peppercorns (kali mirch) (adjust to taste)
1 tbsp coriander (dhania)
1/2 tsp cumin (jeera)
1/4 tsp fenugreek (methi) *see notes
12 garlic flakes with skin
1/2 tsp tamarind paste or 1 marble size tamarind soaked in 2 tbsp water
Method:
1. Cut the chicken into medium size pieces, wash & drain on a colander. Marinate it with the ingredients mentioned under 'For the marinade' and refrigerate for 4 hours or more (I marinated it for 1 hour)
2. Heat a tawa or non stick pan & dry roast the chillies, peppercorns, fenugreek, coriander & cumin seeds. Take care to see that the chillies don't burn otherwise they will let out a bitter taste. Using a little water grind all these ingredients along with the garlic & tamarind to a fine paste. Retain the masala water from the mixie.
3. Heat 1/4 cup of ghee in a wide thick bottomed pan and add the marinated chicken pieces and cook over an open flame till the pieces are almost cooked. Transfer the pieces to a vessel and the liquid (gravy) to another bowl.
4. In the same pan add the remaining ghee and fry the ground masala for 5-6 minutes or till the raw smell vanishes and the oil leaves the sides of the pan.
5. Add the fried chicken pieces 1/2 cup of the reserved liquid & salt to taste (remember that the marinade already had salt – so go easy on the salt). Cook on a medium high flame till the masala dries up. Add the sugar & mix.
6. Garnish with curry leaves & chopped coriander leaves & turn off the flame
7. Serve hot as an appetizer or as a side dish with rice
Notes:
1. You can use upto 1 cup of ghee for this dish, however I have halved it for health reason
2. If you wish increase the Kashmiri chillies upto 30 chillies – note that Kashmiri chillies are great for their colour but are less spicy. You can use a blend of Bedgi (medium spicy) or Harekala (very spicy) for the desired level of spice. To tone down the spice I always de seed (remove the seeds) the chillies before roasting them. If I am serving this dish to people who have low tolerance to spice I use just7-8 Bedgi (spicier than Kashmiri chillies) chillies with the seeds removed for 1kg chicken.
3. Increase the Fenugreek seeds (Methi) upto 1/2 tsp if you prefer the chicken slightly more bitter.