Most of our culinary attempts happen in order to cater to our fussy eater. Roshan is always on the look out for easy recipes to try out keeping our son in mind. The Food Network channel has been our favourite source of entertainment since the past few months and most of the time its the fussy eater who is glued to the TV watching all sorts of delicacies being made – none of which he will eat if we make it for him. However, one such attempt turned out to be a huge success. Baby potatoes baked with some spicy bacon is so delicious that it will not only charm little eaters but the older ones too. This dish is so very versatile that it can not only be paired with some wine and served at a party but also passed around as an appetizer at a party. If you are dying to make it and enjoy it during the week then serve it with some steaming hot rice and dal. Trust me, the combination is simply superb! Well, it has to be because the dish is a combination of two of the world's most favourite foods – potatoes and bacon.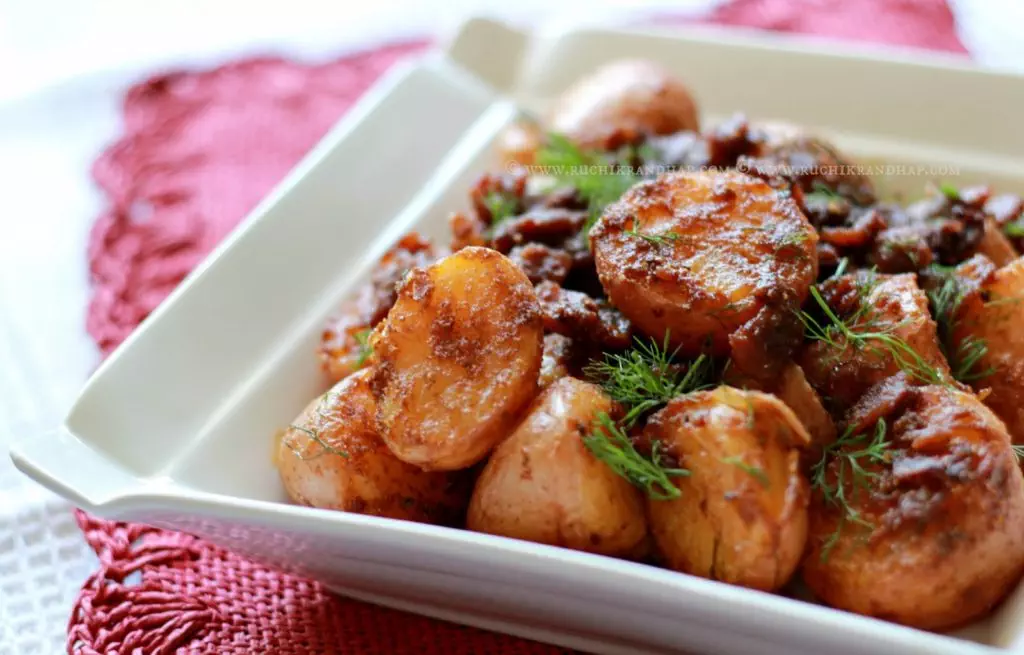 Pin
This recipe was featured on Siba's Table, a programme hosted by Siba Mtongana on the Food Network channel which my family religiously follows. Roshan has prepared it several times already. Once for a BBQ party that was held at a park nearby and a couple of times at home. It has been a super hit all the time. It was when I Googled for the recipe that I came across the tradition behind this technique called 'braai' (pronounced as 'bry', rhymes with 'cry') derived from 'braiivleis' (pronounced as 'bry-flays') which is Africa's traditional way of roasting meat over a bed of coals. It is believed that the first braais happened when the meat was accidentally dropped into fires, later removed and eaten. Since this was found to be tastier than raw meat and easier to be chewed they began to drop meat on a regular basis thus creating a whole new technique which the West has now adopted and simply calls it 'barbecue'.
This technique is still prevalent in the Afrikaans-speaking countries and is not limited to South Africa (the country) alone but includes a larger geographical area of the southern part of Africa and comprises of countries such as Botswana, South Africa, Namibia, Lesotho, Zimbabwe and Zambia. Hence I have elaborated the title as 'Southern African Style'.
I highly recommend you to give this recipe a try. If you don't have a full fledged oven you can make it in an OTG or even a microwave with convection – use the broil/grill mode. I am sure you will love it!
Braai'd Baby Potatoes – Southern Africa Style Grilled Baby Potatoes with Bacon
Prep time: 20mins *see notes | Bake/Grill time in an oven: 15 mins : Serves: 4
Ingredients:
1 kg baby potatoes
250 grams smoked streaky bacon, chopped * see notes
1 tablespoon paprika
2 teaspoons cumin powder
2 teaspoons coriander powder
3 tablespoons olive oil
3 sprigs dill, chopped * see notes
coarse sea salt and freshly ground pepper to taste
Method:
1. Wash the potatoes well and par boil (80 % cooked) them whole, with the skin on in a pot of salted boiling water.
2. Drain off the water and put the potatoes back into the pan and place on the heat for 2-3 minutes to steam dry them.
3. In a pan/wok heat the olive oil and fry the chopped bacon pieces till they turn almost crispy
4. Toss in the spices and stir fry for about a minute.
5. Next, cut the potatoes in half and add them into the pan with the bacon and spices and toss them around to coat them well with the spices. If the mixture looks dry add a little extra olive oil if required.
6. Add the salt & pepper to taste, mix and remove from the heat. Sprinkle with chopped dill and toss to mix.
7. Place the potatoes in a large piece of foil and close the edges lightly to form a packet/parcel. Place this parcel on an open BBQ grill for about 20-25 mins or until the potatoes are cooked through and turn slightly crispy. Alternatively you may bake them in an oven. Preheat your oven at 175 degrees C for 15 minutes and place the potatoes on a baking sheet covered with foil and bake for 10 minutes on 'bake' mode (both the top and bottom elements should be heated). After 10 minutes change the mode to grill/broil for 5 minutes till the potatoes turn slightly brown and crisp on the outside
Notes:
1. The prep time will depend on the time taken to par boil the potatoes – this depends on the size of the potatoes selected. Keep an eye out on the potatoes so that they are not overcooked.
2. You can use any type of bacon cut that you like. In the Gulf countries beef bacon is popularly available in most supermarkets, you may use that. Pork bacon is available in Spinneys & Waitrose at The Dubai Mall.
3. If dill is not available you can substitute it with chopped fresh coriander.