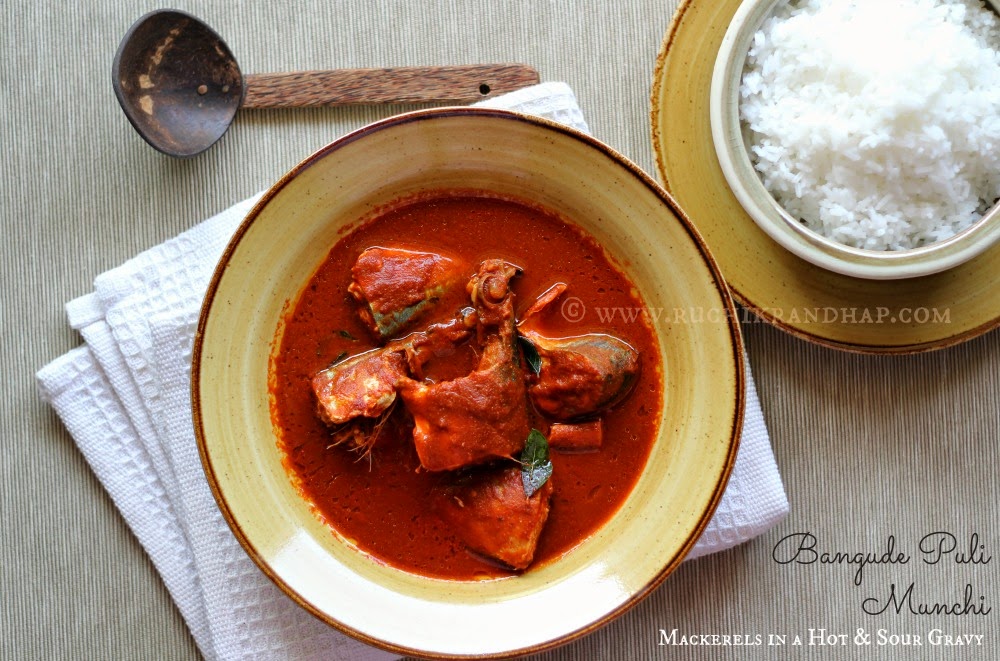 A super simple meal at my home generally revolves around seafood. It had been ages since I ate this traditional Mangalorean Bunt style fish curry that is fiery and delicious – it pairs up so well with rice and a vegetable on the side. I decided to cook it up last week as I had some last minute shopping to do for a wedding in the family and wanted a simple meal. Since we love eating fish, especially mackerels we stock up on it regularly. We either fry it up or cook it in a curry with lots of gravy to drown the rice. This is one dish that I had not tried so far and I decided to go ahead with it.
The best time to eat this dish is when you are not in a hurry. How else will you enjoy it? 🙂
Bangude Puli Munchi
Prep time: 15 mins (does not incl time taken to clean fish) | Cook time: 10 mins | Serves 4
Ingredients:
1/2 kg mackerels/bangda/ bangude (about 4-5 medium sized ones)
salt to taste
1 sprig curry leaves for seasoning
2 teaspoons oil for seasoning
For the masala:
10 long dry red chillies (deseeded if you wish) – Use Byadge chillies for best results
1-1/2 teaspoons coriander seeds
1/2 teaspoon cumin seeds
4-5 peppercorns
1/8th teaspoon fenugreek seeds (methi)
1/4 teaspoon turmeric powder
1 small green chilli (deseeded if you wish)
1 inch ginger
3 flakes of garlic
two marble sized balls of tamarind or 2 teaspoons of tamarind paste
1 small-medium onion
Method:
1. Clean the mackerels if not done already. Wash with water, salt and turmeric, refresh in a couple of changes of water and keep on a colander to drain off excess water. Depending on the size of the fish you can either leave them whole or cut them into 2-3 pieces.
2. Grind all the ingredients mentioned under 'For the masala' to a fine paste. Transfer the masala into a wide based pan/kadhai, rinse the mixer grinder jar with some water (about 1/4 cup) and add this water also to the masala. Let the gravy be of medium thickness, so add another 1/4 cup of water or lesser to adjust the consistency.
3. Bring the gravy to a boil and reduce the heat to a simmer. Add the fish pieces and salt to taste and lightly shake the pan (swirl it around) so that all the pieces are covered with the gravy. Cover the pan and let the fish cook for a couple of minutes. Remove from heat.
4. In a smaller pan meant for seasoning, heat the oil and toss in the curry leaves. Let them sizzle for a few seconds before adding this tempering to the fish curry.
5. Serve hot with rice and a vegetable saute.