Last week I went hunting for some fish and thanks to the torrential rains, there wasn't much on display to be happy about. Just the usual fare – Mackerels, Pomfrets, King Fish (Surmai), Indian Salmon (Rawas), Prawns & Crabs. Since I don't eat the latter two (yeah, it's such a pity, but I am allergic to these crustaceous babies although thankfully not allergic to Clams & Squid ), I ended up buying whatever was on offer. Mackerels for me, Prawns for the husband and Pomfrets for the toddler (although he's the best among the three of us – eats fish with as much passion as a fisherman would fish!)
Since it is human nature to complain, it is but natural to complain about the scorching heat during the Summer and the crazy rains during the Monsoons – and also wail that there is no fish as fishing boats stay put (most times). Most of us fish lovers end up eating the same type of fish week after week or just seek more carnivorous options such as white & red meat besides eggs. Since we don't bring a lot of red meat regularly and Chicken becomes a bore if eaten more than twice a week, I decided to play around with some recipes for the fish sitting in my freezer. I didn't have to hunt too much, for I had already tried
Charishma's recipes
before, so I blindly followed her instructions to make this gorgeous Mackerel curry – a famous Bunt version called the Bangude Ghassi – oh so spicy and perfect for a rainy day when everything outside looks bleak and depressing.
This curry brought a lot of flavour and colour into my day and we thoroughly enjoyed it. The blend of spices gives it the required punch (if you are not used to spicy food – the spice just 'hits' you!) and the fragrance is simply 'wow'. For those of you who wish to know the difference between the way Bunts make their curries and the way we Catholics make it is that they make use of Fenugreek (Methi) & Carrom (Ajwain) in a majority of fish and meat dishes which makes it distinctly flavourful and fragrant. Mangalorean Catholic cuisine has a lot of Portuguese/Goan influences which makes our food comparitively a bit on the sweetish/blandish side with spice levels that are drastically toned down. So a majority of folks I know from the heart of Mangalore will grab a glass of water and sip it down in between an extra spicy meal. So in short, Bunt cuisine is to me what Andhra cuisine is like to the rest of India – Spicy, fragrant, flavourful, finger lickin' good and makes you ask for MORE! That reminds me that I ought to try some Andhra recipes soon, but for now its Bangude Ghassi for you!
Bangude Ghassi
You Need:
6 small Mackerels (about 450-500gm)
5-6 curry leaves
salt to taste
For the masala
1 small onion
3 tbsp grated coconut
1 level tsp coriander
1 pinch cumin seeds (jeera)
1 pinch fenugreek seeds (methi)
1 pinch carrom seeds (ajwain)
6 peppercorns
3 long dry chillies (Bedgi/Kumti/Kaddi)*see note
3 short red chillies (Harekala)* see note
1 green chilli (increase it to 2 chillies as per your spice tolerance)
1/4 tsp turmeric pwd
1/4 inch ginger
1 marble size ball tamarind (or about 3/4th tsp pulp/paste)
For tempering/fon/tadka/bagar
4 cloves of garlic (with skin) crushed
2 tsp oil
Note:
1. You can use a mix of Bedgi and Kashmiri chillies if you are unable to find the Harekala/short chillies which are used for the spice. Kashmiri chillies give the colour and Bedgi (Byadge) are medium spicy.
Method:
1. Descale and thoroughly clean the Mackerels and allow to drain in a colander.
2. Dry roast all the ingredients (except the ginger and tamarind) mentioned in 'For the masala' one by one. Remove and let cool. Then grind them along with the ginger and tamarind to a paste (needn't be fine) using a little water.
3. In a pan place the fish, salt to taste and curry leaves and add the masala. Add about 1-1/2 cups of water (or less if you wish it a bit thick). Gently turn the vessel and shake it to enable the masala to mix with the water. Avoid using a spoon. Bring the gravy to a boil
4. When the gravy has come to a full boil, turn off the flame and in another smaller pan heat the oil for tempering and when it is hot, toss in crushed garlic with skin and stir for 3-4 seconds before adding it to the gravy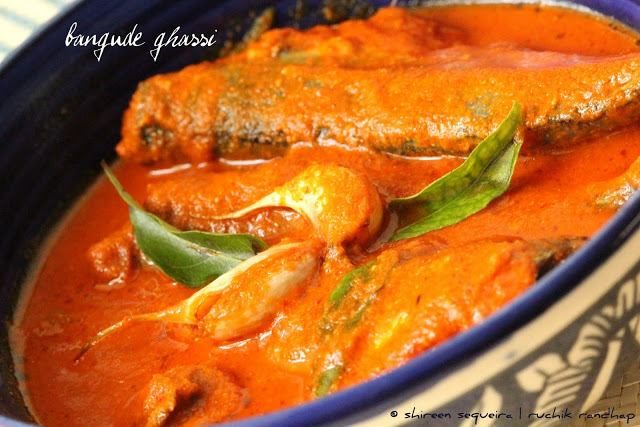 Pin
Recipe adapted from Cheries Stolen Recipes