Last week my blog celebrated its 5th birthday. Well, its a huge milestone for me, for someone who didn't know nuts about cooking I think I have come a long way. This whole journey of blogging has been such a great experience – more like a package deal with some positive and negative points, highs and lows but yes, in the bargain I have managed to hone my skills at cooking, photographing food and writing of course. As the popularity of the blog grew so did my list of friends. I have made some good friends thanks to the blog. People from all walks of life, whether they knew to cook or not have offered me everything from appreciation to encouragement to inspiration and for that I am truly grateful. How can I forget my dear friends from the blog world? So many bloggers today are my friends and I am thrilled that I am blessed with these precious people.
Thanks to each one of you – readers from all over the world for visiting my blog, trying out recipes and taking the time to write to me with your feedback, suggestions and appreciation. I hope I can continue to find old and almost forgotten recipes of Mangalore, from all communities so that I can try them out and share them with you all. If there is a recipe you cherish or a dish you have only heard about and never eaten or a family favourite that you don't mind sharing with me please write to me at [email protected] I would love to hear from you!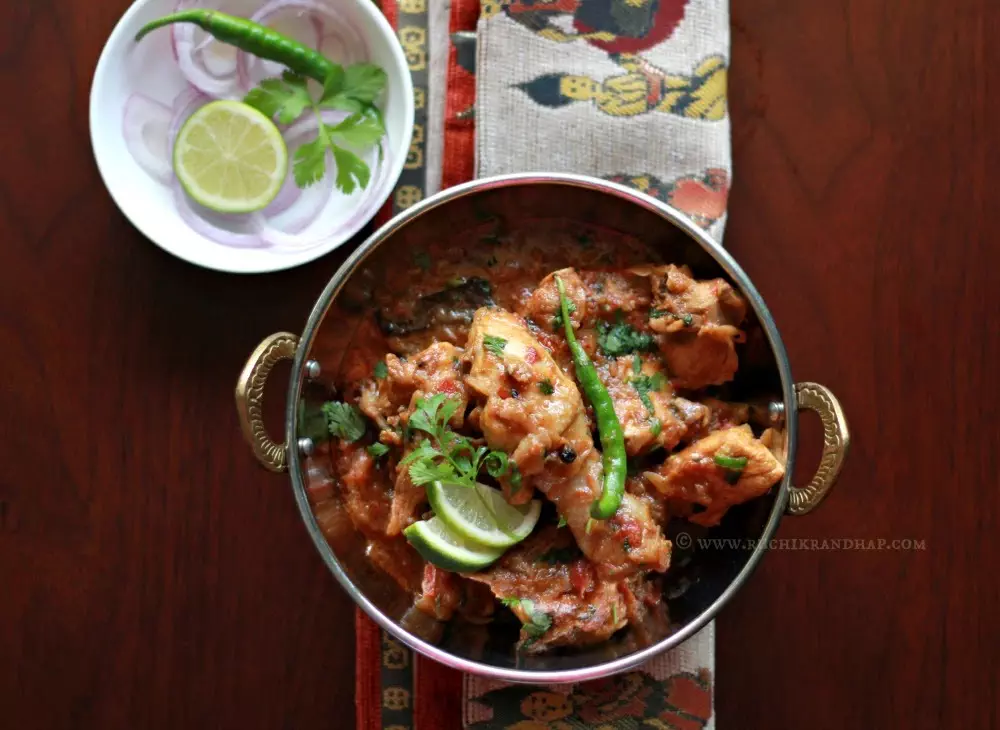 Pin
Today when I finally took the time to write a post it took me a few minutes to think about what I was going to write. There is so much I have to say yet I feel that my mind has drawn a blank. This happens to me when I take prolonged breaks from blogging. There is a lot happening at home with two kids who keep me active and on my toes. Little baby Zee has progressed from walking to running around the house and it is almost impossible to find time to sit in peace and write my posts. Secondly, no real food pictures have been shot in the past 2-3 weeks thanks to tiny fingers that almost instantaneously try to grab whatever has been placed on the table where I shoot my pictures. It has therefore become difficult to take any pictures when I am alone with her but hey! all's not lost! I do have a good bank of recipes that I have never found the time to publish and hopefully I should be able to post them soon. Today's recipe is one of them. I had tried this a while ago from one of my go-to recipe books (100 Everyday Recipes: Indian) and considering how ridiculously simple it is I think it is the best time to post it. Ideally I would have liked to post something typically Mangalorean to mark the 5th anniversary of my blog, but I think I have done quite a few Mangalorean posts in the recent past so why not take a break and try something new, different and easy?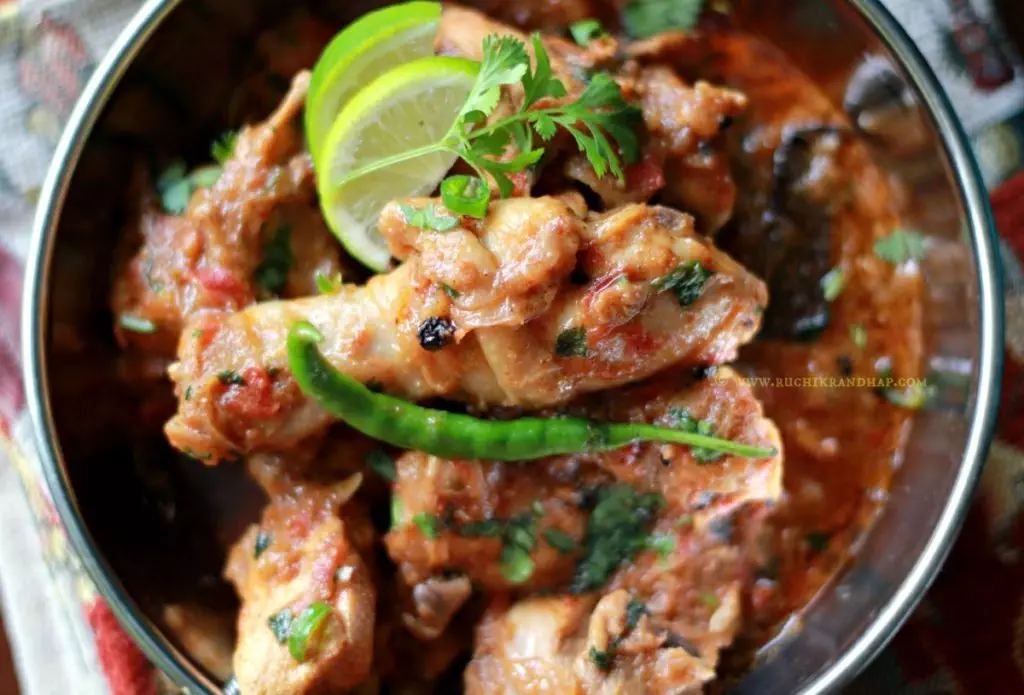 Pin
The word 'balti' brings to mind the picture of a bucket, isn't it? The first time I heard of this dish was many years ago and I guffawed. Balti!? Really? Do they serve it in a bucket or what! I thought! Anyway, what I imagined is pretty close to what seems like the origin of the term.
Balti chicken is a popular dish in the UK. While nobody really knows the origin of this dish some say that the name was derived from the pot in which the dish is cooked. In Urdu, a 'balti' is a thin flat steel wok (kadhai) that is apparently used to cook this dish. Some opine that this recipe originated in the kitchen of a restaurant in Birmingham, England while others believe it originated in Baltistan, northern region of Pakistan from where it may have been taken to Britain. Wherever it originated I think its a real simple dish to put together in a jiffy and can be prepared for a simple weekday meal. It can be paired with some chapathis or rice and dal. Since I am a huge chicken lover I really enjoyed making this dish and polishing it off too. I prepared it with chicken that had skin on it, but I recommend you try it without the skin. Hope you like it!
Balti Chicken
Prep time: 15 mins | Cook time: 25 mins | Serves | 4
Ingredients:
1 kg chicken (skiness, with or without bone)
2 large onions finely sliced (approx 2 cups)
3 medium sized tomatoes sliced
1 inch cinnamon/cassia bark
2 green cardamoms slightly bruised
4 black peppercorns
1/2 teaspoon kalonji seeds / onion seeds / Nigella sativa
1 teaspoon red chilli powder (adjust to taste)
1 teaspoon garam masala powder
1 tablespoon ginger-garlic paste
2 tablespoons curd/yogurt, whisked till smooth
2 green chillies, de seeded and finely chopped * see notes
2 tablespoons coriander leaves finely chopped
1-2 tablespoons lime juice
2-3 tablespoons ghee or oil
salt to taste
Method:
1. Cut the chicken into medium sized pieces, wash and allow to drain on a colander.
2. In a wide based pan (a large kadhai will do), heat the oil or ghee and fry the onions on a medium heat till then turn slightly golden and soft. This will take about 10 minutes. Add the tomatoes, kalonji, peppercorns, cardamoms, cinnamon/cassia bark, ginger garlic paste, chilli powder, garam masala and salt and continue to fry for another 5-7 minutes till the whole mixture turns mushy and the ghee/oil starts leaving from the masala.
3. Add the chicken pieces and mix well so that all the pieces are coated well with the masala. Fry for a couple of minutes and then add the whisked curds. Cover the pan and allow to cook on a medium heat. The curry yields a semi-thick gravy. If you need a little extra gravy just sprinkle about 1/4 cup of water at this stage.
4. When the chicken is cooked and tender add the chopped green chillies, coriander leaves, sprinkle the lime juice, give it a quick stir and remove from the heat.
5. Garnish with coriander leaves and serve hot with chapathis, naan, roti, kulcha or rice
Note:
Adjust the spice to your taste. Note that this recipe contains red chilli powder and green chillies too.