So we are almost there! Another day to go before we usher in 2016! I am sure many of you have planned to party tomorrow night and I can imagine all the goodies you are planning to enjoy – home cooked or otherwise! If you haven't already, don't worry! Here's an easy hors d'oeuvre (starter) that you can put together in less than 30 mins and impress your guests!
No guests? Spending New Year's eve alone? Don't worry. You deserve to celebrate in style! So without further ado let's dive straight into the recipe and see how you can make this delicious starter that I bet you will keep making again & again!
The hubby was surfing the net a few days ago hunting for some ideas for party starters and he was more than delighted when he found this. Bacon is a hot favourite at our place and my son loves it to the moon and back! The goat cheese is his favourite too. Our friends who ate this enjoyed it thoroughly and so the next day I made them again and I grabbed a few shots before they disappeared!
When eaten fresh these date bites are simply delightful! The flavours of the crispy & savoury bacon, the sweetness and softness of the dates and the saltiness of the cheese are all a match made in heaven. Your mouth will enjoy a sudden burst of these flavours and I bet you will fall in love with it just as we did!
So what are you waiting for? Go, add this starter to your party menu and make them tomorrow!!
Click to save this recipe on Pinterest!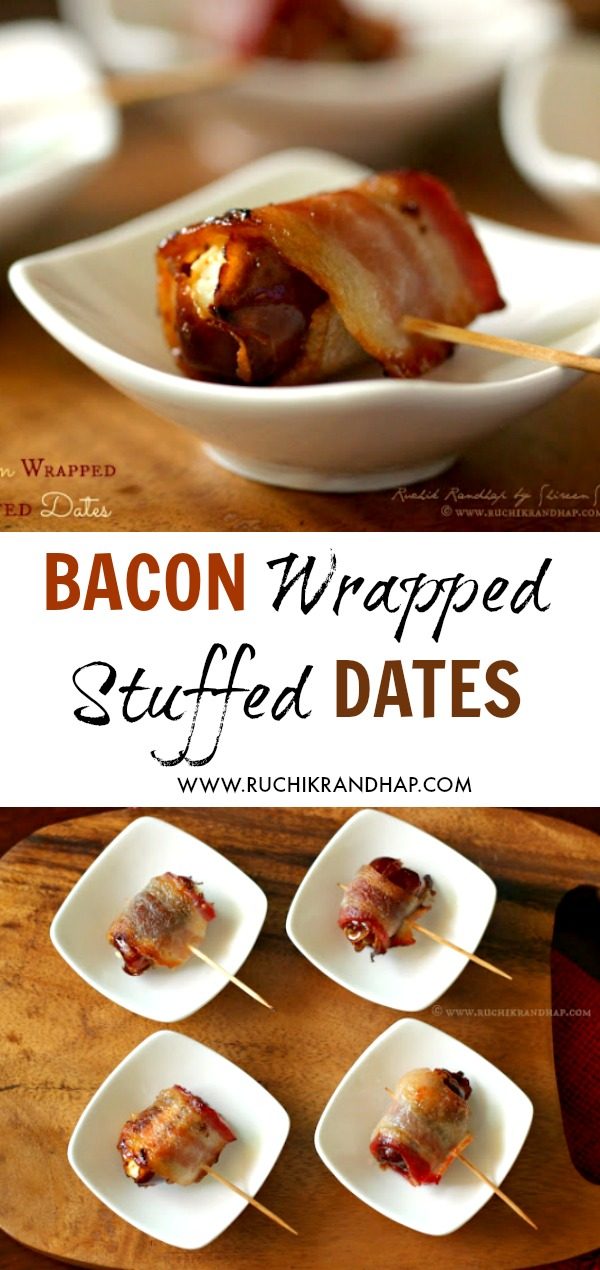 Pin
Bacon Wrapped Stuffed Dates
Enjoy the flavours of the crispy & savoury bacon, the sweetness and softness of the dates and the saltiness of the cheese - a match made in heaven!
Ingredients
24

dates

the firm variety, not too mushy

200

grams

unripened goat cheese * see notes

24

strips of bacon

you can use turkey or beef bacon, the regular one tastes best!

toothpicks
Instructions
If you are using dates with seeds in them just use a knife and cut them vertically to remove them. Take care not to cut too deep - you don't want the date to break into half.

Use a spoon to fill the dates with the goat cheese. If the cheese is too mushy you can place it in a piping bag and pipe it directly into the dates.

Wrap a bacon strip over each date and secure the end firmly with a toothpick. Place them slightly apart on a large baking tray

Preheat oven to 200 C and bake for about 7-8 mins or until golden/crispy (the baking time will vary according to your oven and also how crispy you prefer your bacon)

Remove and serve immediately!
Recipe Notes
1. I have seen two types of goat cheese, one that is ripened and has a rind and the other one is soft, almost like feta cheese and crumbles - use this variety. You can use the plain one or with herbs or other flavours. 2. Instead of goat cheese you may use feta cheese or paneer too. If you are using paneer, do make sure it is absolutely fresh, soft and crumbly. Old paneer will be rubbery. Do season it with salt and herbs or any other seasoning of your choice.