My earliest association with parathas (the delicious ones) was in Bangalore when I used to stay at a particular service apartment while on work in the city. The caretaker cum cook used to dole out such deliciously filling parathas for breakfast – each served piping hot straight from the tawa that I used to lose count of the number of parathas I stuffed myself with. I turned a blind eye to the copious amounts of ghee that was responsible for those extra kilos that tipped the weighing scale a few days later – such was the taste. Anyway, I always believe that if someone else is taking the effort of feeding you and all you have to do is walk into the dining room like royalty and wait for food to appear on your plate, then its ok to turn a blind eye and not worry about health sometimes.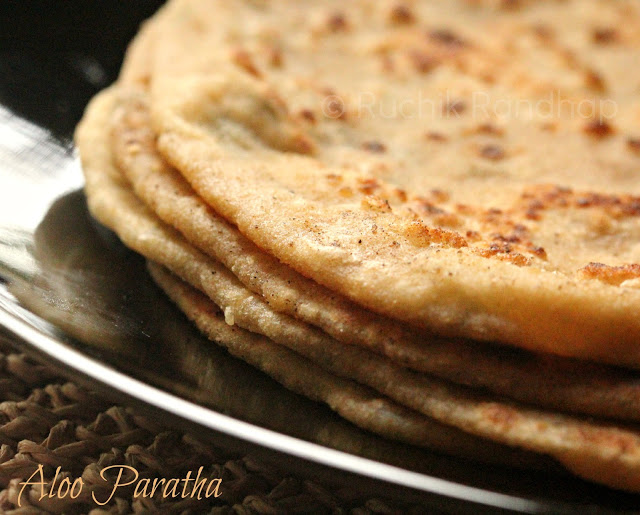 If Biryani is a one pot meal paratha in my opinion is a one-tawa meal 🙂 The goodness of a mixture of ingredients give you a filling, nutritious meal. While the paratha used to be the domain of the North Indian kitchen a few years ago, it has now been accepted by almost every kitchen in India. Just like how the idli and dosa find themselves in the Punjabi kitchens and are relished at breakfast, the paratha has found a permanent place on my menu in my Mangalorean kitchen. Parathas are a quick way to get breakfast on the table – at least I think so. They also double up as a mid morning snack or a perfect lunch box item for kids. My son simply loves parathas and the only one I have attempted so far is the Nutritious Parathas with spinach, potatoes and carrots.
I am part of a food group on Facebook that hosts weekly recipe challenges and this week's challenge is different type of paratha recipes. I am so looking forward to all the delicious recipes that the members are going to upload this week. The credit for this recipe goes to one of the members – Reshma Chander who shares some fabulous recipes on the group. Thank you so much Reshma!!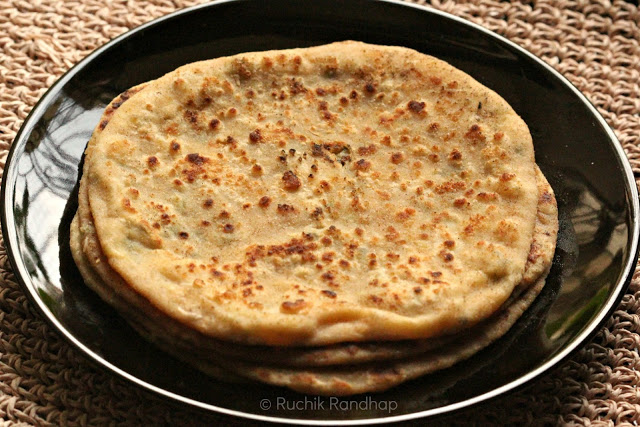 Aloo Paratha
Prep time: 15mins | Cooking time: 15mins | Makes 6-7 parathas | Serves : 2-3 people


You Need:
For the dough
1 cup whole wheat flour
1/2 cup blend of flours (I used maize flour & soya flour)
1/2 cup (approx) warm water to knead
salt to taste
For the filling
2 (smallish) medium sized potatoes boiled, skinned & mashed
1 inch ginger finely chopped
2 small green chillies finely chopped
1/4 cup (packed) coriander leaves finely chopped
1 pinch red chilli powder
1 pinch cumin/jeera powder
1/4 tsp amchur (dry mango) powder (optional)
1/4 tsp chaat masala powder
1/4 tsp garam masala powder
salt to taste
Method:
1. In a wide bowl add the flours and salt and mix well. Use half the water and incorporate. Keep adding the water and knead into a smooth pliable dough ball. Cover and keep aside for at least 20-30minutes – this helps in achieving an soft elastic dough.
2. In another bowl blend all the ingredients mentioned under 'For the filling'. Mix well and keep aside. You can make 8-10 lime sized portions/balls and keep it ready.
3. Dust a dry working surface/wooden board with a little flour. Pinch out 8-10 medium sized portions from the dough. Roll one into a smooth ball and flatten it on the board with a rolling pin into a medium poori size. Place the ball of filling in the centre of the dough leaving enough gap on the sides. Pinch the sides into a 'potli' and gently flatten. Dust extra flour if necessary and roll out carefully into a medium sized paratha.
4. Heat a tawa/skillet and fry the paratha till golden brown on both sides applying ghee or oil as necessary.
5. Serve hot with thick curd/yogurt or apply cheese spread or mayonnaise and serve as a roll.