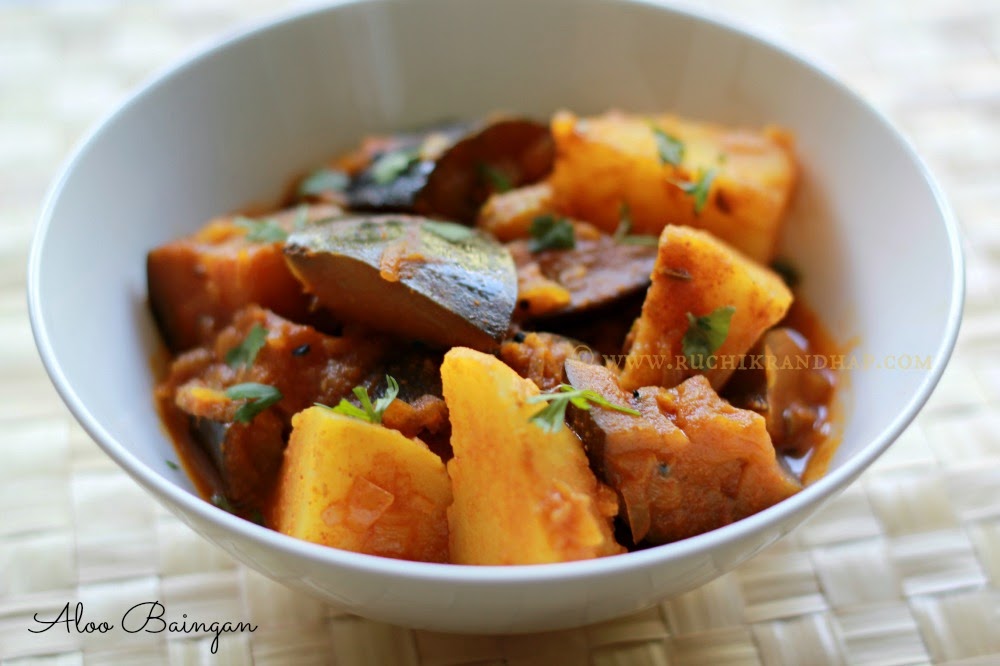 For our regular meals Roshan & I are very fond of having simple suppers of rice and fish curry or vegetable and chapathis. Usually it is the latter as we prefer having rice in the afternoon and chapathis with whatever is leftover from the afternoon's meal for dinner. Since I like to experiment with all kinds of veggies I bought some brinjal a few days ago. So far I had only known to marinate the slices and fry them but going forward this lovely dry dish that serves as an excellent option for a veggie on the side is going to be on my bi monthly menu.
This week has been especially hectic for me as there is a wedding in the family for which I have been running helter skelter shopping for last minute nothings so in a way the elaborate cooking in my kitchen has come to a standstill and easy, tried and tested recipes are making their way into our meal menus.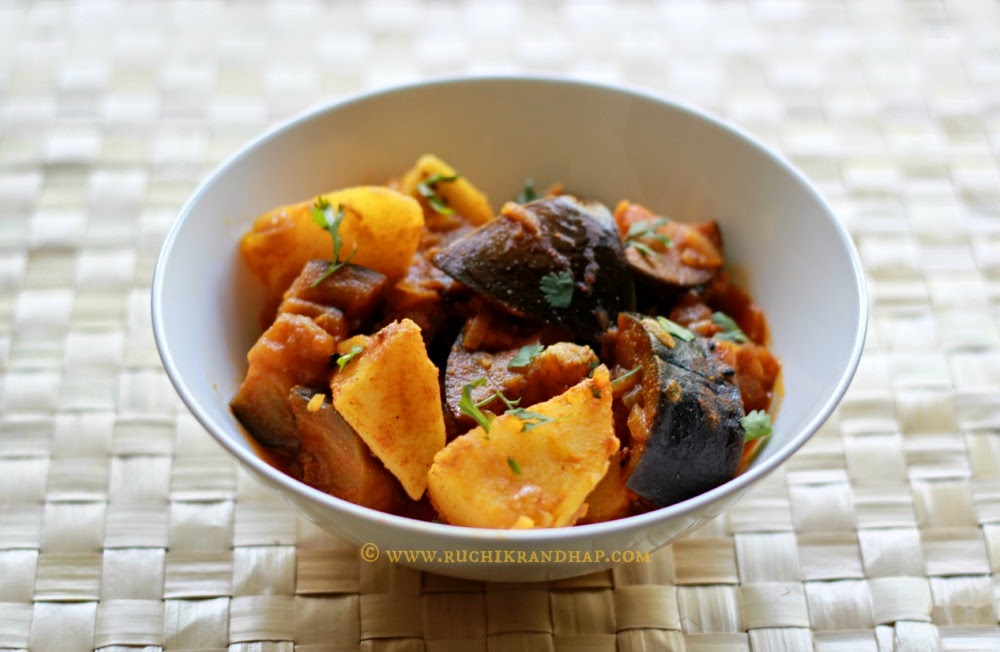 I found this recipe on 'Indian – 100 Everyday Recipes' and it was really easy to follow. Have tried it a couple of times already with slight variations in the consistency of the gravy. If you dilute the curry a bit you can even have it along with rice or with idlies! (tastes like a different version of sambhar) If you intend to eat it with idlies then you can cut the potatoes into smaller chunks. Hope you enjoy it!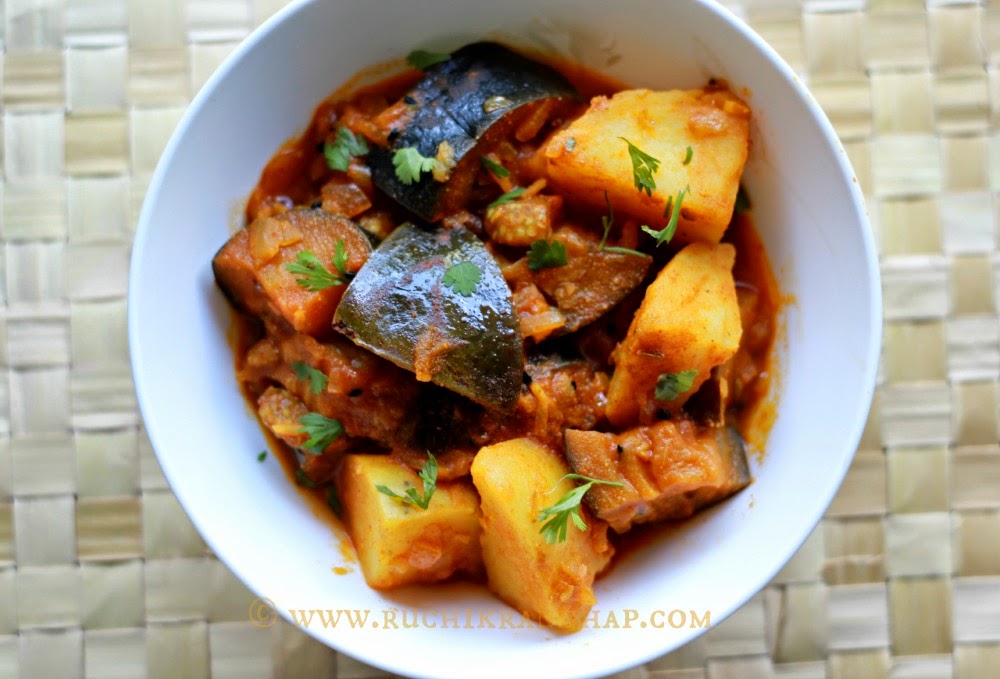 Aloo Baingan
Ingredients:
350 – 400 grams brinjal / aubergine
250 grams potatoes
1 medium sized onion finely chopped
1 inch piece ginger grated or finely chopped
1-2 small green chillies finely chopped (de seed if you wish)
1/2 teaspoon mustard
1/2 teaspoon nigella seeds (kalonji)
1/2 teaspoon fennel seeds (saunf)
1/2 teaspoon cumin powder
1/2 teaspoon red chilli powder
1 teaspoon coriander powder
1 teaspoon turmeric powder
1 tablespoon tomato puree
1/2 teaspoon garam masala powder
chopped coriander for garnishing
3 tablespoons oil
salt to taste
Method:
1. Wash the brinjals and remove the stems. Cut them lengthwise and then into 2 inch pieces and halve these pieces (basically you need to make cubes). Soak the pieces in plenty of water for 15-20 mins – this is to remove the excess iron that brinjals have.
2. Boil the potatoes in their skins (you can pressure cook them for 2-3 whistles or more depending on the size). When they are tender, remove from the water and peel and quarter them when they are cool enough to handle
3. Heat oil in a wide based wok/kadhai and toss in the mustard. When they stop spluttering add the kalonji and saunf seeds and fry for a few seconds. Then add the onions, green chillies and ginger and fry till the onions turn golden (but not brown)
4. Next, add the powders – coriander, cumin, turmeric, red chilli powder and reduce the heat so that they dont burn. Fry for 2-3 seconds and then add the tomato puree and mix.
5. Add about 3/4th cup (180ml) of water and the brinjal pieces and salt to taste. The pieces will float on the surface but as they begin to cook they will sink to the bottom. If you need to add more water you can do so later by just sprinkling some.
6. Once the brinjal is almost cooked add the boiled and quartered potatoes and garam masala and continue to cook on a low heat till done.
7. Garnish with chopped coriander and serve hot with rice or chapathis