Now that we are almost done with the Monsoons and the festivities have begun, there is going to be a whole lot of indulgence – mainly of sweets. While I have been browsing the lovely blogs of my fellow bloggers, I found a whole bunch of recipes which are keeping the festivities in mind. It is not only the Holy month of Ramadan that is being observed by Muslims right now but also several Hindu devotees are fasting in preparation of the upcoming festival season. This of course calls for some good and nutritious food and I found a lot of blog events (which I was excited to be a part of) that challenged bloggers to think of and post a whole variety of food ideas that would appeal to all. One such event is the Blog Hop Wednesdays hosted by Radhika of Tickling Palates where an interested participant is paired with a random blogger every alternate Wednesday and this pair has to pick one recipe from their partner's blog, try it out and post the recipe. This week I have been paired with Neha of 'From My Heart'. Neha is a new blogger on the block with a lovely collection of recipes. A Dentist by profession turned into a Stay-At-Home-Mom just like me to look after her little son. When I browsed through her collection I just couldn't decide which recipe I should try as they were a lot of yummy dishes on display but then you see, the sweet tooth won hands down!
Today's recipe is a simple, quick and tasty Halwa made out of whole wheat flour. Since I am a big fan of sweets (new fan to be precise – I've never liked sweets till the time I was expecting my son) I picked this healthy sweet dish that can be had guilt free (well almost) especially during this festive season. I say, almost guilt free because sweets by nature are not good if eaten in excess, but then what good is a feast if you cannot indulge in your favourite sweetmeats??
Whole wheat needs no introduction. It is extensively used in Indian cooking especially in the preparation of  Indian flat breads such as Rotis, Chapathis and Parathas to name a few. Although I had only heard about the Aate Ka Halwa, I had never eaten it before. Down South the Sheera or Sooji Ka Halwa as it's called in the North is very famous. 
Sheera
 is prepared with Semolina (Rawa – broken wheat) and since it is my favourite sweet preparation which I like to have for breakfast or tea I decided that Aate Ka Halwa was a must try! I was very impressed with the result. It is a wholesome and nutritious sweet especially for kids as it is loaded with the goodness of wheat, ghee and dry fruits. The sweetness is subtle so you wont feel so guilty 🙂


Aate Ka Halwa
Yield: 8 mini tart moulds


You Need
1 cup whole wheat flour (aata)
1 cup sugar
2 cups water *see note
1/4 cup or 1/2 cup ghee (clarified butter)
10-15 almonds slivered
Method:
1. Heat the ghee in a heavy bottomed pan and toss in the almond slivers. Fry well on a low heat and add the flour. Fry it for a few minutes, stirring continuously. Do not allow the flour to burn
2. Add the 2 cups of water and the sugar and stir. The mixture will thicken and come together in the form of a ball. Cook for about 2 minutes.
3. Serve in bowls or in tart moulds if you prefer a design. Garnish with almond slivers and serve hot
Note:
If you like it a bit rich you can use 1 cup of water and 1 cup of milk instead of 2 cups of water.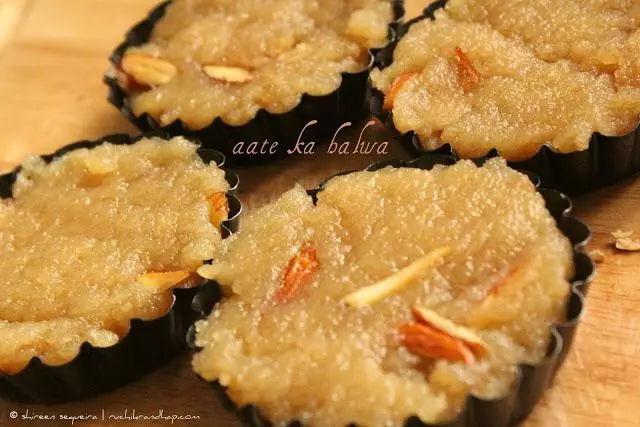 Pin