Happiness is…..freshly baked bread!
Nod if you agree!
Over the past few months I have come to the conclusion that nothing makes me happier than being involved in the process of baking, whether it is cake or bread. I simply love baking and the happiness I experience is something I cannot describe. Baking can take my blues away, especially the aroma that fills my home when there's something baking away. Honestly, it kind of makes up for the ton of dishes that remain afterwards waiting to be cleaned. Being a part of a baking group has brought in some regularity in frequency of breads I make. Knowing that there is a new bread waiting to be explored every month is such an exciting feeling. Most of my bread baking happens on Fridays as the process is pretty lengthy if not laborious. The dough has to be kneaded and left to proof before being shaped and baked into something delicious. I like doing this without too many interruptions that usually happen on weekdays and so I like to allocate a special day for breads. By the time the bread is done there is still enough sunlight to give me decent photographs. 
As always, I Googled to understand the food culture of the bread I was baking. Wikipedia tells me that the word Man'oushe (also called as 'manqushah') is derived from the Arabic verb 'naqasha' which means 'to sculpt' or 'carve out'. It means that once the dough has been rolled out it is pressed lightly with the fingertips to help the topping stay in place and not fall off once the bread has been baked. While initially I believed this bread to have its origins in Lebanon, further research led me to understand that it was not limited to one particular place but was a part of the culinary heritage of the entire Levant region. Levantine cuisine is the traditional food of what is known today as Lebanon, Jordan, Palestine, Syria, Israel, parts of southern Turkey and northern Iraq.
In simple terms a Man'oushe is a Levantine bread (similar to the pizza) that is made of yeasted dough and sprinkled with a choice of toppings. It is a popular and much loved Levantine breakfast bread.
While cheese, minced meat or za'atar would be the classic toppings I decided to make the one that called for two of my favourites – za'atar & cheese. Za'atar is a blend of dried thyme, oregano, sumac and sesame seeds. Sumac is a native shrub that produces deep red berries which are dried and ground and used as a spice. If you can manage to find all the ingredients you can make the za'atar spice mix at home but otherwise if you live in the Middle East (or have access to Middle Eastern goodies where you live) just buy some ready made za'atar spice mix which is exactly what I did. 
Remember to roll out the dough a little more if you like it like a thin crust pizza but if you like breads that are spongy, airy and pretty much like a regular (thick crust) pizza then roll them into discs of 5″ each. Enjoy!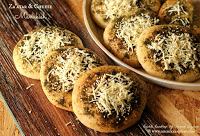 Za'atar & Cheese Manakish
Manakish or Man'oushe is a Levantine bread (similar to the pizza) that is made of yeasted dough and sprinkled with a choice of toppings. It is a popular and much loved Levantine breakfast bread.
Print
Pin
Rate
Ingredients
For the dough:
500

grams

plain flour

1/2

teaspoon

sugar

2

teaspoons

dried yeast

I used instant yeast

1/2

teaspoon

salt

310

ml

(1-1/4 cups + 2 teaspoons) hot water (not boiling hot) * see notes
For the topping:
Za'tar:

2

teaspoons

dried thyme

1

teaspoon

ground sumac

1

tablespoon

toasted sesame seeds

4-5

tablespoons

olive oil
Cheese:
grated cheddar or parmesan

as much as you desire
Instructions
To make the dough, sift the flour, sugar, yeast and salt into a large bowl and make a well in the centre. Pour the water a little at a time and knead until the dough comes together into a ball. Tip it onto a lightly floured, clean surface and knead, stretching the dough with the heel of your palm for about 8-10 minutes or until the dough is smooth and elastic.

Place the dough in a lightly oiled bowl and cover with plastic wrap/cling film. Leave in a warm place to rise until doubled in volume, approx 1-1/2 hours.

When the dough has doubled, tip it back on the work surface, punch it down to remove the air and knead lightly for approx 2 minutes. Then divide into 8 equal portions (I weighed the entire dough and divided it equally using a kitchen weighing scale – this way I got evenly sized dough balls).

Roll each ball between your palms until round and smooth and then flatten and roll out into discs of approx 5″ in diameter and approx 6mm thick (this thickness will be similar to thickness of regular crust pizzas so if you like thin crusts then roll out the discs really flat, maybe 7″ diameter).

Cover the discs with cling film and leave to rise for another 20 minutes. In the meanwhile preheat the oven to 220 C and place two large baking sheets lightly greased with olive oil in the oven to heat (the baking sheets need to be hot too)

When the discs have risen again (after 20 mins), press the surface gently with your fingertips to enable the topping to stay in place. Brush the tops with olive oil and spread the za'atar mixture over the surface of each bread and gently place them using a large spatula onto the hot baking sheets. Bake for 10 mins or until golden brown.

Remove the manakish and place on a wire rack. Garnish with grated cheese, cut and serve hot immediately with a dip or eat them just as they are.
Notes
This bread needs to be eaten fresh as it will turn dryish and harden if left out uncovered for sometime. 
Instead of 310 ml of hot water you may use 1 cup (240ml) of water, 1/4 cup of olive oil and 2 tablespoons of milk which I believe will yield a much softer bread than I did (if you will keep the bread for a while you need it much softer). However I haven't tried it but believe the results will be good as with any bread that has fat (oil in this case) in it.
Nutrition
Nutrition Facts
Za'atar & Cheese Manakish
Amount per Serving
% Daily Value*
* Percent Daily Values are based on a 2000 calorie diet.
Disclaimer
The nutritional values are only indicative.
Tried this recipe?
Please leave a comment & rate the recipe below or share a photo on Instagram and tag me @ruchikrandhap