Ola people! I am back from good ol' Mangalore and I am missing it so much already! My trip was awesome. We spent a month and a week there and the children enjoyed it as well. The first one week was a little terrible with the humidity and heat as the rains were delayed, but once we received the first showers it was just wonderful. The whole experience helped evoke so many wonderful memories especially as we drove around our favourite places visiting people or buying stuff or simply vagabonding. Mangalore is truly great if you wish to detox and unwind. Err! detox doesn't really happen if you are related to people who cook awesome food. All we did was binge on all the gorgeous food – either cooked at home or at homes where we were invited to share meals. Nevertheless, it gave me an opportunity to savour different kinds of Mangalorean delicacies and note down the variations in the preparations as well.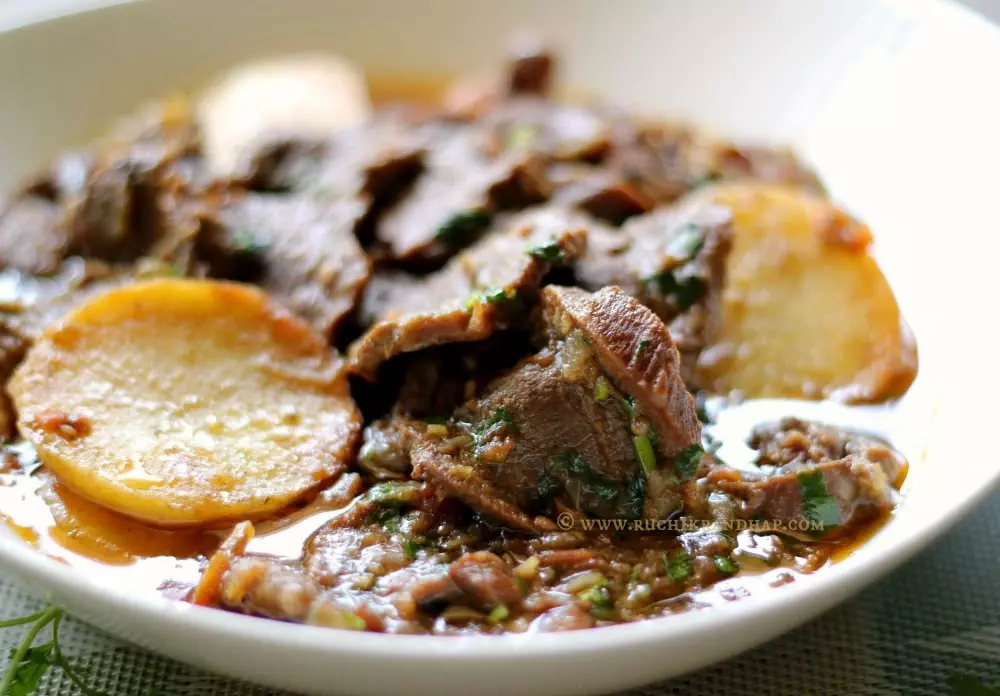 Pin
On a couple of occasions we ate out but the experience was more tiring what with two kids to manage. Especially one that decided to gather all the cutlery off the table! My little one is just too naughty and while we did manage to eat at Gajalee (Circuit House) and Chefs (Nanthoor) we preferred eating at home as it was more peaceful that way. Roshan & I wished a thousand times that we could eat at all our favourite joints but maybe that pleasure is reserved for our upcoming holidays in Mangalore in the years to come.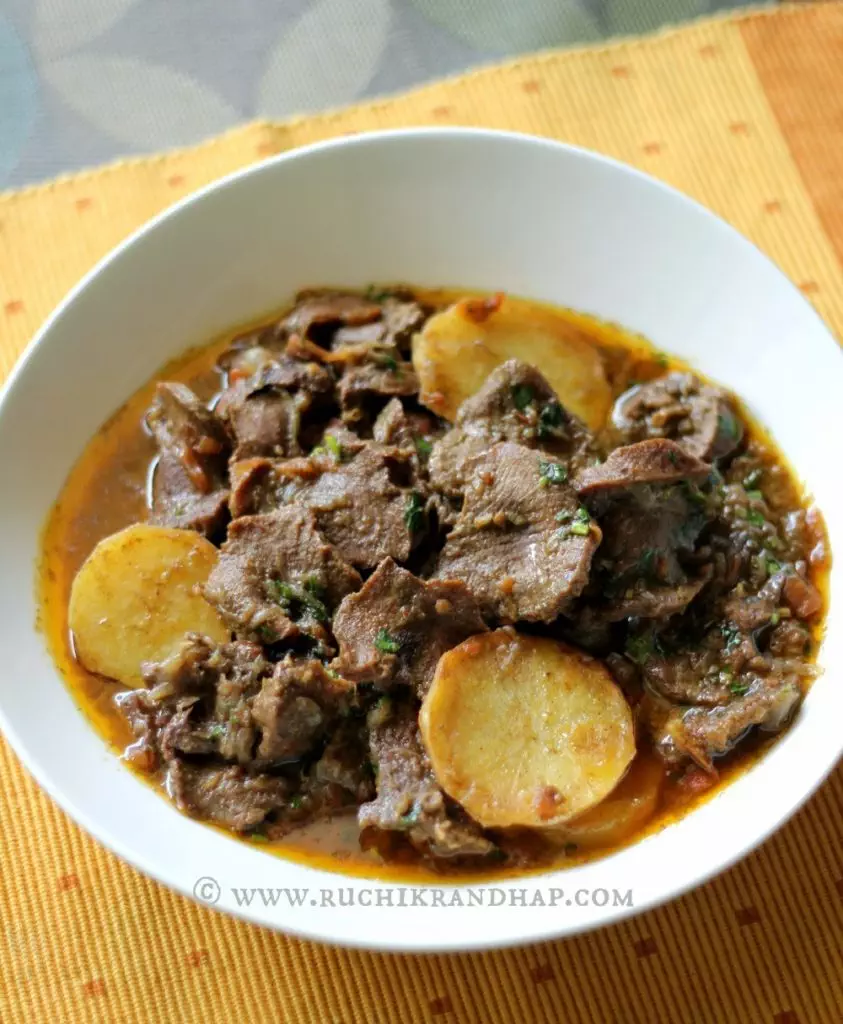 Pin
While I am still jet lagged and trying to reorganize my house after a month's break I decided to go ahead and post one of the recipes which was tried out before we left. My brother's in-laws make some mean tongue curry. Last year when they had visited my brother's place and even we were stationed there during our move to Dubai they had prepared this gorgeous dish. My son was a little hesitant to try it out and once he did he got hooked on to it so much that we decided to ask them for the recipe. Uncle Wilfy who is an awesome cook usually has marathon cooking sessions at my brother's place whenever he is in town. Together they make kilos and kilos of Kaleez Ankiti (pork sorpotel) (to be frozen for later use) and other Mangalorean/Goan/East Indian delicacies like Mutton Kaleez (offal) curry, Fish Head curry, Tuna Cutlets, Pork Indad, Pathrade and what not.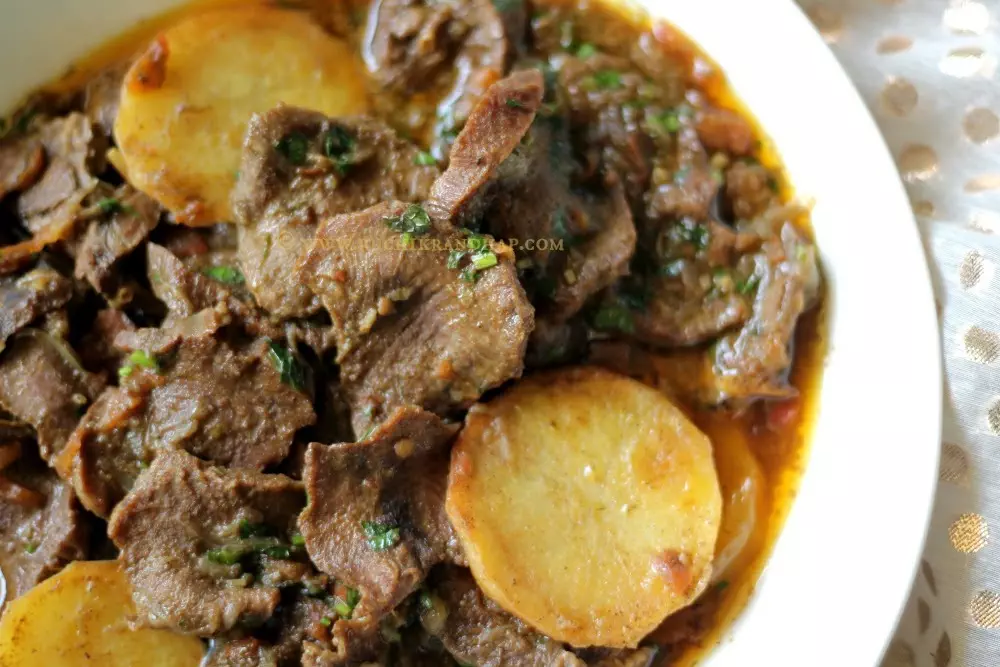 Pin
Uncle Wilfy is a multifaceted, multi-talented man with a great sense of humour. Not only is he a fabulous cook but also a singer and a great Konkani playwright (dramatist) who has written several Konkani plays. His love for his language and culture saw him promoting Konkani amongst the Mangalorean community in the early '70s in the Gulf. Popularly known as 'Wolf' amongst the Mangalorean community in the U.A.E and Bandra he now writes articles for Mangalorean Konkani weeklies. Thank you Uncle Wilfred D'Souza  for this brilliant recipe!
Tongue Curry
Prep time: 20 mins | Cook time: 20 mins | Serves 4-5
Ingredients:
1 large beef/ mutton tongue / jeeb (approx 1.5 kgs), purchase it whole, do not have it cut * see notes
2 medium-big potatoes peeled and cut breadthwise (into thick slices/roundels)
1 loosely packed cup of coriander, chopped
For the masala:
3 medium-big onions finely sliced
1″ ginger finely chopped
8 cloves of garlic finely chopped
4 medium-big tomatoes finely chopped
4 small green chillies finely chopped (adjust to taste, de seed them if you wish)
1-1/2 teaspoons pepper powder
1 teaspoon cumin powder
1/2 teaspoon turmeric powder
salt to taste
Method:
1. Wash the whole tongue well, and place it in the pressure cooker, add a little water (about 3-/4th cup). DO NOT add any salt. Pressure cook it for 15 mins.
2. Once done, allow the pressure cooker to cool down to room temperature, open and remove the tongue out. When cool enough to handle cut it into thin slices, about 1/4 of an inch each.
3. Transfer the sliced tongue pieces back into the pressure cooker and add the rest of the ingredients mentioned under 'For the masala' including the stock.
4. Put the pressure cooker back on the heat and cook for 20 minutes. When it comes to room temperature, open the cooker and stir. Add the chopped coriander.
5. In a large frying pan heat some oil and fry the potatoes till light golden on both sides – do not over fry as they will break when you simmer them along with the curry.
6. Add the fried potatoes to the curry and simmer for 2 minutes.
7. Remove from heat & serve hot with rice or chapathis
Notes:
1. We purchased perfectly cleaned but uncooked tongue from the supermarket (Baqer Mohebi in Dubai). If you are buying the tongue from the butcher you will need to clean it or ask him to clean it. The outer skin of the tongue and some fatty parts at the base of the tongue will need to be removed. Readers in Mumbai can check at the local beef/mutton butcher at Crawford Market or Andheri Market for the tongue. Do go early morning to avoid disappointment or better still, pre order it the previous day.
2. If you intend to clean the tongue at home, do check out some instructions/videos on youtube to help you do that (there are plenty of videos available). Unless you are skilled enough to remove the skin off the wobbly tongue you may be required to boil it first (In a large pan with water) and then remove the skin. The stock which you get in the pan maybe used to flavour the curry or soups. Do not discard it.
3. If you are boiling the tongue in a pressure cooker you will need to pressure cook for 8-9 whistles (on a full flame), then turn off the heat and wait for the pressure cooker to cool down and you are able to remove the weight (whistle) easily. Open and peel/skin the tongue when the tongue is still hot. After it cools down it may be hard for you to peel it easily.  After that follow the instructions in my recipe to cook it again it till tender before cutting it.