I had bookmarked this recipe from the book 'Step by Step Baking' by Caroline Bretherton a few months ago and when the theme was announced I knew what I was going to make. The idea of making a multigrain griddle bread that could be whipped up in a jiffy was very appealing. Since oats in a porridge form has no takers in my house I decided that pancakes were a great way of getting my kids to have some.
Without exaggeration, these oatcakes are among the BEST we've tasted!! A fresh oatcake right out of the pan was so very heartwarming and tasty that I walloped two of them without even adding the filling! The best part is that unlike our traditional Indian pancake batters which require a few hours of soaking and fermenting time this batter (or the dry mix) can be pre made and mixed up just an hour before frying the pancakes. My little darlings enjoyed these plain and with some honey while the husband and I ate them with bacon and cheese – the most recommended fillings as per every website I raided online.
Staffordshire Oatcakes are called so by the non locals because they were originally made in and around Staffordshire and Cheshire in England. Locally they are simply called as 'oatcakes'.
Today also happens to be Pancake Day! So these pancakes are a perfect tribute to this day. Thanks Ansh for this theme!
If you are a pancake lover you are definitely going to love these simple, delicious yeast fermented savoury pancakes!
Griddle Breads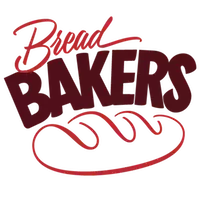 Pin
#BreadBakers is a group of bread loving bakers who get together once a month to bake bread with a common ingredient or theme. Follow our Pinterest board right here. Links are also updated each month on this home page.
We take turns hosting each month and choosing the theme/ingredient.
If you are a food blogger and would like to join us, just send Stacy an email with your blog URL to [email protected].