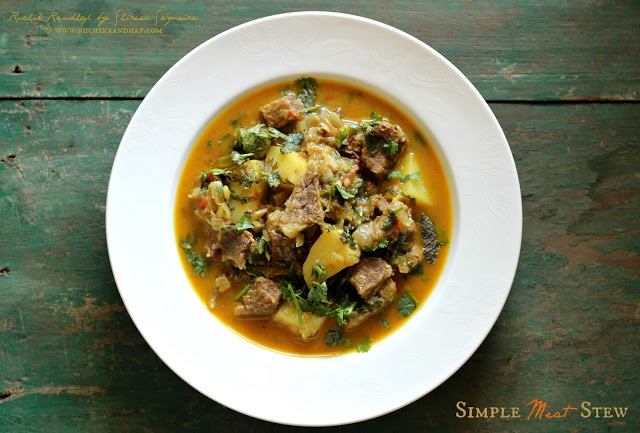 The new academic year has begun for my kids and I am such a happy mom! After a long vacation it really feels great to be back into the school routine. The only thing I dislike is waking up at the crack of dawn to make breakfast and fix their lunch boxes but an early night ensures a great early start as well. There is tons you can accomplish during the wee hours of the morning and then the entire day somehow flies on auto pilot. While the first week was a little overwhelming in terms of juggling everything, I am hoping that the weekend helps me settle in and gear up for the coming week.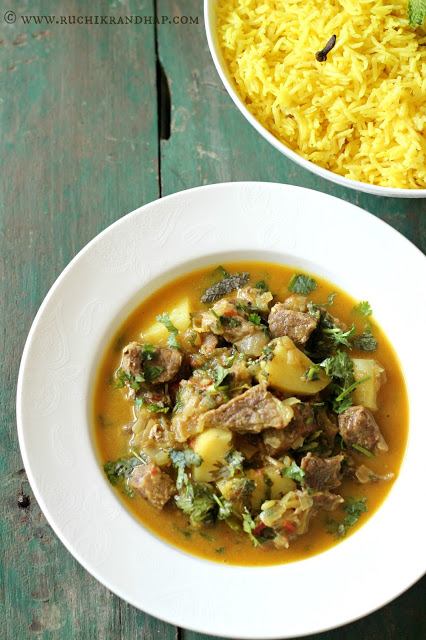 I have gotten back to menu planning too – I mean, not a full fledged one but I draw up a rough plan of what we are going to eat for the next two or three days if not the entire week. The procrastinator in me is yet to get into a super organized mode and I keep promising myself that I will. Soon. One day in the near future 🙂 So this week I had some boneless beef in the freezer and I was debating on whether to make beef sukka or try a new dish. I realised that I hadn't posted a non vegetarian recipe in a while and so this was a good opportunity to try something new and easy too as a lot of readers are always looking out for easy recipes for a quick weekday meal.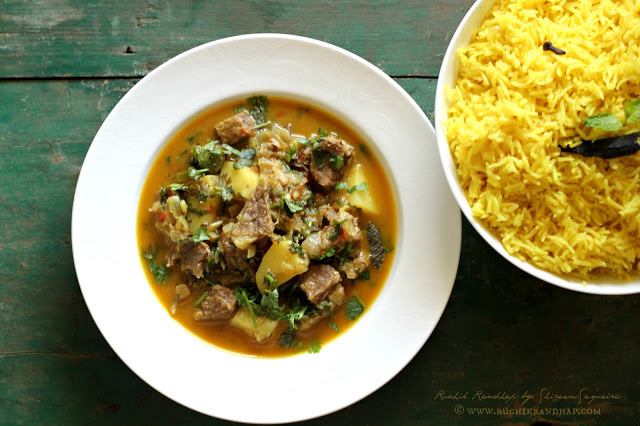 This is one variant of the traditional Mangalorean stew recipe. Stews can be made with a coconut milk base too. I have provided links to other stew recipes before the recipe section. Do check them out and tell me which ones you have tried so far and what you think of them!
I made this stew with boneless beef, you can make it with mutton, with or without bones. The cooking time may vary slightly depending on the tenderness of the meat. We had a simple but delicious lunch as I served the stew with some simple yellow rice.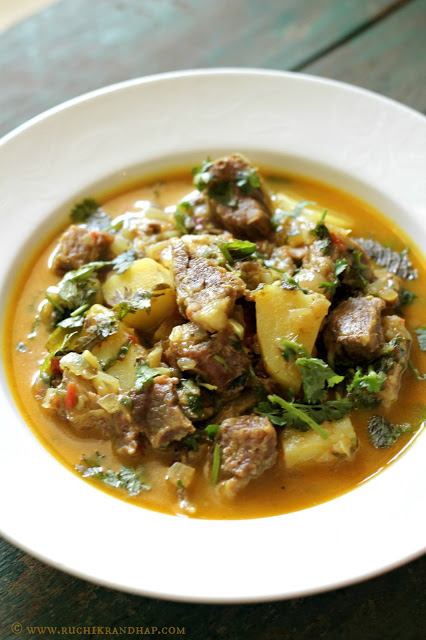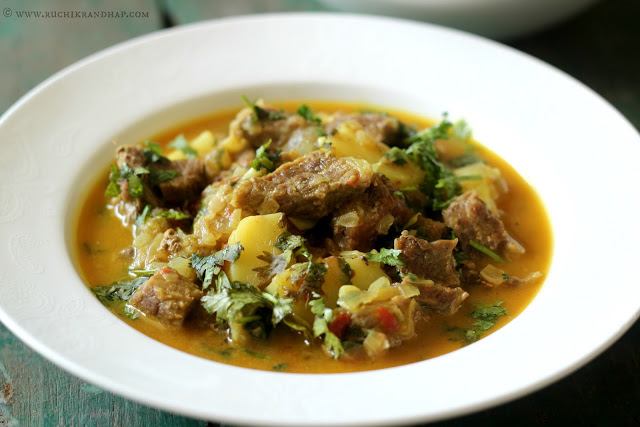 Check out the other stew recipes:
Simple Meat Stew
Prep time: 20-25 mins | Cooking time: 15-20 mins | Serves: 4
Ingredients:
To cook the meat:
1 kg meat (beef or mutton) with or without bone
4 sprigs mint (about 1/4 cup of leaves)
1 medium sized onion, sliced
3 cloves
1″ stick of cinnamon or cassia bark
salt to taste
For the masala:
3 medium sized onions, finely chopped
1 medium-big tomato finely chopped
8-10 fat cloves of garlic, minced
1″ ginger, minced
1-2 small green chillies, slit (adjust to taste)
1/2 teaspoon turmeric powder
1/2 teaspoon cumin powder (optional)
1-1/2 teaspoons freshly ground pepper powder (adjust to taste)
1 marble size ball of tamarind, soaked and thick juice extracted (if required)
1 medium sized potato (optional), peeled and cubed
1 cup fresh coriander leaves, chopped plus extra for garnishing
1/2 cup mint leaves, chopped
oil or ghee for frying
salt to taste
For the garnishing (optional)
1 medium-big onion, finely sliced
oil or ghee for frying
Method:
1. Wash, rinse and drain the meat on a colander. Transfer to a pressure cooker and add the rest of the ingredients mentioned under 'To cook the meat' and sprinkle a handful of water. Mix everything well and pressure cook on a high heat until the first whistle goes off. Then reduce the heat completely and continue to cook for 12-15 minutes or until the meat is tender. Keep aside.
2. In a heavy based pan heat the oil or ghee and fry the ginger, garlic and green chillies for a few seconds. Fry everything on a medium heat. Add the onions and saute till they turn translucent
3. Add the chopped tomato, add a little salt (not too much as you have added some to the meat as well). When the tomatoes turn mushy add the powders and fry for a 3-4 seconds before adding the stock (liquid) from the cooked meat. Check salt and add more if required.
4. Add the potatoes if using, cover and cook until they are almost tender. Add the tamarind extract to adjust the sourness of the gravy. Add the cooked meat, chopped coriander and mint and simmer for 3-5 minutes.
6. While the meat is simmering, fry the onions for garnishing in another pan and keept it ready. Garnish the stew with these onions and some coriander leaves and serve hot with plain rice, bread, pulao or chapathis.