Pin
While I had planned back to back posts of the Kuswar series, I had to take a short break to focus on what I was going to make for the potluck dinner on Saturday, the 10th of December where the food bloggers in Mumbai met. Incidentally on the 10th of December  the global network of Slow Food and Terra Madre came together to celebrate the Terra Madre ('Terra' stands for earth and 'Madre' means mother) and promote local food. Terra Madre is coordinated by the Slow Food Organisation, a movement which lays emphasis on using locally available ingredients and traditional cooking methods to preserve culinary diversity.    This movement was started as a resistance to the opening of McDonald's in Rome in 1986 and was officially founded in 1989 'to counter the rise of fast food and fast life, the disappearance of local food traditions and people's dwindling interest in the food they eat, where it comes from, how it tastes and how our food choices affect the rest of the world" – read more
The Mumbai food bloggers' also celebrated the Terra Madre Day by way of a potluck dinner – organised by Rushina Munshaw Ghildiyal and hosted by Nikhil Merchant – each one of us was required to bring a dish that was made with ingredients that were either local or seasonal or a dish that was traditional and/or uncommon. It was my first time to the bloggers meet & was very excited to meet everyone. I chose to take a traditional Mangalorean dish that was pretty unpopular outside Mangalore, was made differently by each community in Mangalore and suited the theme of Slow Cooking very aptly. Any guesses? Well, I made the quintessential Mangalorean Pathrade/Pathrode in a curry. Since I was aware that there would be vegans and vegetarians as well, I prepared a vegan (without meat and ghee) version and a non vegetarian (mutton curry) version. For those of you who don't know what Pathrade is – well, it is nothing but rice cakes made of rice and colocasia (arbi) leaves and spices. The Catholics steam this mixture in Teak leaves. Mangalorean Bunts, Konkans and Brahmins make it differently – ground masala paste is smeared on each leaf and then stacked one above the other, rolled and steamed or cut into pieces and fried before consuming. Since I didn't find Teak leaves in Mumbai, I simply steamed the cakes in banana leaves – the result was just perfect.
The dishes brought by others revolved around the same theme – I was not only introduced to new cuisines but also unfamiliar ingredients, methods and flavours. We also had two chefs who graced the event,. one of them was Vikas Khanna (of MasterChef India fame) who is also a Michelin starred Indian chef based in New York. Since I religiously follow MasterChef India (which he also judges) it was a huge surprise and a pleasure to have him present at the meet.
Coming back to our recipe for today – whoever doesn't like banana chips, please raise your hand – I am sure there are very few people who do not like these addictive chips made from our humble Nendra bananas. Nendra Bale (in Kannada) /Nandarkai (in Konkani) as we call them in Mangalore are colloquially known as the Macho banana or Kerala Banana. They are usually consumed in their ripe form and are very nutritious and delicious. Some people can barely finish a whole large banana in one go and you can equate each banana to at least 6-7 elaichi bananas! That's a lot of bananas eh? In the South, the dried & powdered form of the semi ripe banana is one of the first foods offered to babies when they are weaned as it is highly nutritious and naturally sweet which is what appeals to fussy eaters as well.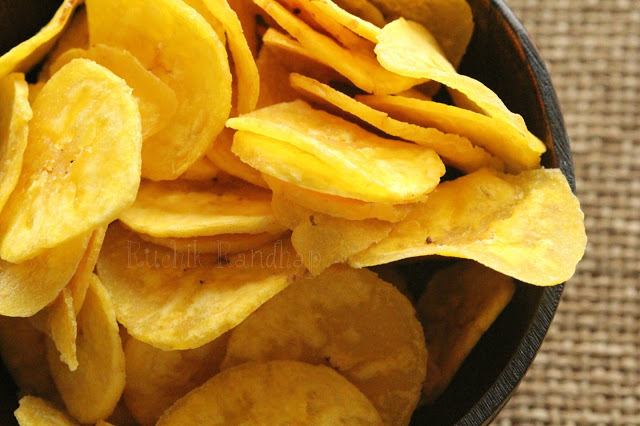 These ubiquitous chips score over the potato chips in South India and are a favourite among many people I know. These much loved chips however are not made in most homes in Mangalore today, maybe because not everyone has the time & patience to slice & fry the unripe bananas and maybe because many do not know the process. Neither did I – just learnt them from my MIL recently and was amazed at the simplicity of making them at home – honestly, I think this is one snack I don't mind deep frying at home (I am not a fan of deep fried foods but have to give in to the pressure from hubs & the little brat once in a way). Making your own banana chips is the best way to ensure a cost effective (unless you are frying in olive oil!) and fresh batch made right in your kitchen. Since you have complete control over the quality of oil used to deep fry you can ensure that you have healthier snacks at home. I have made these twice in the past 3 weeks and each time they have been finished before I could even store them in an airtight box!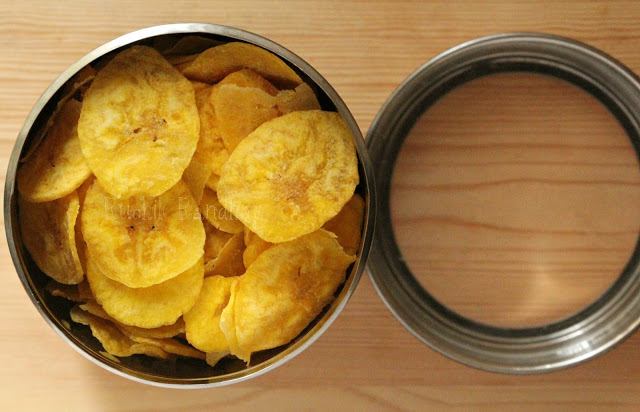 These chips are called as 'Pathekaan' (n is silent – just a nasal pronunciation) in Konkani and figure in the Kuswar platter which is usually dominated by sweets. The Pathekaan along with Khara Kaddi (spicy sticks made of chickpea flour) are probably the only two items that are savoury. If you can find raw Nendra bananas, do give these chips a try. You will love them!
Pathekaan (Banana Chips)
Yield: 300gm (approx)
You Need:
4 raw Nendrakai bananas
oil for deep frying
For the salt solution
1/2 – 3/4th tsp salt (for moderately salty chips)
3 tbsp water
You also need:
a potato chip slicer or a mandolin blade
1.) Wash the bananas & pat them dry. Run a knife gently along the length of each banana taking care to see that the knife does not cut through the flesh of the banana – make cuts with the knife only as deep as the outer green skin. When you have made approx 5-6 such vertical cuts, carefully skin the bananas using the tip of the knife if required. Peel the entire banana & retain the peels – you can cook an interesting side dish (
Click for recipe
).
2.) Repeat the process and peel all the bananas & immediately place them in a large bowl of water – this will help the bananas to retain the colour otherwise they will turn black
Preparing the salt solution
Dissolve the salt into the water. Keep it aside
Deep frying the chips
1.) Heat oil for deep frying in a heavy bottomed kadhai or a deep wok. Let the flame be medium high. Hold the slicer at a safe height over the kadhai & quickly slice the banana so that the pieces drop into the hot oil.
2.) Using a slotted spoon give the chips a stir and continue to cook them on a medium high flame. The colour will slowly begin to change from off-white to pale yellow & then bright yellow. Ensure that you give a mix every now & then so all the chips fry evenly.
3.) Around 1-1/2 minutes into the frying process, add about 2 tsp of the salt solution into the kadhai. You will hear a furious gurgling of the oil as the salt water spreads into the kadhai. Wait for this sound to subside.
4.) You can then remove the chips ladle by ladle. Ensure that the oil has been drained from the chips by placing the ladle against the side of the kadhai for a few seconds before transferring onto an absorbent kitchen tissue. Continue to fry the remaining bananas.
5.) Allow the chips to cool completely before storing them in an airtight container. The chips keep well for 10-12 days if they haven't been eaten by then!
Pic1: Slice the banana into the hot oil
Pic2: Fry until the colour turns into a bright yellow, scoop out the chips with a slotted spoon
Pic3: Drain excess oil on an absorbent kitchen tissue
Pic4: Store in an airtight container
Notes:
Ensure that you buy absolutely raw bananas as they will be hard to slice once they start to ripen. If you do not find this variety, you can use plantains too (plantains are the variety that are used for cooking)
An average wide mouthed kadhai accomodates chips of one banana at a time. Do not overcrowd the kadhai as the chips will not fry evenly.
You need to slice the banana quickly and carefully as the heat can get uncomfortable if you delay (as we call 'Dhaau' in Konkani – which can burn your hands if you are inexperienced with this). Also, take care not to drop the slices from such as height that the oil splash outside the pan.