I've been a huge fan of chocolate for as long as I can remember. I love it as a special treat in whatever form it is presented to me – as a bar of chocolate to be nibbled on secretly away from the prying eyes of my kids (yeah yeah! I have a secret stash in my kitchen!) or a warm slice of chocolate cake or brownie to dig into. The happiness that I derive when I sip a cup of hot cocoa during the winter months or discover some choco chips in the pain au chocolat that I often buy from the Carrefour bakery (Oh! I love their goodies!) is something else. In many ways it takes me back to my childhood and I am flooded with many happy memories.
Over the past few months, every time I sifted through the Bread Bible (by Christine Ingram and Jennie Shapter) I came across this lovely, tall, deep brown loaf in a pitch black background staring back at me. I called it the 'Tall, Dark & Handsome' bread of the lot :-). The composition of this picture was so simple yet inviting that I always promised myself that I would bake it as a treat to myself. Late last year when it was time to pick themes for this year I volunteered to host for the month of March and I couldn't think of a better theme than Cocoa. Now, cocoa has a few substitutes such as the carob which I had never heard of till late 2014 when I saw a pack of carob powder at the organic farmer's market. I decided that it would be great if I gave my fellow bread bakers the choice of cocoa, carob and cacao to be incorporated in whichever form they'd like (as a topping or kneaded into the dough) and I got a whopping list of breads that are waiting to be showcased today! I am so pleased! Thank you everyone for participating! Do scroll down to the bottom of the page to see what everyone has baked today!
Now, coming back to today's list of ingredients, everyone has a fair idea of what cocoa is. Simply put, it is perhaps the most famous and much loved ingredient that has a host of uses. The beans (seeds) of the 'Theobroma Cacao (cocoa tree) are used to produce cocoa butter and cocoa solids (what remains after cocoa butter is extracted). Cocoa solids are used in the preparation of cocoa powder, syrup and confections and cocoa butter is used in the cosmetic industry (for hair, skin and other products)
Cacao on the other hand is derived by cold-pressing unroasted cocoa beans to remove cocoa butter. Although it looks the same as cocoa it is not. Cocoa powder is raw cacao that's been roasted at high temperatures.
While cacao and cocoa are derived from the same tree, carob comes from a completely different tree known as the 'Ceratonia siliqua' which is also commonly known as the carob tree, St Johns-bread or locust bean. The dried pods are then powdered into carob powder which can be easily substituted for cocoa but is more expensive and available at select health stores. In Malta, a traditional sweet called the 'il-karamelli' is made from carob eaten during Lent and Good Friday. They are deemed to be the only sweets allowed during Lent as they are believed to have medicinal properties!
What I loved about this bread was that it was super soft and cottony! The texture was almost like that of the bread we used to buy from the bakery in our neighbourhood back in Mangalore. I can't wait to try out the same recipe minus the cocoa for a regular loaf. Perhaps I will shape it into a proper loaf using a loaf pan.
The best part about this bread is that it is not too sweet, so it doesn't taste like a chocolate cake just in case you are wondering! The subtle bits of sweetness comes from the chocolate pieces hidden inside. The bread tastes brilliant with Nutella although I ran out of it when I was clicking pictures so I went ahead and used peanut butter! Since I had a huge loaf of bread on my hands I went ahead and converted it into a bread pudding the next day! I can't tell you how wonderful that tasted!! So go ahead, make this bread and simply indulge in some chocolate goodness!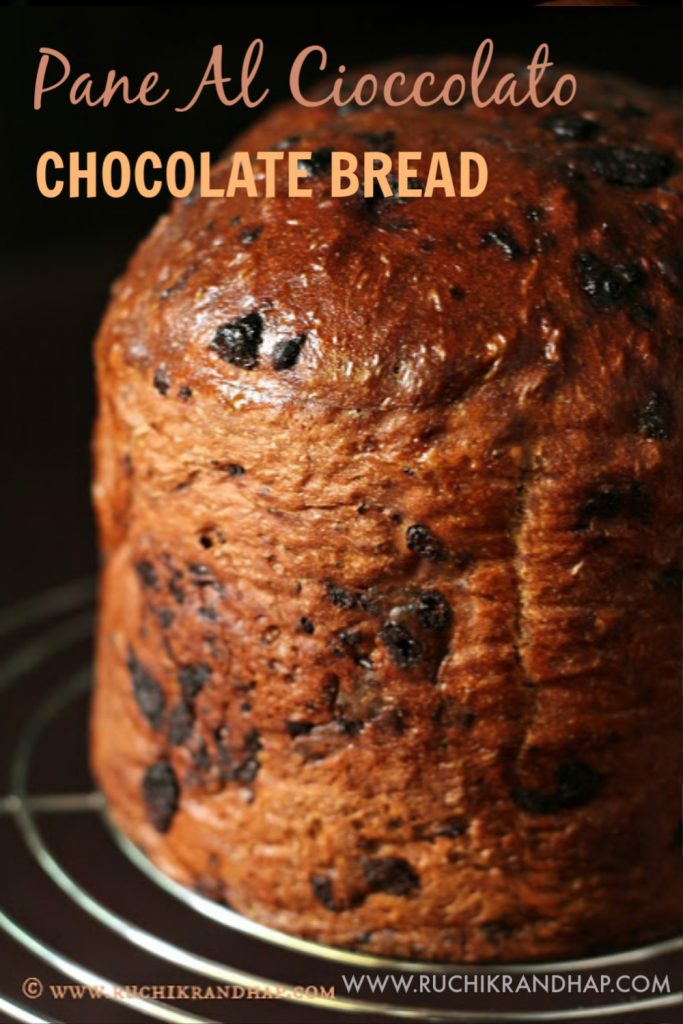 Pin
References:
Wikipedia
Anecdotes from Malta
Breads with Cocoa, Cacao or Carob in any form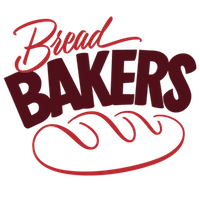 Pin
Breads with Cocoa, Cacao or Carob in any form
#BreadBakers is a group of bread loving bakers who get together once a month to bake bread with a common ingredient or theme. Follow our Pinterest board right here. Links are also updated each month on this home page.
We take turns hosting each month and choosing the theme/ingredient.
If you are a food blogger and would like to join us, just send Stacy an email with your blog URL to [email protected].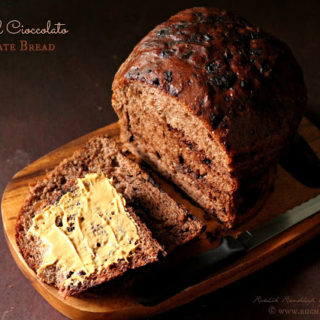 Pane Al Cioccolato | Chocolate Bread
A subtly flavoured Italian chocolate breads that pairs beautifully with butter, nut butter, chocolate spread and can also be enjoyed plain.
Print
Pin
Rate
Ingredients
350

grams

(3 cups) bread flour or regular white purpose flour

1-1/2

tablespoons

unsweetened cacao (or cocoa or carob) powder

1/2

teaspoon

salt

3

tablespoons

caster sugar

1-1/2

teaspoons

instant yeast

1

cup

250ml warm water

2

tablespoons

butter (softened at room temperature)

75

grams

chocolate, roughly chopped (you may use choco chips too)

melted butter (for brushing)
Instructions
Grease and line the base and sides of a 6″ (15cm) round baking tin, preferably a deep one. If it isn't so deep just line the sides tall (with extra parchment that overlaps the sides in order to give it a tall look).

Place the yeast in a small deep bowl, add about 2 tablespoons tablespoons of water and 1 teaspoon of sugar. Cover with cling wrap or a lid and keep in a warm place till the yeast froths up, about 10 minutes. If the mixture doesn't look frothy, the yeast is old and useless. Discard it and start again with a new package of yeast.

Sift the flour, cocoa powder and salt together into a large bowl and mix in the caster sugar. Make a well in the centre and pour the yeast mixture into it and gradually knead the mixture into a dough

Tip the dough onto a lightly floured surface and knead the butter into it gradually until the dough is soft and pliable. Place the dough ball into a lightly oiled bowl and turn it over gently till it is well coated with the oil. Cover with a cling wrap and leave it in a warm place to double, anywhere between 1-2 hours depending on the weather. You can leave it in an oven with the light on.

Once the dough has doubled, turn it onto a working surface and lightly punch the air out. Knead in the chopped chocolate (preferably let the chocolate remain in the centre, so don't over knead or it will spread over the entire dough). Cover with cling wrap and let it rest for 5 minutes

Shape the dough into a round and place it in the prepared baking tin and cover it again with the cling wrap. Let it rise for another 45 minutes to 1 hour or until risen to the top of the tin/overlapping baking parchment.

Preheat oven to 220 C and bake the bread for 10 minutes. Reduce heat to 190 C and bake for another 25-30 mins. Remove and brush the top with the melted butter. Let it cool completely on a wire rack. Slice and serve with butter, jam/marmalade or nutella.
Disclaimer
The nutritional values are only indicative.
Tried this recipe?
Please leave a comment & rate the recipe below or share a photo on Instagram and tag me @ruchikrandhap