One of the biggest advantages of blogging is getting to know new people from across the world – whether they are co-bloggers or readers. I have made a lot of friends from both categories and have also collected a treasure trove of new recipes. Dishes that I may never have heard about or tried are slowly becoming a daily affair (well almost) in my kitchen. I am also motivated to push myself out of my comfort zone of cooking typical Mangalorean fare – well, most of it I do because the theme of my blog is to focus on authentic Mangalorean food, but I am also learning new cuisines, cooking styles and getting exposed to new ingredients & flavours.
Today's recipe was given to me by one of my readers, Mr. Steven Pinto who is also a restaurateur with a passion for Mangalorean cuisine. It was this passion that drove him to start a restaurant in Bangalore that serves authentic Mangalorean fare ~
Sanna
,
Pathrade
,
Mani
– you name it, they serve it. If you are in Bangalore you may have heard about the restaurant named Mangalore Pearl. I can't wait to eat at the restaurant on my next visit to Bangalore!
The credit to this fabulous recipe goes to Ms. Amitha Prabhu who then passed it on to Mr. Pinto who was so kind as to give it to me. I tried it a couple of weeks ago and was completely bowled over how the Palak simply blends with the spices and makes the Chicken so flavourful. While I am sure it would taste great if eaten with rice, it tasted simply fantastic with hot chapathis. I think it's a great way to get fussy eaters to eat some Spinach which is otherwise not liked so much.
I can't wait to try this again! If you are health conscious you can skip the dollop of fresh cream (which you do not see in my pictures as I used butter which melted in no time!). This is also one of those dishes you can put together in a jiffy.
Palak Chicken
Serves 2
You Need:
For the purée
1-1/2 packed cups of Palak (leaves and tender stalk) or 1/3rd of a large bunch
2 cloves garlic (without skin)
pinch soda-bi-carb (baking soda)
salt to taste
1 tsp oil
For the masala
1 small onion roughly chopped
3 cloves garlic
1/2 inch ginger
1 green chilli (add one more chilli if you like it spicy)
For frying
1 small onion sliced
1 green chilli slit
1/4 tsp turmeric powder
1/2 tsp pepper powder
1/4 tsp garam masala powder
1 small tomato chopped
2 tsp olive oil (or 1 tsp ghee+2 tsp oil)
salt to taste
For garnishing (optional)
1 tbsp fresh cream or unsalted butter
Method:
1. Cut Chicken into medium size pieces, wash and allow to drain on a colander. Wash the Palak well and allow to drain.
2. In a thick bottomed vessel place the Palak, garlic, soda-bi-carb and salt and about 1/4 cup water and cook on a slow fire. When the leaves turn deep green and completely limp, purée them in a blender. Keep this paste aside.
4. Grind all ingredients mentioned in 'For the masala' to a fine paste. Keep aside
5. In a wok or pan heat some oil or ghee (or a combination of both) and fry the sliced onion well – until it turns golden in colour (but not too brown). Add the ground masala and fry for 2-3 minutes. Add the Turmeric powder and salt to taste (go easy on the salt as the puréed palak also has some salt). Add the Chicken, mix well, cover and cook on a medium slow flame.
6. When the Chicken has cooked halfway, toss in the pepper powder, garam masala powder, chopped tomatoes and the green chilli. Mix well, add the masala water  & palak water (from the mixer grinder). Cover and cook until the Chicken is almost done.
7. Add the Palak puree and mix well. Cook for a further 2 minutes.
8. Turn off flame, garnish with fresh cream/butter and serve hot with chapathis or rice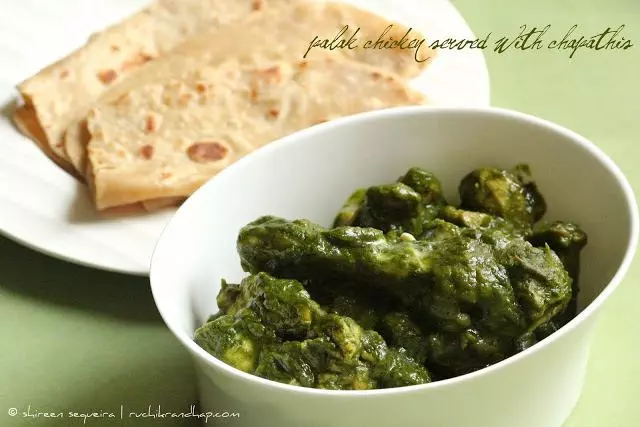 Pin