Palada pradhaman that also goes by the name palada payasam is a Kerala style pudding made from milk & sugar but the highlight of this particular preparation is the rice chips that are added to make it more delectable. Since I had many Keralite friends in college, I had the opportunity of tasting it long ago. However, I never made it at home due to the non availability of the 'ada' or rice chips. Now that I am in Dubai and the hubs and I have started tasting food from different Kerala food joints across the city for lunch every Sunday, we get to eat it at least twice a year, on the occasions of Vishu & Onam as it is served at the end of a lavish meal.
A few months ago a pack of the ada caught my attention during my weekly grocery shopping. The advantage of living in the UAE is that almost all ingredients required to make my favourite coastal Indian recipes are available in Indian grocery stores here. It makes me feel so grateful to be living in this place. Recreating foods of my childhood helps me feel less homesick and finding the right ingredients for a particular dish makes all the difference.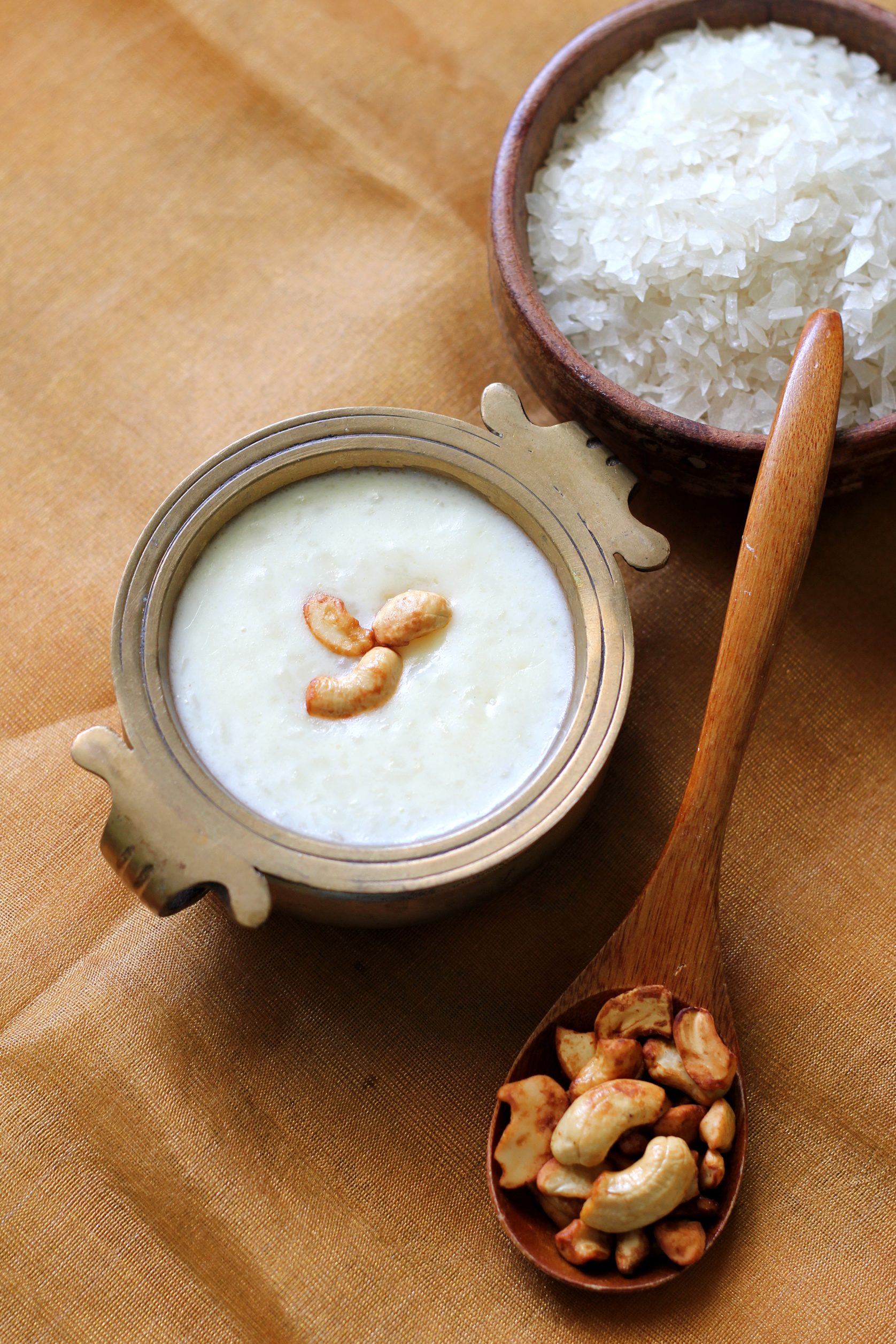 Pin
So before any further ado let us dive straight into today's recipe. This dessert is easy to make but since it needs to be cooked on a low heat, it may take a while. The milk has to boil down until it reaches a thick consistency, so be patient and be alert. Hover around it every now & then to make sure that the payasam does not get scorched or in the midst of a milky white payasam you will see ugly brown spots of scorched milk. Using a thick bottomed pan will help coupled with your attention of course.
Using sugar substitutes:
The paalada payasam is generally made with milk and regular white granulated sugar in order to retain the pristine white colour, however, if you are not in favour of using refined sugar you may use jaggery. Do read the notes in my recipe below before substituting the sugar with jaggery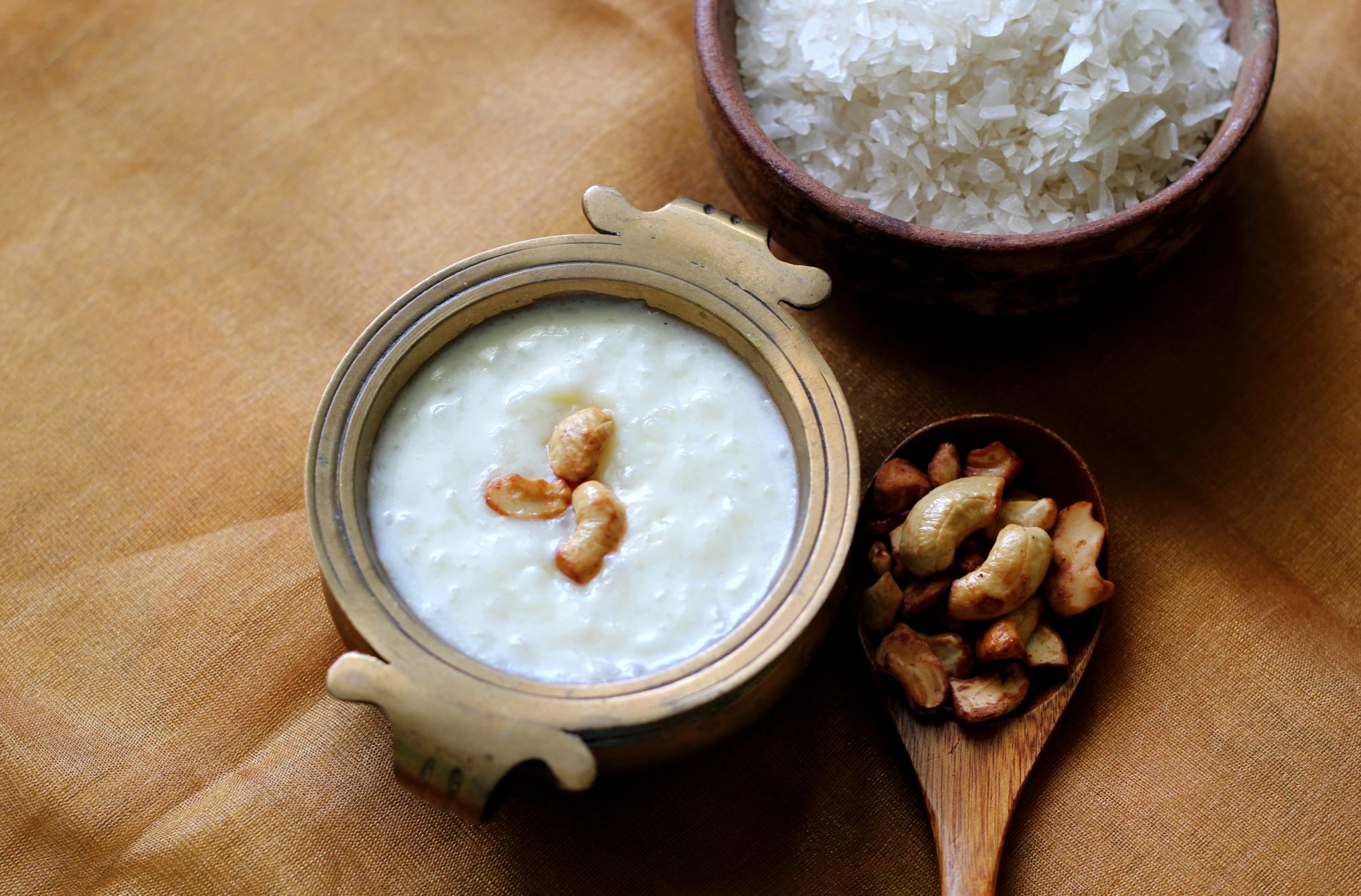 Pin
Here are some other payasam/kheer recipes you may want to try
Godambi Payasa (Tender Cashewnut Pudding)
Sago, Vermicelli & Carrot Kheer
I wish all my readers who celebrate Onam, a wonderful harvest festival! May your day be joyous and the coming year be filled with abundance & prosperity!
Palada Pradhaman | Kerala Style Rice Chip Pudding
Palada pradhaman (payasam/pudding) is a special dessert made from rice chips & served as part of the Onam Sadya (festive meal served on a banana leaf).
Keyword:
Kerala Payasam, Palada Pradhaman
Ingredients
1/2

cup

100 grams rice chips (ada)

4

cups

1 litre full fat milk

1

cup

250 ml water

1

cup

200 grams sugar (adjust to taste) * see note

1/4

teaspoon

cardamom powder

2

tablespoons

ghee
To garnish (optional)
1

tablespoon

ghee

1/4

cup

broken cashewnuts

1-2

tablespoons

raisins
Instructions
Wash the rice chips once and place in a bowl. Pour enough boiling water to cover the surface. Cover the bowl and keep aside for 30 minutes. This step will help soften the rice chips faster.

After 30 minutes discard the water, rinse the rice chips 1-2 times and squeeze out the excess water. Keep aside.

Add the milk and the water to a saucepan and bring this mixture to a boil. Turn off the heat and keep it warm.

Heat the ghee in a heavy, wide based wok/pan and add the softened rice chips and fry them for about a minute. This is to ensure that they don't clump up together and remain separate in the payasam.

Now add the pre-boiled milk and water mixture and bring the mixture to a boil. Reduce the heat and let the mixture reduce to half its quantity. Add the sugar. This will take a good 30 minutes on a medium low heat. Ensure that you stir the pan intermittently to prevent scorching.

The rice chips will change from opaque to translucent and will be soft to the touch yet have a bite to it. I prefer the rice ada to be soft but not mushy.

In the meanwhile heat the ghee in a small pan and fry the cashew nuts and raisins till golden. Keep aside

When the payasam has thickened sufficiently (you will know when it begins to coat the back of the spoon), add the cardamom powder and the fried nuts and raisins if using.

Take the payasam off the heat and serve when it is still warm. It will taste wonderful when hot, cold or at room temperature too.
Recipe Notes
If you prefer you may use jaggery too. The quantity depends on how sweet you prefer your payasam to be. Use about 1/2 cup of powdered jaggery to begin with. Do note that it is important to melt the jaggery with a little water first and strain it as it may contain impurities. Then add the jaggery syrup after the payasam has been removed from the heat. If you add jaggery to the payasam when it is still boiling, the acidity in the jaggery will curdle the milk. Mix well to incorporate when the payasam is warm.