Hey guys, I am back with another Christmas goody. I am so obsessed with collecting recipes, especially from newspapers & magazines that I have three files bursting at the seams. Add to these handwritten notes and chits that somehow fail to make it to the blog. Oh blimey! I have no idea when I plan to cook and post them.
I came across this recipe a long time ago. Pamela Timms an expat living in Delhi writes a food column for Mint Lounge, the weekend edition of the business newspaper Mint. I love her interesting ideas and have managed to tear out many a recipe that has found its way to safety in my recipe file. I thought Christmas was the perfect occasion to try these babies out.
Now that my little baby is a month old I thought it was time to move my butt around the house a bit and get back to my favourite passtime – baking. I am always in the mood to bake, never in the mood to cook though – I mean, I can totally skip cooking a meal if someone will do it for me – or I have the convenience of ordering a take away. But baking is something I can do anytime of the day provided there is some butter & eggs at room temperature, and yes, powdered sugar (I hate that job of powdering sugar – cuz I somehow don't manage to buy caster sugar)
Although I am not a fan of dry fruits, I guess I do prefer them over fresh fruits. If I am in the mood to lose some weight and do some serious dieting, I turn to dry fruits when I need a power packed in between-the-meal snack. Prunes are my most favourite, then come figs and lastly dates. If you've not guessed by now, I don't have a sweet tooth but do indulge in Indian sweets – can't resist 'em. Due to health reasons now I curtail my urge to make Indian sweets – one reason why you won't find too many sweet recipes on my blog, but I do think that festive goodies that are made with naturally sweet ingredients are just brilliant.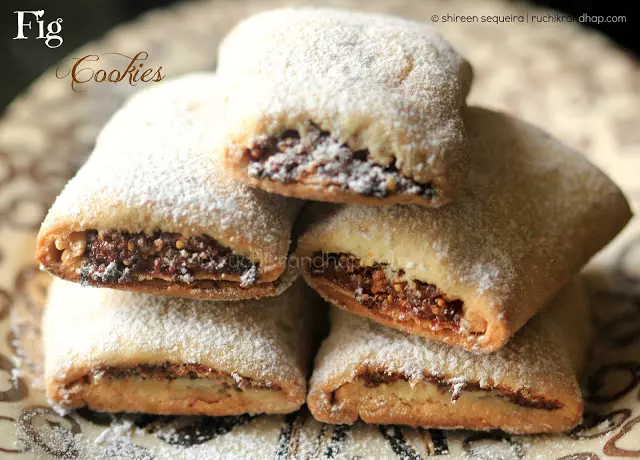 Pin
Now I have a whole list of sweets that call for dry fruits, but I will have to try them one by one as there are no takers for sweets in my house. Christmas is just an excuse for me to try them out. So the first goody on my list are these fig cookies or rolls if you prefer to call them. I found the recipe really simple because the filling is dead simple to make. If you want a shortcut for the filling, just use any fruit preserve of your choice – or worst case, just good quality jam that is not too sweet. You may also replace figs with any other dry fruit of your choice, throw in a few chopped nuts and you'll have your own shortbread cookie with a filling. I call these shortbread cookies as the covering is melt in the mouth and has a bit of a bite like cookies do – which is why I didn't call them 'rolls' – just in case you feel you are going to bite into a soft puff. The use of orange juice gives it a lovely tang to offset any sweetness that the figs bring in. The cardamoms just lend a lovely 'desi' sweet aroma – but you can skip them or replace them with cinnamon powder.
I would say that these cookies are a hybrid between shortbread cookies and rolls – a bit cake-y a bit cookie-y – perfect tea time accompaniment and a perfect item on your Christmas goody menu. So what are you waiting for?
Orange & Cardamom Fig Newtons
Delectable cookies/rolls filled with a fig paste are a perfect festive gift!
Print
Pin
Rate
Ingredients
For the pastry dough
200

gm plain flour

maida

125

gm unsalted butter

75

gm icing sugar

1

egg

1

tsp

vanilla extract

pinch

of salt
For the filling
250

gm dried figs

240

ml

/ 1 cup orange juice

zest of 1 lime/lemon

3

cardamom pods slightly bruised
Instructions
Prepare the pastry:
In a large bowl, put the butter, icing sugar and vanilla and beat till light and creamy. Beat in the egg and sift in the flour, mix well and then transfer the contents onto a lightly floured pan - the dough is going to be extremely soft and sticky/crumbly - keep dusting extra flour till you can work it into a dough ball. Cover the pan with cling wrap and place it in the fridge for about 25-30 minutes.
Prepare the filling
In a heavy bottomed pan, place all the ingredients mentioned under 'for the filling' and bring it to a boil. After a couple of minutes simmer until the figs have plumped up and the liquid is almost dry. Let some moisture remain. Remove from the flame and discard the cardamom pods. Once cooled, blitz (blend) the figs in a mixer grinder/food processor into a paste. Divide into three portions and keep aside.
Making the cookies
Preheat the oven to 150 degrees Celcius. Lightly grease a baking tray.

Divide the pastry dough into three parts and roll each into a smooth ball. On a well floured surface flatten & roll each ball of dough into a rectangle of approx 36x12cm as thinly as possible. Dust extra flour to avoid it from sticking. Take a third of the fig filling and place it along the centre of the pastry. Fold one side of the pastry over the filling and then the other side over it. Press gently to seal and turn the whole roll over so that the sealed side is at the bottom. Trim the ends and then cut the roll into pieces of approx 2" each.

Place each roll on the greased baking tray and bake for 25-30 minutes till the rolls are pale golden. Remove onto a wire rack, cool completely and then dust with icing sugar before serving.

Store in an airtight container - it keeps well for upto a 4-5 days at room temperature
Disclaimer
The nutritional values are only indicative.
Tried this recipe?
Please leave a comment & rate the recipe below or share a photo on Instagram and tag me @ruchikrandhap