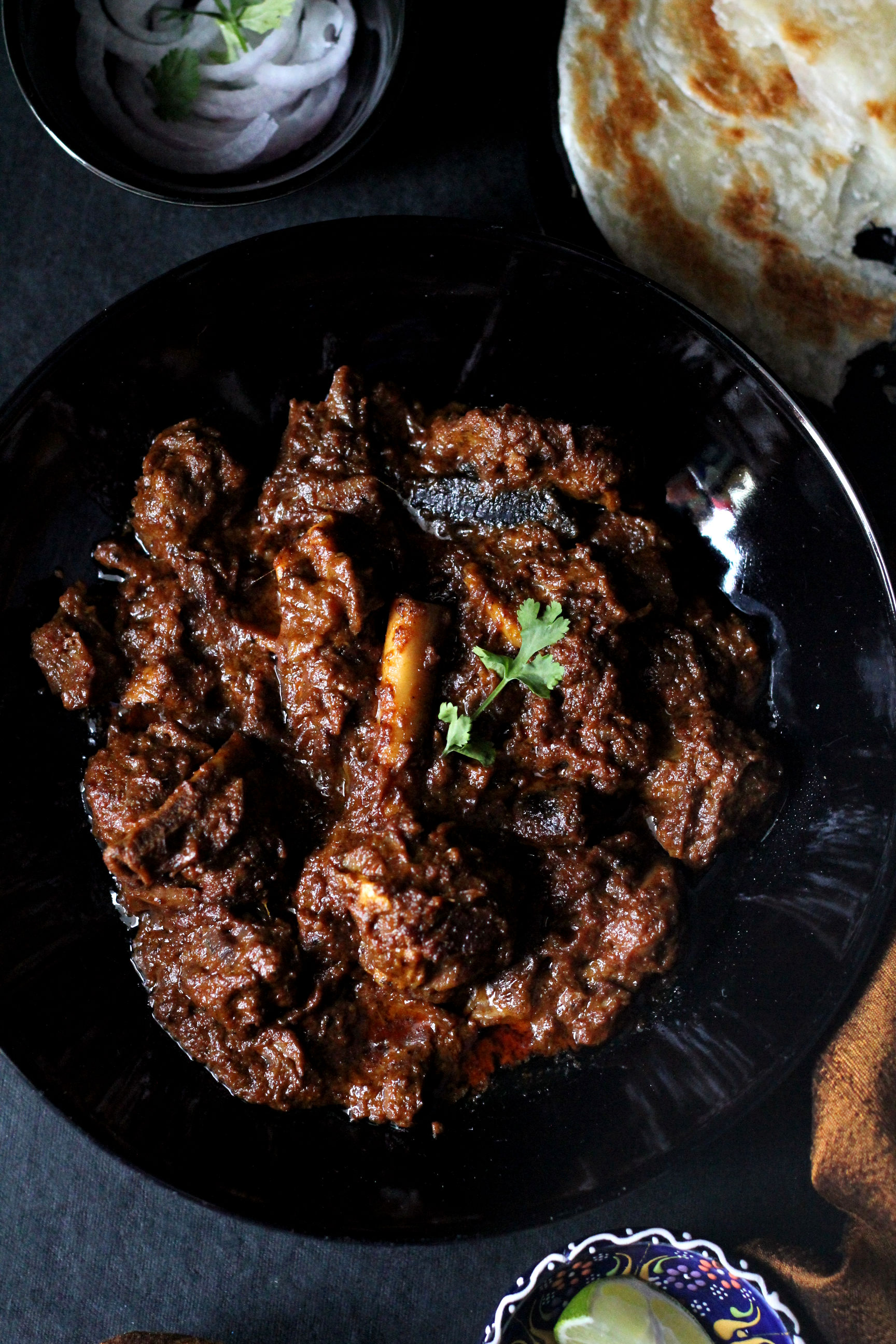 Mutton Korma is a rich and delicious dish that is essentially, lamb cooked in an onion, yogurt, nut and spice paste over a slow fire till it achieves a 'fall off the bone' kind of tenderness. Now this dish is fit for royalty because it is truly rich. Also, made the traditional way, it can take almost an hour or more to slow cook it like they did in the past. However, since we are poor and mere mortals who live in modern times, we use the pressure cooker to do the same job in half the time. The end result is just as brilliant. So technically, you don't need to be a royal or have a load of time on your hands. The hubs made this on a busy Thursday evening when we had some guests over and it was the highlight of the meal that day. Since I couldn't take pictures on the same day, I saved a little in a bowl for later and went ga ga over shooting the pictures in a moody setting. As luck would have it, the weather outside was a bit too dull and moody for my liking and so I ended up with only a few good shots. Not that I am completely happy with them, but if I dilly dally for too long I may forget to post the recipe which would be unfair to this keeper of a recipe.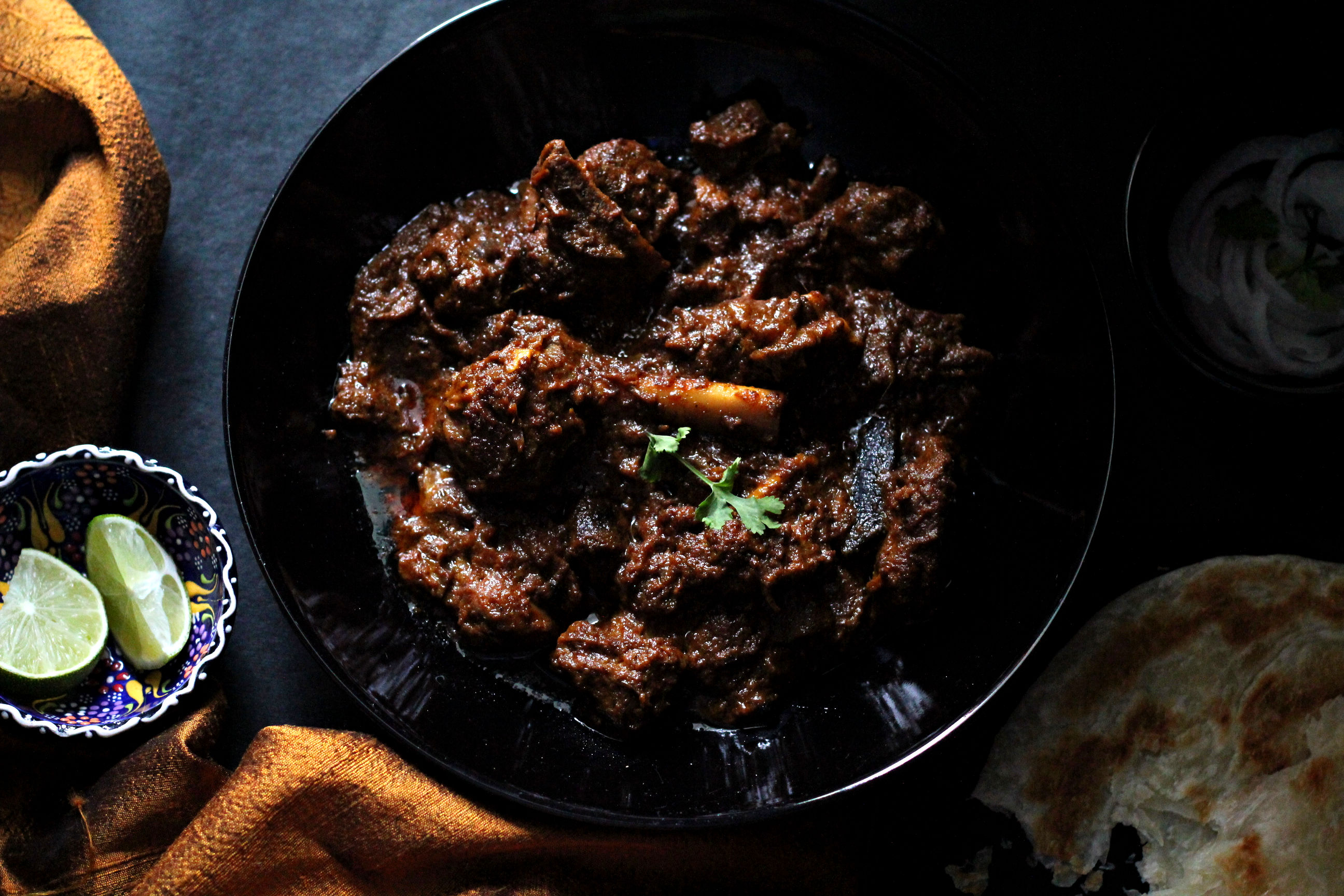 I hear that the winters are still harsh in many parts of the world as I write this today. It is pretty chilly here in Dubai with heavy winds keeping me in my sweater for most part of the day. To be honest, I am a very tropical weather kind of a person. A slight nip in the air makes me uncomfortable and I retreat into my shell. I no longer want to be active outdoors but staying indoors all day is a luxury I can no longer afford. The school runs and other activities keep me outside for longer that I like. When I am at home I like to keep warm, so I enjoy having hot beverages and of course end up eating a lot of junk along with them. Sigh! Also, since I am a lover of spicy food I really like trying out recipes that comfort me. See, now you know that I am an emotional eater! Anyway, this dish was one thing that I didn't regret digging into. The meat was just so lusciously delicious and all the other superlatives that I can't recall at the moment 🙂 If you enjoy a good meat dish, then you must make this. Pair it with some piping hot plain white rice or a nice flaky paratha or perhaps a karak roti (roti that is roasted to a crisp in the tandoor) because I think these three unassuming accompaniments will let the mutton korma truly shine.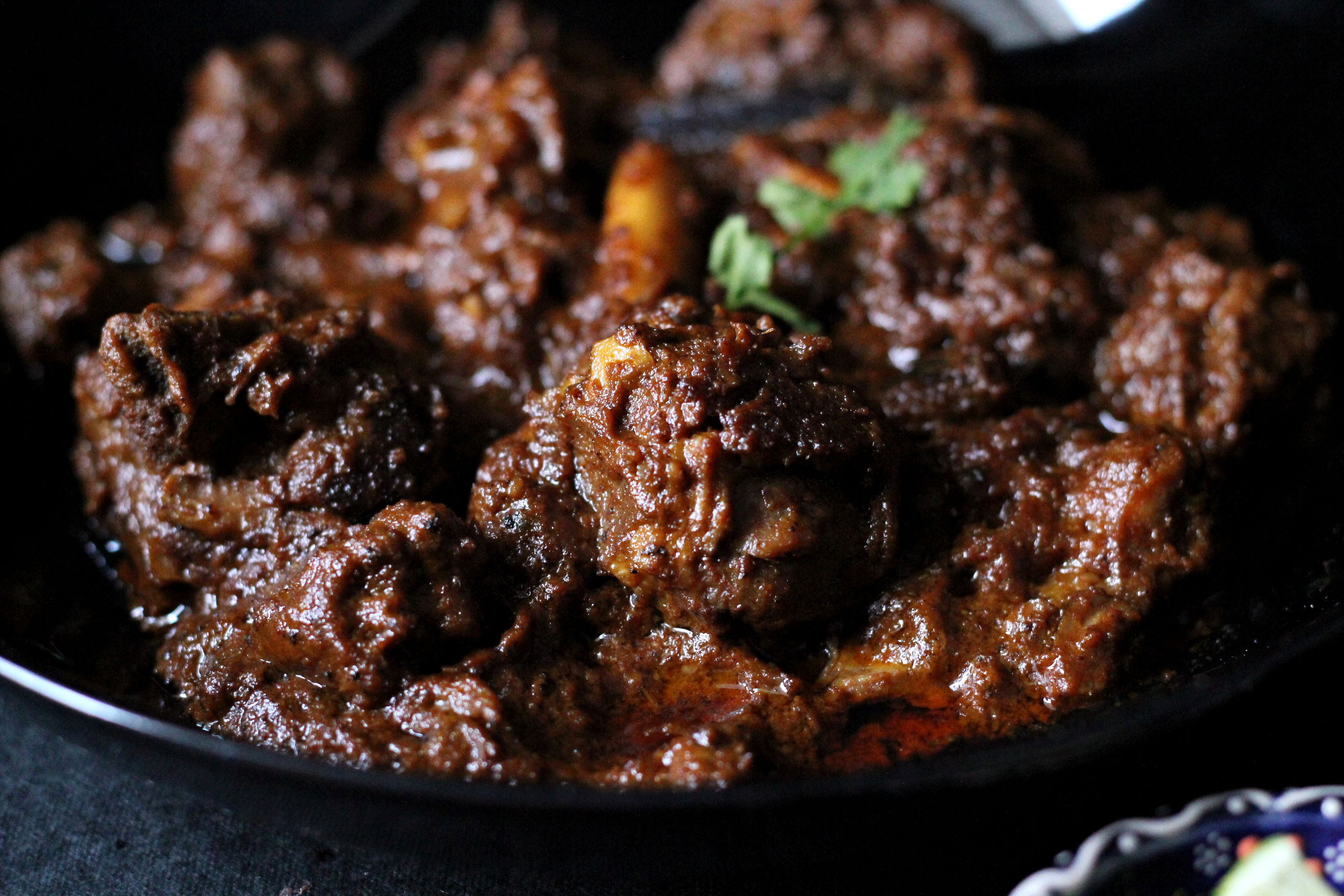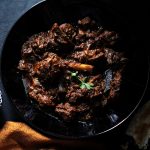 Mutton Korma
A rich yet delicately spiced mutton curry with meat that falls off the bone is a special treat for special occasions.
Ingredients
1

kg

mutton on the bone

1

" stick of cinnamon or cassia bark

3-4

cloves

1

black cardamom

2

teaspoons

ginger & garlic paste

2

tablespoons

ghee

oil for frying

salt to taste

For the masala

3

medium sized onions

finely sliced

6-8

whole cashew nuts

1-1/2

cups

yogurt

whisked

2

teaspoons

coriander powder

1-1/2

teaspoons

cumin powder

1/2

teaspoon

garam masala powder

1/2

teaspoon

turmeric powder

2

teaspoons

Kashmiri red chilli powder

To garnish

a pinch or two of nutmeg powder
Instructions
Cut the mutton into medium sized pieces, wash, drain & keep aside.

Heat oil for shallow or deep frying in a kadai/wok and fry the onions till golden brown (do not brown them too much or they will turn bitter). Remove and place on an absorbent kitchen tissue. They need to be very crisp.

Soak the cashew nuts in hot water, drain and grind them along with the fried onions to a fine paste

In a bowl, whisk together the yogurt and the spice powders (coriander, cumin, garam masala, turmeric and red chilli powders)

Heat 1-2 tablespoons of oil and fry the meat in batches till it turns golden brown. It is important to fry in batches and not overcrowd the pan as the meat will start to release its juices and cook under steam instead of getting fried. Once done, keep the fried meat aside.

Heat the ghee in a pressure cooker. Add the cinnamon, cloves and black cardamom and let them sizzle. Reduce the heat completely and add the yogurt mixture. Fry it till the oil begins to separate.

Add the ginger & garlic paste and fry again for 2 minutes or till the raw smell vanishes. Add the onion and cashew nut paste and fry again for 2 minutes.

Now add the fried meat and mix everything well. Add a cup of water, salt to taste and pressure cook till the first whistle goes off. Then reduce the heat completely and continue to cook for 10-12 minutes. Turn off the heat and let the cooker cool down for 8-10 minutes or till the weight (whistle) comes off easily.

Open the lid and continue to cook on a low heat till the consistency of the gravy thickens. It is okay if the mutton is slightly overcooked as it is meant to fall off the bone.

10. To garnish, sprinkle some nutmeg powder and serve with roti, chapathi or any rice dish of your choice