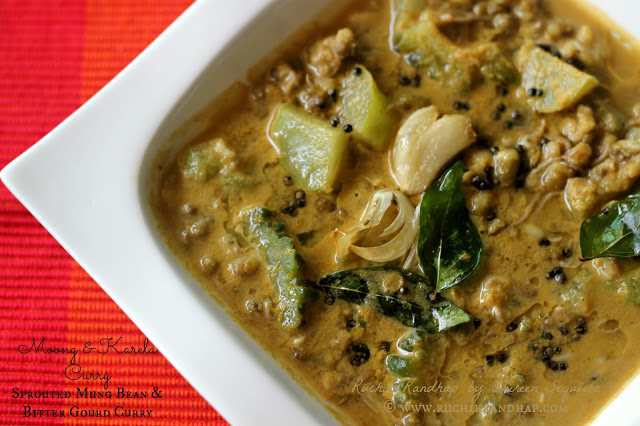 On my recent trip to Mangalore I had scheduled a health check up for myself. It's a routine thing that I do every year. I spend like half a day at the hospital getting all tests done just to help me relax and spend the next one year in Dubai in peace, or so I'd like to believe. When I went for the test this time I had to get the first round of blood tests (to check the fasting sugar) done on an empty stomach. After the test was done breakfast was provided and somehow I always enjoy breakfasts anywhere in Mangalore. Whether it's at home or a hotel or the hospital canteen. Haha! I'm such a glutton, I can eat anywhere. Anyway, this time on the menu was this really nice sprouted moong curry, chapathis and the standard stuff served by the canteen – boiled egg, bananas, bread and butter all to be washed down with tea or coffee. I eagerly reached out for the ultra soft chapathis placed in a casserole (hot box) and generously served myself some of that piping hot curry. Yum yum! Err, I know I was supposed to be eating a meagre meal if I didn't want a skewed report but when there is food (especially breakfast) in front of me I rarely think rationally. It's like I blank out and just dig in.
Most hospital canteens are of bad repute and I hadn't heard rave reviews of this one either, but somehow luck was shining on me that morning and I completely enjoyed my breakfast that day. The surprise element in that curry was slivers of bitter gourds swimming in it that made for a nice balance of bitter in the otherwise spicy-coconut-y curry. I hadn't tasted anything like that before and I think it was a brilliant way of sneaking in some bittergourd as I struggle to bring that on the table otherwise.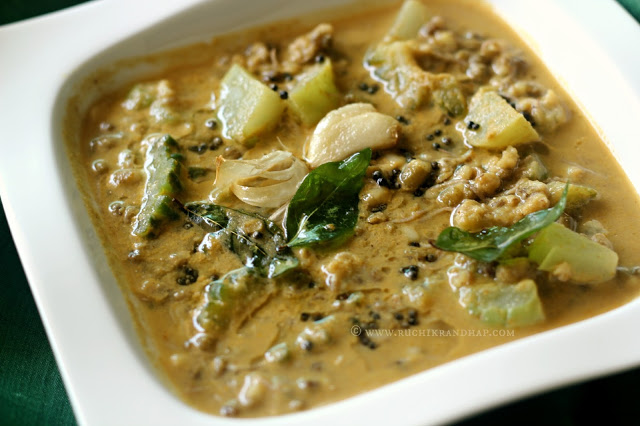 I decided that when I got back home I would try and recreate it and I sure did. I used my vegetable saagu recipe as the base but modified it a little bit just to help it taste more like the one I had eaten. While I never thought I had the talent of recreating dishes I guess I just surprised myself.
This is a simple everyday dish that you must add to your weekly menu. Perhaps this is the best way to eat bitter gourds that should even pass the test with kids (hopefully!)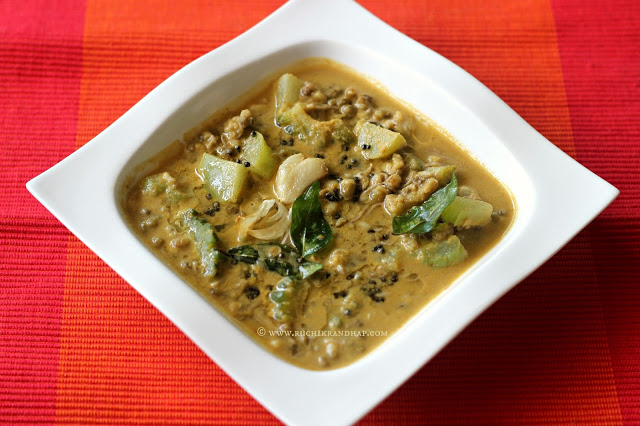 Moong & Karela Curry
Prep time: 20 mins | Cooking time: 10 mins | Serves: 4
Ingredients:
1-1/2 cup sprouted mung bean
1/2 cup sliced bitter gourd (pith and seeds removed)
3/4th cup chayote (chow chow) pieces
For the masala:
1 cup grated coconut
1 small green chilli (deseed to reduce spice)
2 long dry red chillies (fried in oil)
5-6 fenugreek (methi) seeds (fried in oil)
1/8th teaspoon mustard seeds
1/4 teaspoon turmeric (haldi)
1/2 cup coriander leaves
1 marble size ball of tamarind
1-1/2 inch ginger
For seasoning:
1/2 teaspoon mustard seeds
1 sprig curry leaves
2 cloves of garlic, crushed
2-3 teaspoons oil
Method:
1. Cook the vegetables with a little salt and water till tender but not mushy. You can pressure cook them too for just under a whistle (turn off the heat when you hear the hissing sound). Just make sure to cook the sprouts first, remove and then cook the bitter gourd and the chayote. Keep aside
2. Roast the red chillies and fenugreek seeds in 1 teaspoon of oil and then grind them along with the rest of the ingredients to a very fine paste. Reserve the masala water (used to rinse the mixer jar)
3. Transfer the ground masala into a pan, add the masala water and the vegetables. Adjust the consistency of the curry by adding the liquid that was used to cook the vegetables. You may also use plain water if the liquid feels too bitter. Adjust salt and bring the curry to a boil, reduce and simmer for 2 minutes. Turn off the heat
4. To temper, heat oil in a smaller pan and toss in the mustard seeds. When they stop spluttering add the crushed garlic and fry for a few seconds before adding the curry leaves. Stir. Pour the seasoning over the curry and cover the pan immediately. Serve hot with rice or chapathis