When we first spotted these green chillies in Lulu supermarket we instantly decided to pick a few to make fritters. We call them 'podi' in the local languages of Mangalore. Veggies such as potatoes, sweet potatoes, onions, capsicum, green chillies (not the small, spicy variety) and breadfruit are often popularly used in the preparation of fritters. A batter of gram flour/besan/chick pea flour is used to coat the veggies and off they go swimming in some hot oil, returning crisp and delicious.
After we got these chillies home we forgot about them. This is what usually happens when we pick stuff at random, stuff that's not on our grocery list, which we pick up on a whim and want to make something that we neither have a recipe for nor the time. Anyway, after having sat around for almost 10 days in the fridge, these chillies were eventually pulled out and I decided to stuff them with mince as I was preparing some for that day.
Initially I decided to make a biryani with stuffed capsicum from one of my favourite cook books – Biryanis and Pulaos by Katy Dalal, but had to abandon the task midway as I didn't really have the time to pull off a marathon biryani making session before packing off my son for his weekend extra curricular classes. I prepared some quick pulao separately instead and made these chillies as a side dish nervously waiting for my hubby's verdict.
Fantastic! He exclaimed on sampling just a bite of this dish. I never expected that the mince and the chillies together would create such a riot of flavours! The frying of the chillies results in a thick blackish residue/gravy which is oh so delicious! Amazing! You must try making this dish if green chillies are available – not the tiny green ones that you add for seasoning. The green chillies or chilli peppers as they are called are rather big – at least palm sized or bigger.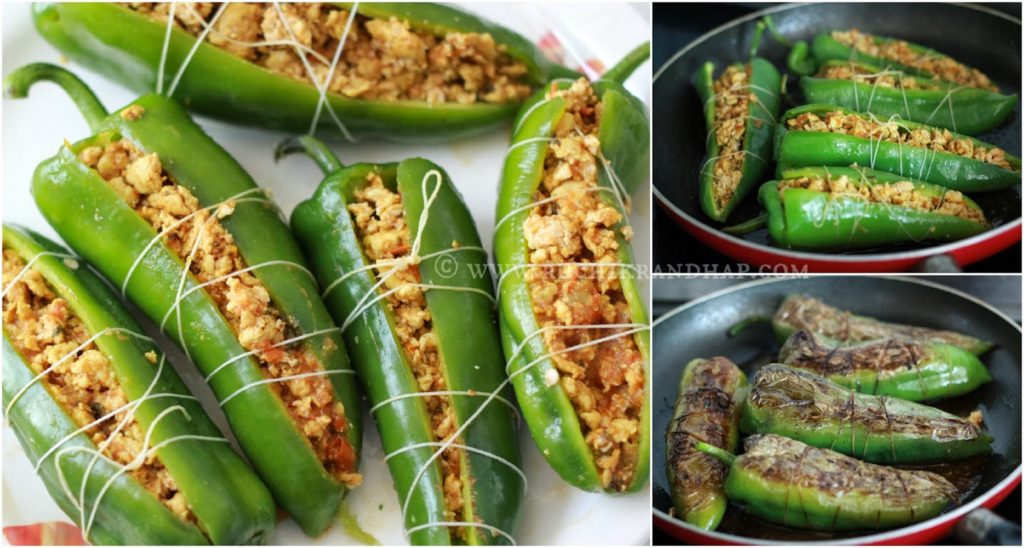 Since the first attempt I have made it twice more with the chillies I picked up at the
Farmers' Market on The Terrace
. I will talk more about my experience there in my upcoming posts. Nothing can beat the flavour of fresh produce, trust me.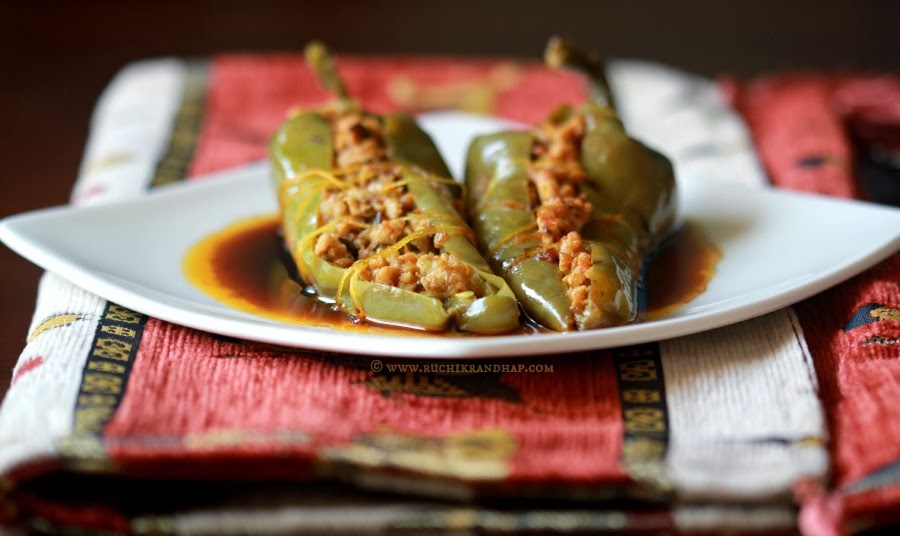 Mince Stuffed Chillies (Keema Bhari Mirch)
Prep time: 20 mins | Cook time: 15-20 mins | Serves 3-4


Ingredients:
500 grams chicken mince at room temperature *see note#1
500 grams (approx 8) long green peppers/chillies * see note#2
1 medium sized onion finely chopped
2 medium sized tomatoes finely chopped
1 sprig of curry leaves
2 tablespoons coriander and mint leaves chopped
1/2 teaspoon chilli powder
1-1/2 teaspoons cumin powder
1/2 teaspoon turmeric powder
1/2 teaspoon garam masala powder
3 teaspoons ginger garlic paste
Salt to taste
Oil for frying
Cooking grade string/twine/thread
Method:


Prep up:
1. Marinate the mince with 2 teaspoons of ginger garlic paste and approximately 1/2 teaspoon of salt. Keep aside till required.
2. Wash the chillies and pat them dry. Leave the stalks intact. Place them on a flat surface/chopping board to steady them (since chillies have uneven sides you need to place them on their most flat side).
3. Slit the chillies lengthwhise starting from just below the stalk all the way to the end. Stop just ahead of the end – don't slit them completely. *see notes
4. Carefully scoop out the seeds and pith from the chillies taking care to see that you don't tear them too much especially near the stalk where maximum seeds are found.
5. Lightly sprinkle each chilli with salt, inside out. Keep aside till required.Cook the mince:
1. In a heavy based pan/non stick kadhai heat the oil on a medium flame and toss in the curry leaves. Then add the onions and fry them until they turn golden.
2. Add the marinated mince and fry till the water evaporates. Add the powders – chilli, cumin, turmeric, and garam masala, mix well and fry on a low heat for about a minute.
3. Add the tomatoes and additional salt to taste if required (remember that you have added some at the marination stage so go easy with the salt ). Mix everything, cover the pan and let the tomatoes simmer for 3-4 minutes.
4. When the mince is cooked add the chopped coriander and mint. Do a quick taste check and add lime juice if required.
5. Let the mince cool down a little before you stuff the chillies.Assemble & fry:
1. When the mince is cool enough to handle, stuff it into the chillies taking care not to over stuff as the filling will spill out while frying.
2. Carefully tie the chillies with pieces of string and secure the ends with a knot.
3. Heat oil in a large heavy based frying pan and place the chillies in a row. Ensure that you don't over crowd the pan as flipping the chillies to cook on all sides will be quite a task.
4. Cover the frying pan with a large lid and cook on a medium heat for 3-4 minutes before flipping. The heat should be maintained on a medium high – if it is too low, the chillies will let out a lot of steam and may turn soggy, too high and they could get burnt.
5. When the chillies have changed in colour to a pale green and you see a blackish residue (after having flipped on all sides) you can remove them onto a serving plate and carefully untie the strings.
6. Serve hot with plain rice, chapathis or pulao
Notes:
1. Mince/ground meat should always be at room temperature as it has a tendency to turn lumpy while cooking. These lumps are undesirable and hard to break.
2. If you don't find green chillies you may use capsicum/green bell peppers too although the taste will be different.
3. If you are well versed with the technicalities of baking veggies then you may bake the chillies instead of frying them. This way if you plan to double the ingredients you can bake all the stuffed chillies in one go in a big oven instead of frying them in batches which may take a long time.
4. If you prefer, you can cut the chillies in half (breadthwise, in the centre) and stuff mince into both halves. This way you can avoid the need of having to tie the chillies with string, however, remember to scoop out the seeds. You can even try opening the chillies near the stalk and try stuffing the mince into them – this is easier if the chillies are large with bigger cavities.