Winter is finally here! Well, at least for me it is, especially when I want to wear a lot of warm clothes before I step out of my cosy house and when the wind sends a chill down my spine (I hate this!) I know that it is finally here. Honestly, for a person who couldn't take even the cool breeze from a ceiling fan back in India, this is great progress! For someone who
loved
 didn't complain and managed the Mangalore and Mumbai heat (yeah yeah – it ranges anywhere between 32-40 degrees C during peak summer!) this is great progress. I can manage upto 23-24 degrees C now without wearing as much as a shawl (ok, Canadians, laugh all you want – like my cousins do when I make this statement!) so yeah, I'd like to pat myself on my back for that being slightly thick skinned now – I couldn't manage the AC for years and now I can't live without it. Signs of being spoiled by the comforts in Dubai. Sigh!
Anyway, we in Dubai are enjoying some great weather now which calls for all winter-y deliciousness! I thought it was high time that I posted the recipe for this porridge which is actually considered to be a postnatal (post delivery care) recipe in Mangalore. People in Northern parts of India consume this preparation during the winter months as it helps prevent colds apparently.
I was fed this gruel for days after both my deliveries. It is a great dish to help new mothers regain their strength, heal the internal wounds and most importantly improve lactation at the speed of lightening! Trust me, it works! I thoroughly enjoyed this kheer, which we call as 'paez' (rice congee/gruel) in Konkani, whenever it was made for me. Technically it is rice and fenugreek seeds cooked to a mush, flavoured with coconut milk and jaggery. Since palm jaggery is popular in Mangalore and is believed to have more health benefits than the cane jaggery, it is used in all pre and post natal recipes. However, if you do not have palm jaggery you may use regular jaggery. Try to use the one that is free of chemicals. Organic, chemical free jaggery is the best bet if you are making this dish for a new mother.
Fenugreek seeds are a powerhouse of nutrients. A few Google searches on its health benefits sent me into a tizzy. I am in awe of how wonderful this humble seed is. I am listing as many as I possibly can can't wait to incorporate the seeds in almost every meal possible henceforth.
Health benefits of Fenugreek Seeds:
1. Lowers blood cholesterol
2. Controls blood sugar levels
3. Helps manage acid reflux and counter heartburn
4. Reduces risk of heart disease
5. Induces and eases childbirth
6. Aids lactation
7. Aids weight loss
8. Aids digestion and improves metabolism
9. Prevents skin problems and reduces scars
10. Prevents colon cancer
11. Relieves flatulence and prevents diarrhoea
12. Prevents arthritis
13. Improves hair growth and prevents baldness
14. Purifies blood, helps prevent pimples and wrinkles
15. Prevents Alzheimer's
PHEW!!! And by the way, these are just a few health benefits that I managed to list from various sources (internet/books). I hope I have sparked enough curiosity for you to Google for the entire range of health benefits that this ingredient can provide. It really is a superfood and a must in our daily diets. Let's not run helter skelter when we are in trouble, instead, incorporate this natural wonder drug in various dishes and make the most of it.
Methiyechi Paez is so traditional in Mangalore yet today, I know of only people from earlier generations and new mothers who've tasted it. Most of our younger crowd has never even heard of it. This is such a pity! I urge you to try out this dish – it is really simple if you see the list of ingredients. The time taken for the process is greatly reduced thanks to pressure cookers so don't be lazy!
It is a super delicious gruel which has a very mild hint of bitterness that is adequately subdued by the sweetness of the palm jaggery. My little girl called it 'pudding' and asked for more but I limited it to just a few tablespoons for her.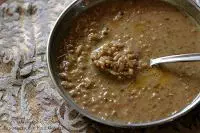 Methiyechi Paez (Fenugreek and Rice Congee) 
Rice and fenugreek seeds cooked to a mush, flavoured with coconut milk and jaggery is a traditional South Indian post natal recipe to help increase breastmilk and improve general wellness in new mothers
Print
Pin
Rate
Ingredients
1/8

cup

25 grams fenugreek (methi) seeds

1/3

cup

65 grams raw rice * see notes

2

cups

freshly extracted coconut milk * see notes

300

grams

(2 discs) Mangalorean palm jaggery * see notes before proceeding

pinch

of salt

2

tablespoons

of ghee, for garnish - optional but recommended
Instructions
Wash and soak the fenugreek seeds in drinking water, overnight or at least for 6-8 hours. Next morning drain the water (but don't discard it * see notes)

Pressure cook the seeds with 3/4th cup of water for about 5-6 whistles. Remove from heat and let the cooker cool down to room temperature before opening it.

Wash the rice in a couple of changes of water and add it to the partially cooked methi seeds. Add 2 cups (500 ml) water, pinch of salt and pressure cook again for 2-3 whistles. Remove from heat and let the cooker cool down completely.

Open the cooker and place it back on heat. Add the coconut milk, jaggery (less to begin with) and salt to taste and let the mixture simmer till it thickens, about 15-20 mins. Check the taste of the congee and adjust the sweetness accordingly

Important: take care not to cover the pan and not to cook the mixture on full heat - either of these actions will cause the coconut milk to curdle. Pay full attention although initially you can stir the mixture every once in a while to ensure that it doesn't stick to the bottom of the cooker.

When the mixture thickens, the rice turns into a near mush and the methi seeds lose most of their bitterness. Remove from heat

Drizzle with ghee and serve piping hot!
Notes
1. You can use any raw rice preferably one that doesn't turn mushy like kolam or basmati (unless you are using aged rice or basmati sela that doesn't mush up quickly). Short grain raw rice varieties like sona masoori, jeera sambal or dosa rice work well. Many South Indian versions of this dish call for red (unpolished) raw rice which is even better but the cooking time may vary. If you have a choice, use that.
2. Mangalorean Palm jaggery is made from the sap of the Palmyra palm (Eervol tree) unlike the one available in Bengal which is extracted from the Date palm. Each disc of palm jaggery weighs anything between 100-150 grams. I forgot to weigh the roundels before adding them to the dish so I suggest you use approx 200 grams to begin with and then increase it as you go. Always taste the dish when it has cooled to help your tastebuds get the right flavour and help you decide correctly. When the congee is hot it may taste less sweet, compelling you to add more and later you may feel that it is too sweet, so use your judgement properly.
3. If you don't have palm jaggery you can use regular cane jaggery, preferably the one that does not use chemicals during processing (organic is your best bet)
4. I strictly recommend you to use freshly extracted coconut milk for the above preparation - that's where the health benefits lie. DO NOT compromise on it whatsoever if you are making and serving this to new mothers - a mother's health and well being directly affects that of the baby.However, coconut milk can be reconstructed by mixing 8 tablespoons of coconut milk powder in 1-1/2 cups (1 cup = 250 ml) of warm water. Do note that commercially available coconut milk powder contains a ton of preservatives which are detrimental to your health.
If you are making this dish to suit your taste buds, go ahead and do it. If you are serving it to kids, new mothers and the elderly for the prime purpose of enjoying its health benefits, stick to pure, unadulterated, freshly extracted coconut milk. Fresh coconut milk can be extracted by coarsely grinding 2-3 cups of freshly grated coconut with 1/2 cup of warm water and then straining it with the help of a muslin cloth or sieve. The first extract is the thick coconut milk and repeating the process with more warm water will yield the second and third extracts which is the thin coconut milk.
Disclaimer
The nutritional values are only indicative.
Tried this recipe?
Please leave a comment & rate the recipe below or share a photo on Instagram and tag me @ruchikrandhap
Here is a collection of the home remedies/ pre natal and post natal recipes that I have posted so far:
KASHAYAMS/DECOCTIONS, BEVERAGES & SOUPS
| | | |
| --- | --- | --- |
| | | Kaljiryaso Kasai (Herbal Kashayam / Decocotion of Ironweed Seeds) (For general health , Mangalorean Post Natal Recipe)  |
FOODS FOR NEW MOTHERS 
Foods that aid lactation
      Methi Adthina / Methi Halwa (Sweet Fenugreek & Beaten Rice Mixture) (Mangalorean Post Natal Recipe) 

   Guliyanchi Kheer (Rice Ball Kheer) (Mangalorean Post Natal Recipe)