Since I am a big foodie I like to start my day with a big fat breakfast and now that I am a little health conscious I am always on the lookout for some healthy recipes to kickstart my day. I came across this recipe on Sanjeev Kapoor's website and after some modification, it has become a big hit with my husband. Easy to make, tastes yummy and is also beneficial for people who have diabetes.
Lapsi Pulao
Prep time: 15 mins | Cook time: 20 mins | Serves: 2


You Need:
1 cup lapsi/dalia/broken wheat, soaked – 1cup
1 teaspoon cumin
3-4 cloves
7-8 peppercorns
1 inch piece cassia bark or cinnamon
1 bay leaf
1 medium sized onion sliced
1/2 cup cubed carrots
4-5 french beans cut into small pieces
10-12 palak/spinach leaves, chopped
1/4 cup green peas
1 teaspoon ginger and garlic paste
2-1/2 – 3 cups water * see notes
salt to taste
Method
1. Heat oil in a pan and add cumin seeds, cloves, peppercorns, cinnamon and bay leaf and sauté till they begin to change colour. Add ginger and garlic paste and reduce the heat
2. Add sliced onion and sauté till they turn translucent. Add carrots and sauté. Add French beans and spinach leaves.
3. Mix and add lapsi. Mix well. Add salt and green peas and roast a little
4. Boil water and add to the mixture.
5. Reduce heat, cover and cook till done. Serve hot.
Notes:
If you want a porridge like consistency use 1:3 ratio (1 cup dalia : 3 cups water), if you want an upma like consistency use a little less water, ie 2-1/4 to 2-1/2 cups is sufficient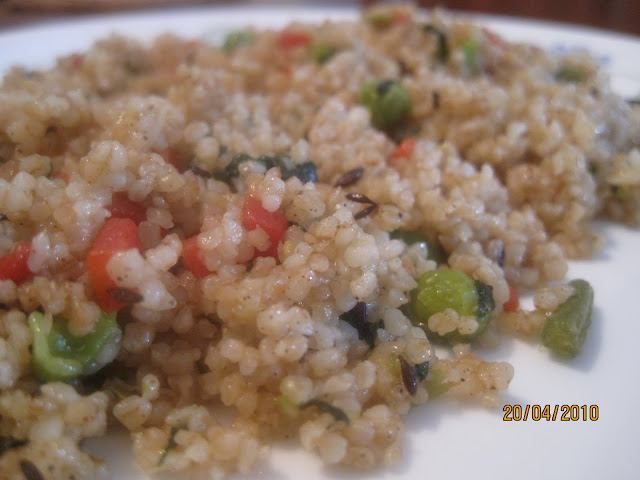 Pin