My blog would be incomplete without one of the most traditional recipes – Keerl ani Moog Suko which is actually a seasonal delicacy so those of you who are familiar with this preparation will wonder why this recipe is making its grand appearance in November instead of July or August. Well, as usual this was pending for a long time and I had prepared it right after the monsoons – the season when you start getting Bamboo shoots in the market. My husband is very fond of it and has an acquired taste for it unlike me. The first few times he prepared it I didn't like it at all. Keerl (bamboo shoots) is something you will either love or hate. The acrid (bitter) taste & smell was what put me off always. Whenever hubs brought it home & set about cleaning it I would find myself sniffing in the kitchen and ask him where the 'weird' smell came from. Anyway, since it's a delicacy that is not found all year round I stopped being so bothered by the smell.
Non Mangaloreans may have heard about the bamboo shoots being famous in Asian cookin and is immensely loved by the oriental people – I am guessing that Mangaloreans must be from the same gene pool (ha ha) cuz we love it too! The best way to prepare it of course is to cook it along with moog/moong (whole or sprouted green gram). Bamboo shoots or bamboo sprouts that come out of the ground are edible and are found in fresh, dried or canned form. It has a distinct taste and is often cooked along with other ingredients. In the Far East it is usually cooked in broths or main courses especially with meat like pork or beef. In India it is famously eaten in its fermented form in many parts of North East India especially Manipur & Nagaland.
The second main ingredient in this dish is the sprouted green gram or moong as we call it in India. Moon sprouts have a lot of health benefits and can be cooked in various ways. Sprouts can be eaten raw in a salad or cooked in various dishes like gravies or side dishes or can be transformed into cutlets or dosas. Moong sprouts are best known for being a great source of vegetarian protein and is also beneficial for those with a delicate digestive system.
If you find a can of bamboo shoots you can give this a shot, else, wait for the next season to enjoy this seasonal delicacy 🙂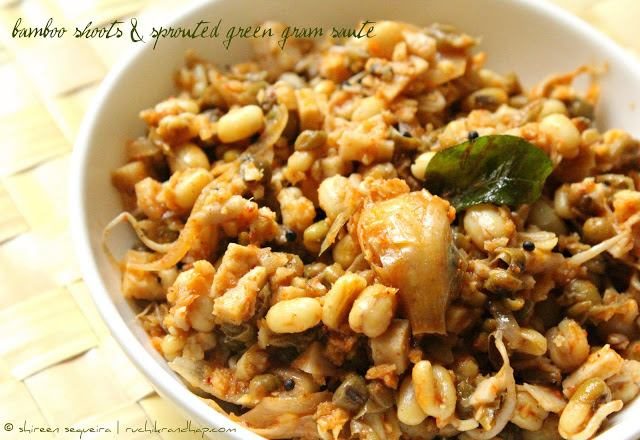 Pin


Keerl Ani Moog Sukho
Serves 3
You Need:
1 packed cup of sliced Bamboo shoots * see notes
1/2 cup whole green gram (moong) or 1-1/4 cups sprouted green gram * see notes
1/2 cup freshly grated coconut
1 tsp (or to taste) vegetable masala powder * see notes
1 tsp tamarind paste or 2 hog plums (ambade) or 4-5 pieces of sol
salt to taste
For seasoning/fon:
1/2 tsp mustard
3-4 flakes of garlic
6-7 curry leaves
1 medium size onion finely sliced
2-3 tbsp oil
Method:
1. You can pre-cook the moong sprouts in some water & little salt to taste – cook it till tender but firm (if you press each grain between your thumb & index finger it should not turn to a paste). Alternately you can pressure cook it with water & salt but don't let the whistle go off. Turn off the flame just when the hissing starts. Allow the cooker to cool down a bit before loosening the weight (whistle). Retain the cooked water. Transfer the cooked sprouts into another bowl.
2. Heat oil in a heavy wok or pan and add the mustard, when it splutters add the garlic flakes and fry till golden, toss in the curry leaves and finally the sliced onion. Fry until the onion turns golden in colour.
3. Add grated coconut and fry on a slow flame till you get a nice aroma. Toss in the vegetable masala powder and quickly stir it, you can turn off the flame if you see it getting burnt. Once it has blended well with the rest of the ingredients, add the minced bamboo shoots, hog plums or tamarind and the water from the pre-cooked sprouts. Cook for about 2-3 minutes and then add the sprouts. Check salt to taste & add as required.
4. Cover and cook on sim for about 4-5 minutes stirring once in a way.
5. Turn off the flame & serve hot with rice
Notes
a) Treating the Bamboo shoots:
If you are using readily available canned bamboo shoots you can drain the water & use them as required. If you are using fresh shoots, you will need to slice them and soak them in a bowl of water. Place the bowl in a refrigerator for 2-3 days. Change the water daily – this is done to remove the acrid (bitter) taste & smell. To store fresh shoots for a longer period of time you can either store in a container with salt water or store in an airtight container & deep freeze it for upto 1-2 months
b) Sprouting the Green Gram
Soak whole green gram in plenty of water for about 12 hours. Discard the water and transfer the gram into a thin muslin cloth, tie into a bundle and leave in a bowl or hang the bundle from a hook – leave it undisturbed for another 14-16 hours. You can check in between to see the length of the sprouts/roots desired
c) Vegetable masala powder is a blend of long dry red chillies, coriander & cumin seeds, peppercorns, fenugreek (methi), turmeric, bengal gram (chana dal), green gram (moong dal), boiled rice & gingelly (til). This powder is readily available in many stores in Mangalore especially Don Stores & Konkan Traders near Milagres Church. You may even find it in 'Mangalore Stores' which is a chain of stores having its presence across cities in India.
Instead of the above mentioned veg powder you can use any mildly spiced vegetable powder or even Bafat powder