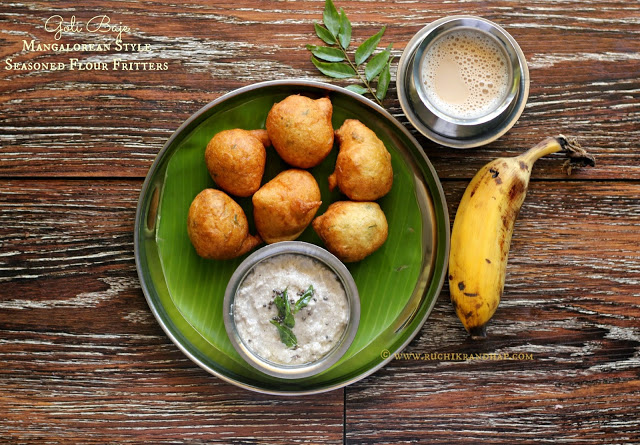 Don't ask me why it took me all these years to post this recipe. Despite being an ardent lover of traditional Mangalorean cuisine and being passionate about blogging those recipes I never really tried making it in recent times. The last time I made GoLi Baje was on a whim, much before the blog was born – so you can imagine. Six whole years passed by before I realised that this recipe was missing from my blog. Tsk! Tsk! In my defence, I don't like to deep fry a lot at home but I know this sounds like such a lame excuse. The GoLi Baje, the quintessential Mangalorean fritter *had* to be on the blog by now. Anyway better late than never. I am glad that I started the Kapi-Falhaar series which really gave me a kick on my backside to pay attention to some traditional fare that needs to come out of my recipe books and onto the blog.
'Kapi-Falhaar' by the way is a collective term given to sweets and savouries that are eaten for breakfast or as a mid morning or teatime snack in Mangalore. They are generally short eats that are prepared at home or are available in small wayside eateries (hotels) or bakeries (if their shelf life is long). Most Mangaloreans I know can relate to the fact that most of these eatables were homemade, prepared by their mothers or grandmothers but over the decades and especially after small bakeries mushroomed across the towns, they were mostly bought instead of being made at home. Since my mum didn't do a lot of deep frying at home we used to have the GoLi Baje very rarely at home and mostly in hotels.
GoLi Baje and
Mangalore Buns
 (banana pooris) were two of my favourite snacks to grab at eateries in Hampankatta, our most happening shopping destination during my childhood. After hours of walking around, shopping and carrying all those bags, the freshly fried fritters were such a comfort to eat, especially with freshly ground coconut chutney that was served along with them. So delicious!
The lip-smackingly delicious GoLi Baje is crisp on the outside and spongy and porous on the inside owing to the batter that is fermented in buttermilk overnight. When fried in hot oil, the batter is transformed into spongy, golden balls that tastes so awesome with chutney! You really can't stop with one. I made these two days in a row last week while trying to tweak my recipe and the husband and I greedily gobbled up perhaps 7-8 bajes in one go.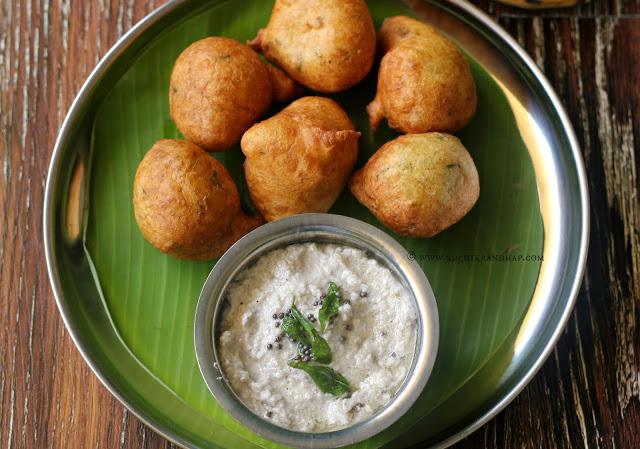 By the way, you may have noticed the capital 'L' in the spelling of the 'GoLi'. Let me demystify that for you. Down South, we pronounce some words with a twist of the tongue, especially the letters 'L' and 'N'. Our Alphabet (Kannada, Tamil, Malayalam & Telugu) provides for it while that of English doesn't. The 'La' which is the last letter of the Hindi Alphabet is pretty much how our 'L' sounds like!
The term 'GoLi' loosely stands for 'marble' in Kannada and owing to the shape of these fritters, which need to be pretty round, they are called as the 'GoLi Baje' or 'marble fritters' ('bajo' or 'baje' stand for 'fritters')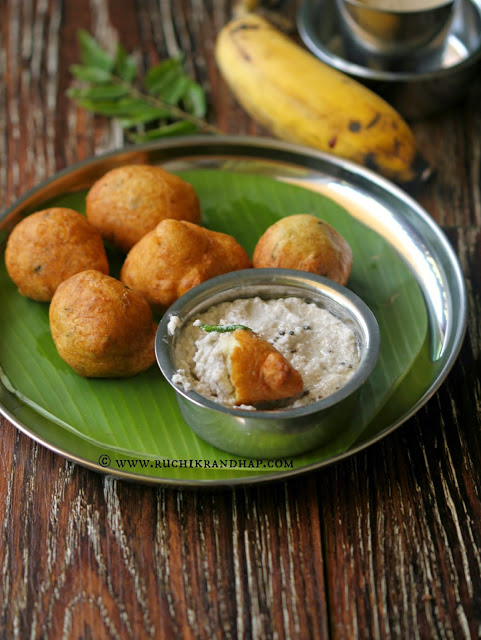 What's with 'S.K. Pakoda' then, you may ask. Well, when we were in Mumbai, the hubby used to often order these fritters as a tea time snack to his office. Apparently in many hotels in Mumbai the GoLi Baje is known as the S.K (South Kanara) Pakoda! I thought this may ring a bell with many of my readers in Mumbai. Some restaurants across Karnataka call them as 'Mangalore Bajji' apparently (a quick Google search helped me arrive at this conclusion).
So here's presenting one of my favourite tea time snacks, the GoLi Baje in all its glory. Try it, enjoy it and let me know how you liked it!
Click below to save this recipe on Pinterest!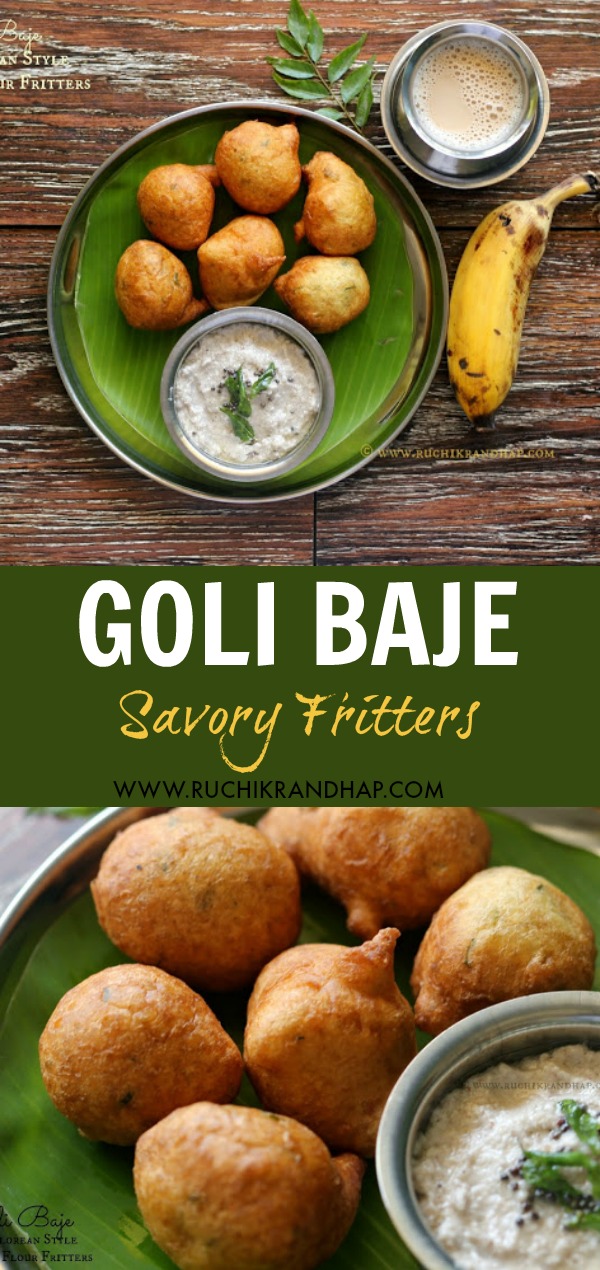 Pin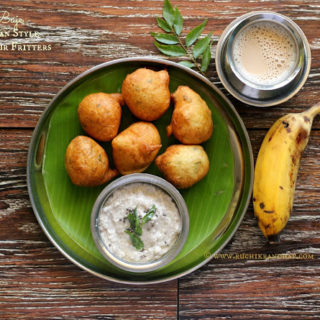 GoLi Baje
Lip-smacking golden fritters that are crisp on the outside and spongy and porous on the inside taste perfect with some coconut chutney and filter coffee on the side
Print
Pin
Rate
Ingredients
1

cup

plain flour (maida)

2

tablespoons

gram flour (besan) *see notes

2

teaspoons

granulated sugar

2

teaspoons

finely chopped ginger

2-3

small green chillies (minced * adjust to taste)

12-15

curry leaves, finely shredded

1/2

teaspoon

baking soda (soda-bicarb)

3/4-1

teaspoon

salt (adjust to taste)

1/2

cup

thick yogurt (curds)

1/8-1/4

cup

approx water * see notes
Instructions
Sift the maida, besan, baking soda and salt into a bowl and add the sugar. Mix.

Add the yogurt and mix well. Add about 1-2 tablespoons of the water, not all of it. Add the ginger, curry leaves and green chillies and mix well. Cover and keep aside for 2-3 hours

When you are ready to fry the GoLibaje check the consistency of the mixture. It should be thick enough to be scooped out into a ball – if it is runny then you will end up with randomly shaped baje. If you feel the batter is extremely thick, add 1-2 teaspoons of it at a time to loosen it up a bit.

Heat oil for deep frying in a wok/kadhai. Let the oil be medium hot – not very hot or the baje will brown quickly on the outside and remain uncooked inside. To test the readiness of the oil, drop a small ball of batter into the hot oil. If it comes up within 2 counts, the oil is too hot. If it takes too long (7-8 counts) then the oil is not hot enough and the GoLi Baje will absorb a lot of oil. When the oil is at the right temperature they will rise upto the surface with tiny bubbles around them within 3-4 counts.

Using a slotted spoon gently flip the baje to cook evenly on all sides – most likely they will bob up and down the oil and do the job on their own but otherwise just assist them. When they are just golden brown, remove them with the slotted spoon and place them on a plate lined with absorbent kitchen tissue.

Serve hot with thin coconut chutney or ketchup
Notes
1. Traditional recipes do not have the gram flour added to the batter – it is prepared purely with maida however the addition of the same gives the goLi baje a crisp exterior with soft insides. 2. If you are using very spicy variety of chillies you can deseed them before mincing. 3. Traditional recipes call for the batter to be mixed and kept for fermentation overnight. The addition of baking soda does the same job in a shorter period of time. 4. Instead of yogurt you can use buttermilk – in this case you may not be required to add any extra water – or add it part by part until the desired consistency/thickness of the batter is achieved. 5. By the time you are ready to fry the fritters you feel that the batter is too thin you can add some extra maida/flour to it, but don't add too much. If the batter is loose you will not get round shaped baje but that's ok, they will still taste fabulous. 6. I used really thick yogurt like the one available in tubs (Al Marai in the UAE/Nestle set Dahi in India)
Nutrition
Nutrition Facts
GoLi Baje
Amount per Serving
% Daily Value*
* Percent Daily Values are based on a 2000 calorie diet.
Disclaimer
The nutritional values are only indicative.
Tried this recipe?
Please leave a comment & rate the recipe below or share a photo on Instagram and tag me @ruchikrandhap