Today, the 8th of September is the feast of the Natitivity of The Blessed Virgin Mary. In short, it is the birthday of Mary, mother of Jesus. This feast is also called as the 'Monthi Saibineeche Festh' in Konkani and is celebrated with great gusto in South Kanara. Since the feast happens to fall in the month of September which is also the time when monsoons almost taper off, and new crop is harvested, it is celebrated as the harvest feast. The first crop is offered to God during the Mass and His blessings are sought. The nine days preceding this feast is called the Novena (pronounced 'no-veena') where people pray successively for nine days in the belief of obtaining special intercessory graces. In Mangalore, tradition has it that children, especially school going kids attend daily evening Mass and thereafter honour Mother Mary by offering flowers that they lovingly bring from their gardens. After the offering of flowers, sweets are distributed among all the children and this was something I looked forward to as a kid. On the day of the feast, sugarcanes are  distributed instead of sweets. I am sure everyone from Mangalore who has participated in this event at some point or the other in their lives cherishes these lovely memories.
Now, let's talk about food! The feast day menu usually consists of a full vegetarian meal. Traditionally these vegetables were the ones newly harvested and hence the list of items that go on the menu are also traditionally passed down from one generation to the other with a few exceptions. In my house, my mother always cooked the
Alun Dento
(Colocasia stems cooked with Amaranth stalks in a coconut gravy),
Sanna
(Steamed idlis made of yeasted batter),
Gosalem or Benda Thel Piyao
(Ridge Gourd or Lady's Finger Oil & Onion Style),
Sonay Sukhe
(Black chana/Garbanzo Fugad) or
Moog Sukho
(Sprouted Green Gram Fugad). Unlike most traditional meals that were finished off with a
Vorn
(payasam), on this day my mother would make
Jivo Roce
– Freshly extracted coconut milk flavoured with jaggery & cardamom. This was called '
Jivo
' (meaning raw) because she would make it without boiling the coconut milk. It tastes best when eaten with
Sanna.
Some people make this sweet 
roce
all year round as an accompaniment to
Sheviyo
(Stringhoppers), similar to how Keralites eat it with
Idiappam.
Somehow, since I was rather disconnected from traditions and food as a child (I only ate to survive) I never really bothered to enjoy this grand finale and always made a mad dash to the porch of my traditional Mangalorean house where the sugarcanes were kept and enjoyed an afternoon of chewing on sweet sugarcanes and chatting with my cousins. Most times I ended with mouth ulcers after all that chewing! Ouch! I wish I had stuck to the Jivo Roce 🙂 But, no regrets there as those days will never come back and neither will such fresh & succulent sugarcanes! My son is definitely missing something today.
Jivo Roce (Sweetened Coconut Milk)
Prep time: 10 mins | Cook time: Nil | Serves 3-4
You Need:
1 medium size coconut or 2 cups freshly grated coconut
3-4 tbsp grated/ powdered jaggery (approx 30-50gm) adjust o taste
3-4 cardamom pods powdered
Method:
1. Pulse the grated coconut with a little lukewarm water (approx 3/4 cup) for 8-10 seconds in a mixer grinder. Do not make a paste of it or extracting the milk will be difficult.
2. Line a bowl with a thin muslin cloth and transfer the contents from the grinder onto the cloth. Pull the open ends together to make a bundle and gently squeeze out the thick coconut milk into the bowl. This is the first extract. Empty the contents back into the mixer grinder and add another 3/4 cup of lukewarm water and pulse it for another few seconds. Remove and repeat the process of squeezing out the milk. This is the thin coconut milk or the second extract.
3. In a large bowl mix the thick milk and a little thin milk to achieve the desired consistency. Do not make it too watery. Add the jaggery and cardamom powder and stir
4. Serve with Sanna and enjoy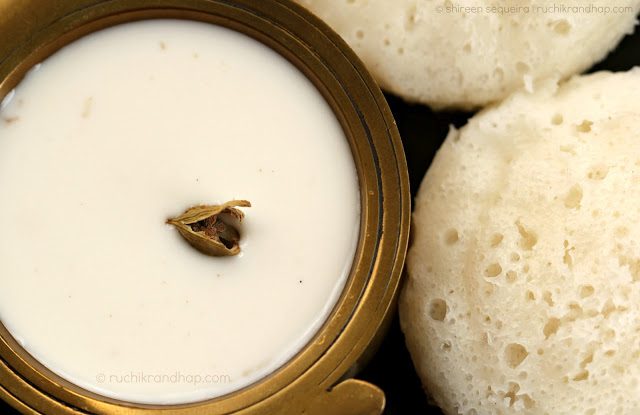 Pin