Pin
Hey everyone! Wassup?! I am all geared up for the upcoming festivities, are you? Well, starting this week I'll be posting some new, fun recipes for the joyous season that will kickstart soon – yes! Christmas is just around the corner and I am sure that most of you have already planned your menus. If not, I will soon be sharing ideas to make your Christmas & New Year parties a tad more fun!
So as you know, I had made these jelly boats for my daughter's birthday party a couple of weeks ago and they were an instant hit! I had jelly in 3 flavours (pineapple, lime & mango) and they were polished off in no time. I had just 3 portions in a small box that I had forgotten in the fridge and those came handy for the pictures! These jelly boats are not just cute to look at, they are super easy to make and require basic cooking skills (even kids can make them with a little supervision – so it's definitely something you can do on a boring day to cheer them up!) What's best is that you can make them ahead of time and that will save you all the time & effort on the day of the party.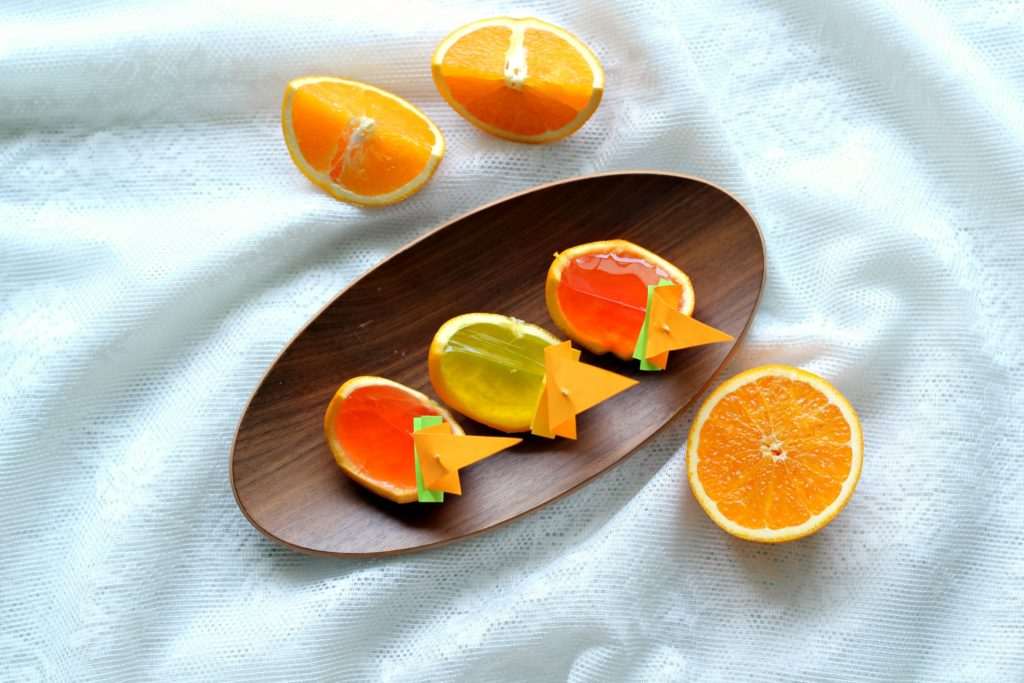 Pin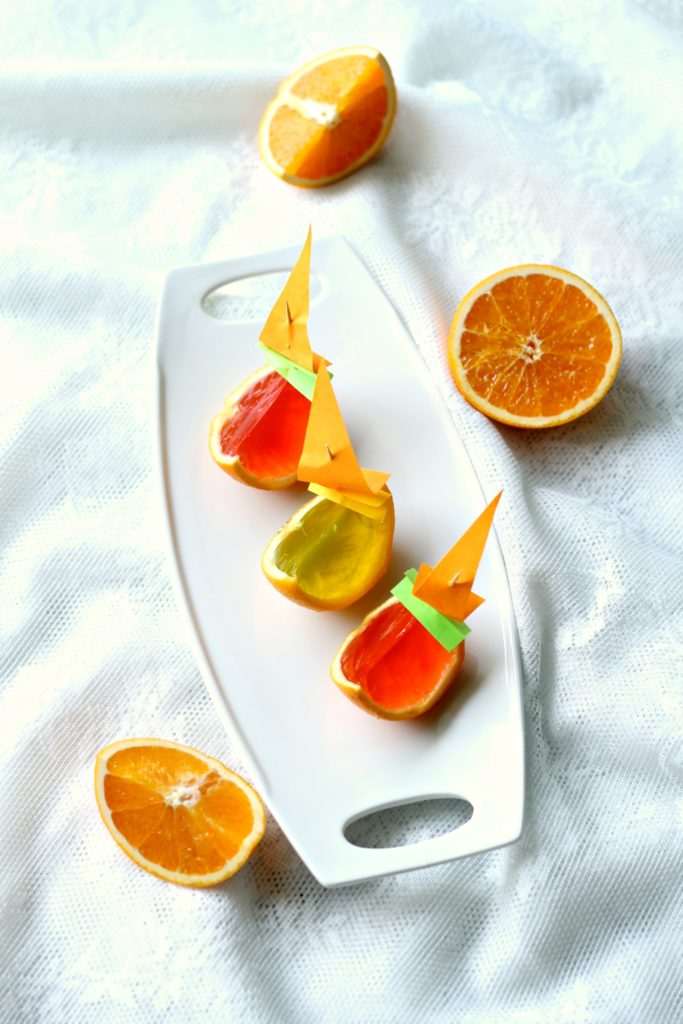 Pin
Here in Dubai the supermarkets are flooded with tons of oranges of all varieties. The navel variety remind me so much of our Indian mausambi (sweet limes) because of their thick skins that are almost impossible to penetrate into using your bare thumbs. However, unlike the mausambi, these smell and taste like regular oranges and are ideal for juicing. The skins are thick enough to be cut into long strips and candied. Since they were on sale I decided to buy some and try a few experiments with them. I found the idea on 4thsensecooking.com via Pinterest and since they were an instant hit I decided to go ahead and make some more for the party. Needless to say, I had people eating out of my hands, literally! Try them! I am sure your guests will love them too!
Pin
Jelly Boats
Super cute and fun to make jelly boats are a treat for kids of any age! Make your party special with these cuties!
Print
Pin
Rate
Ingredients
3

navel oranges or sweet limes

mausambi or any citrus fruit with a thick skin

1

packet

85gms of flavoured jelly dessert (I used Foster Clark's)
Other things you will need:
a grapefruit spoon or corer

or a regular scoop

a citrus juicer

electric or manual appliance

coloured card/chart paper and toothpicks to make sails
Instructions
Wash and cut the oranges into half (cross section) and extract the juice from all the halves. Then using a grapefruit spoon or corer, remove the pith and pips of the orange. Take care to see that the stem area remains unbroken (don't tug at the pith from inside as that will end up making a hole in the orange skin). Keep aside

Make jelly as per the instructions on the packet. This is how to make it. Add the jelly powder to a bowl and cover it with 1 cup (240ml) of freshly boiled water. After dissolving the powder completely add 1cup of cold water (room temperature will do). Mix everything well.

Place the empty orange shells over ramekins or cups with a small mouth/opening (to prevent them from toppling). A muffin tray works well too. Place all these ramekins on a large tray (so you can easily transport them into the fridge). Gently pour in the prepared jelly mixture. Fill them up to the brim. Carefully place the tray of jelly filled orange shells into the fridge and let them set for 4-6 hours, overnight for best results

After the jelly has properly set (when you touch it, it should be firm) remove the orange jelly cups from the fridge. Cut each cup into two (basically you will be making 4 parts out of 1 whole orange). Using a sharp knife or a clean pair of scissor trim any excess part of the orange skin (only if the jelly was not filled up to the brim).

Prepare the sails using the card paper and toothpick (as seen in the pictures) and poke each jelly boat with a sail. Serve!
Disclaimer
The nutritional values are only indicative.
Tried this recipe?
Please leave a comment & rate the recipe below or share a photo on Instagram and tag me @ruchikrandhap