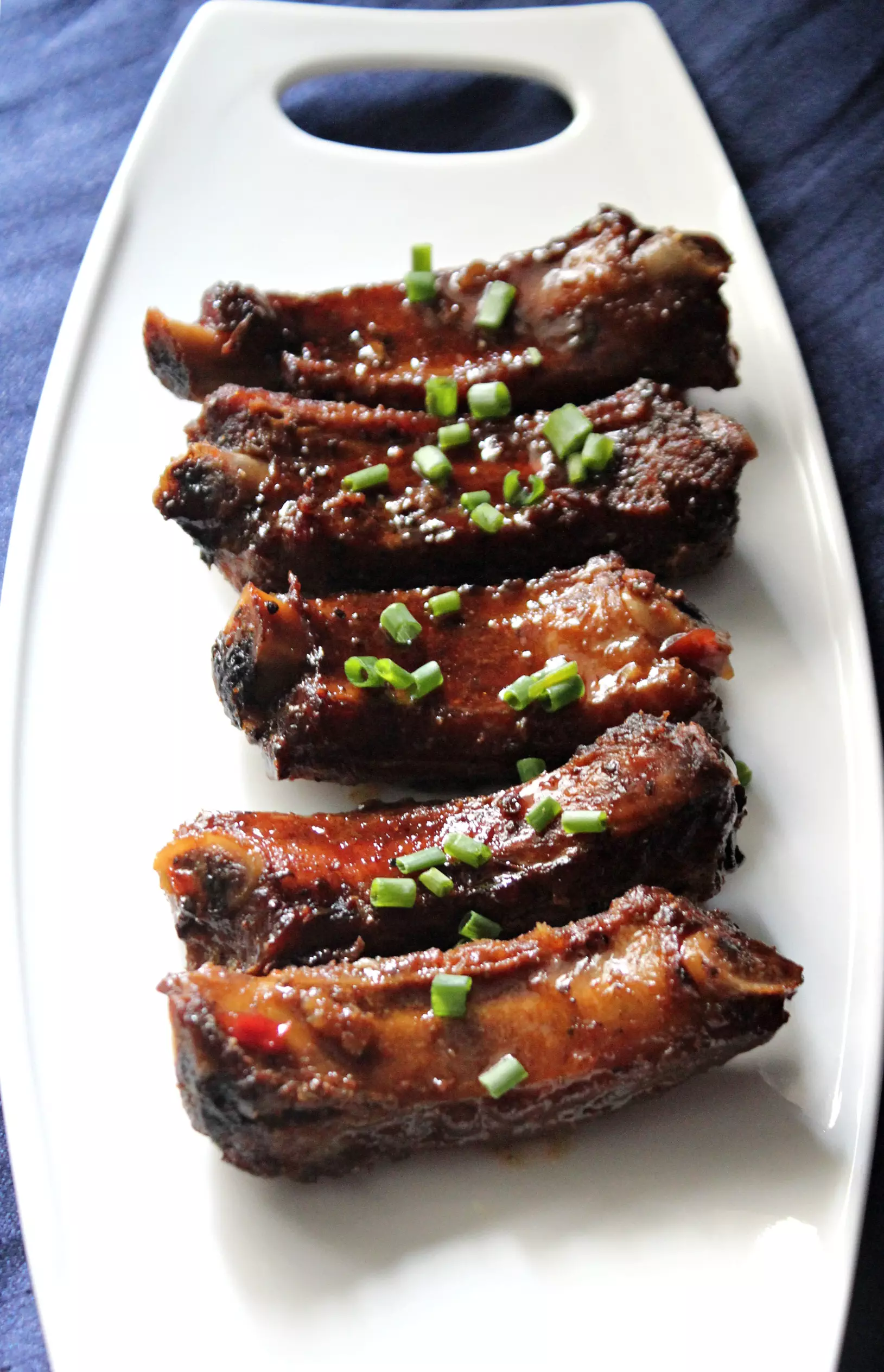 Pin
Pork Ribs has got to be one of the most requested recipes and I have not been able to oblige my readers all these years because whenever the hubby makes it, it is generally done just in time to be served to guests and I never get to click any decent pictures. On Christmas day this year, we had a small potluck lunch with our cousins and their families here in Dubai and we brought the starters while the other families brought other courses of the meal. I planned to take my props and serving dishes to where the party was hosted and managed to get a couple of pictures in the best daylight possible. I hope to get better pictures next time we make pork ribs and then I will surely update this post.
Pork ribs are a hit at any party. At least the one's I've attended always have a pork starter and most of the times it is the ribs, slow cooked to perfection and glazed with a medley of flavours that form the sauce. Since my hubby is a champion at making party starters, his most favourite job when we split our cooking tasks, is to make either pork or chicken. He somehow manages to create magic in whatever he cooks. These pictures don't do much justice to how amazingly melt-in-the-mouth these ribs were. Apologies for sounding too pompous but I sometimes can't stop raving about great food and this was it but before you eye roll one more time, let us dive straight into the recipe.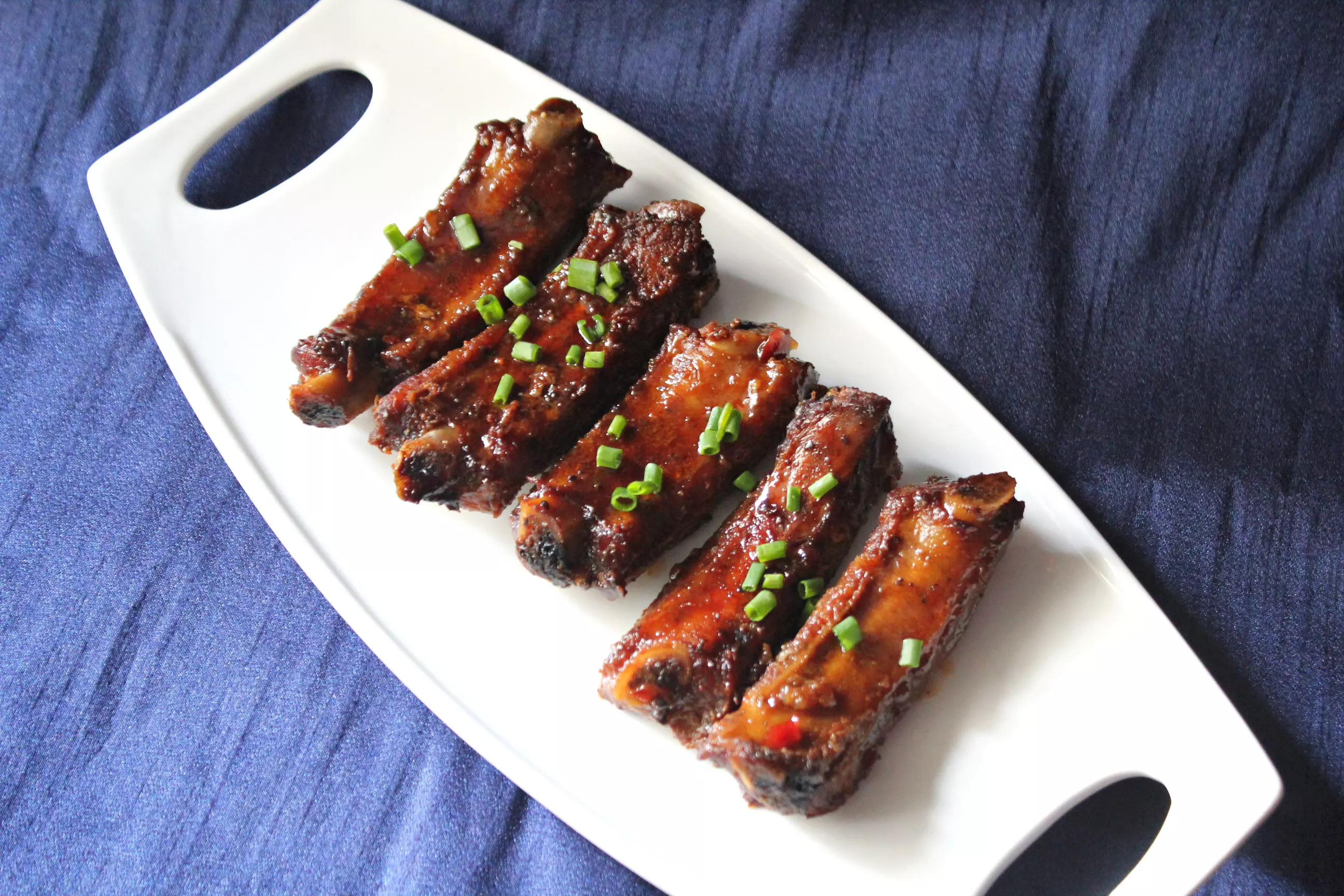 Pin
These pork ribs were marinated overnight and that is the trick to getting the meat to pull all the flavours. The next most important factor in achieving juicy and fall-off-the-bone kind of tenderness in the meat is to seal the baking pan/roasting tray completely with foil and slow cooking it on low heat for around 2-1/2 to 3 hours. Yes, this is a long time considering that we are so accustomed to instant gratification, but patience pays and wait you must. The good part is that since it is the oven that does its job, you are free to do what you please while the ribs are cooking. The charm of the whole thing is the sauce, the flavours of which you can play with. You can balance the sweetness or the tang or the spice according to your taste. Feel free to add more ingredients than mentioned in my recipe as pork tastes great with any kind of flavour added to it.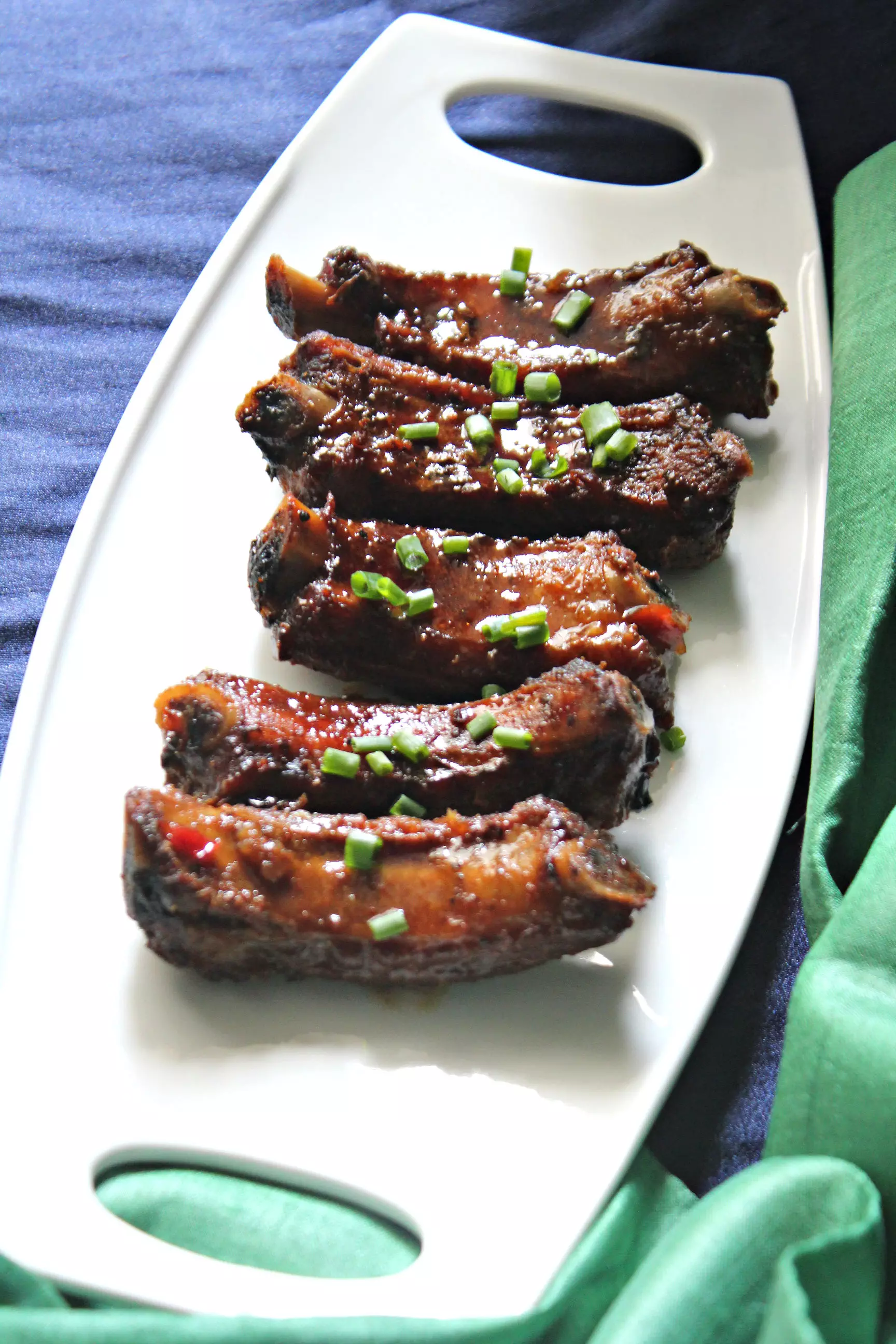 Pin
Hope you enjoy this recipe as much as we did. If you are looking for more recipes for starters/appetizers, do click on the link below
Hot & Sweet Pork Ribs
Succulent and 'fall-off-the-bone' delicious, these delicately spiced, sweet & with a slight tang pork ribs are a must for any party you host!
Print
Pin
Rate
Ingredients
Marination
100

grams

soft brown sugar

3

tablespoons

dark soy sauce

1

tablespoon

light soy sauce

2

teaspoons

Kashmiri red chilli powder

2

teaspoons

paprika or cayenne pepper powder

1

teaspoon

garlic powder (or 2 teaspoons fresh garlic, finely chopped)

1

teaspoon

ginger powder (or 2 teaspoons fresh ginger, finely chopped)

1

teaspoon

vinegar

1

teaspoon

pepper powder

1

teaspoon

dried herbs (like oregano or rosemary)

1-1/2

teaspoon

salt or to taste * see note
Sauce
100

grams

brown sugar

1

teaspoon

chilli sauce (like sriracha)

1

teaspoon

of honey

pinch

of salt
Instructions
Wash the pork ribs and drain off the excess water. Pat dry using a kitchen tissue. Mix all the ingredients mentioned under 'Marination' with the pork ribs and place them in a large roasting pan. Seal the pan completely with aluminium foil. Refrigerate overnight or for at least 4-6 hours

When you are ready to roast the ribs, pop the sealed roasting pan in an oven and let the ribs slow roast at 150 degrees C for 3 hours.

After 3 hours, carefully open the roasting pan and discard the foil. Return it back to the oven and cook for 30 minutes till the stock thickens.

Remove from the oven again, separate the stock from the ribs gently as the meat may fall off the bones. Strain the stock and boil it in a saucepan with all the ingredients mentioned under 'Sauce' and cook till it reduces further till slightly thick & glossy. If you feel that the stock is too much and hasn't greatly reduced or thickened you can quick fix this by adding 1 tablespoon of cornstarch mixed in 2 tablespoons of warm water. Cook for a couple of minutes till the cornstarch does its trick and helps thicken the sauce quickly.

Now mix the sauce with the ribs and return it back to the oven for another 10 minutes. This will help the sauce coat the ribs and help them absorb the new flavours.

Serve hot garnished with chopped spring onions
Notes
Notes:
Take care not to add too much salt to the pork ribs while marinating as the soy sauces will have salt in them.
Disclaimer
The nutritional values are only indicative.
Tried this recipe?
Please leave a comment & rate the recipe below or share a photo on Instagram and tag me @ruchikrandhap