While the Indian summers are slowly making way for the monsoons, we in the Middle East are gearing up for it. While I have always favoured the summer (and still do) this time we don't have an escape from it, should it get to us, as we aren't travelling anywhere. Staying in Dubai for the whole of the scorching summer will mean trying to stay hydrated throughout the day and staying indoors as much as possible. While having a good amount of water is a must, adding fruit and vegetable juices to one's diet can immensely benefit us. Fruit juices taken in small qualities can help give the body a boost of energy and nutrition that is very important during the hot season. This recipe comes to you after a really long time. I think the last beverage recipe that I posted must have been 4 years ago! To be honest, I am not much of a fruit juice person (not a fruit person either, I am more inclined towards eating vegetables) but my family loves juices. We refrain from buying artificial juices like concentrates or powdered mixes to make instant drinks and homemade is what we prefer. Luckily for us, in the UAE we get a lot of fresh juices that have a very short shelf life and may contain a minuscule amount of preservatives.
When I was browsing through my recipe index I found a handful of beverage recipes and decided that I must add to it. So hopefully, this summer you will see a lot more basic juice recipes made from natural ingredients. I will try to include recipes for some traditional Mangalorean thirst quenchers too, so don't forget to come back often! By the way, have you tried these recipes?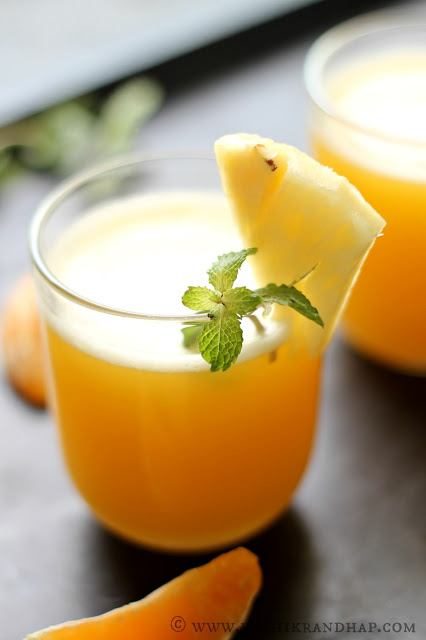 Pin
So, coming back to today's recipe, this is a super simple recipe for a mocktail – a basic 3 ingredient recipe made from fresh orange and pineapple juices to which pure honey has been added to taste. The original recipe (courtesy Isidore Coelho's 'Ranpi') didn't have mint leaves mentioned, but I added them while styling the pictures. After I finished taking the pictures my son who wanted to have some juice started tearing up the mint leaves and adding them back to the pan. After several minutes had passed by, I poured myself and him a glass each and boy! was it delicious! The mint leaves infused a refreshing kick to the drink and it was lovely. I didn't add ice cubes but you can go ahead and add some and totally enjoy this refreshing drink when you get home after being out in the sun for a while.