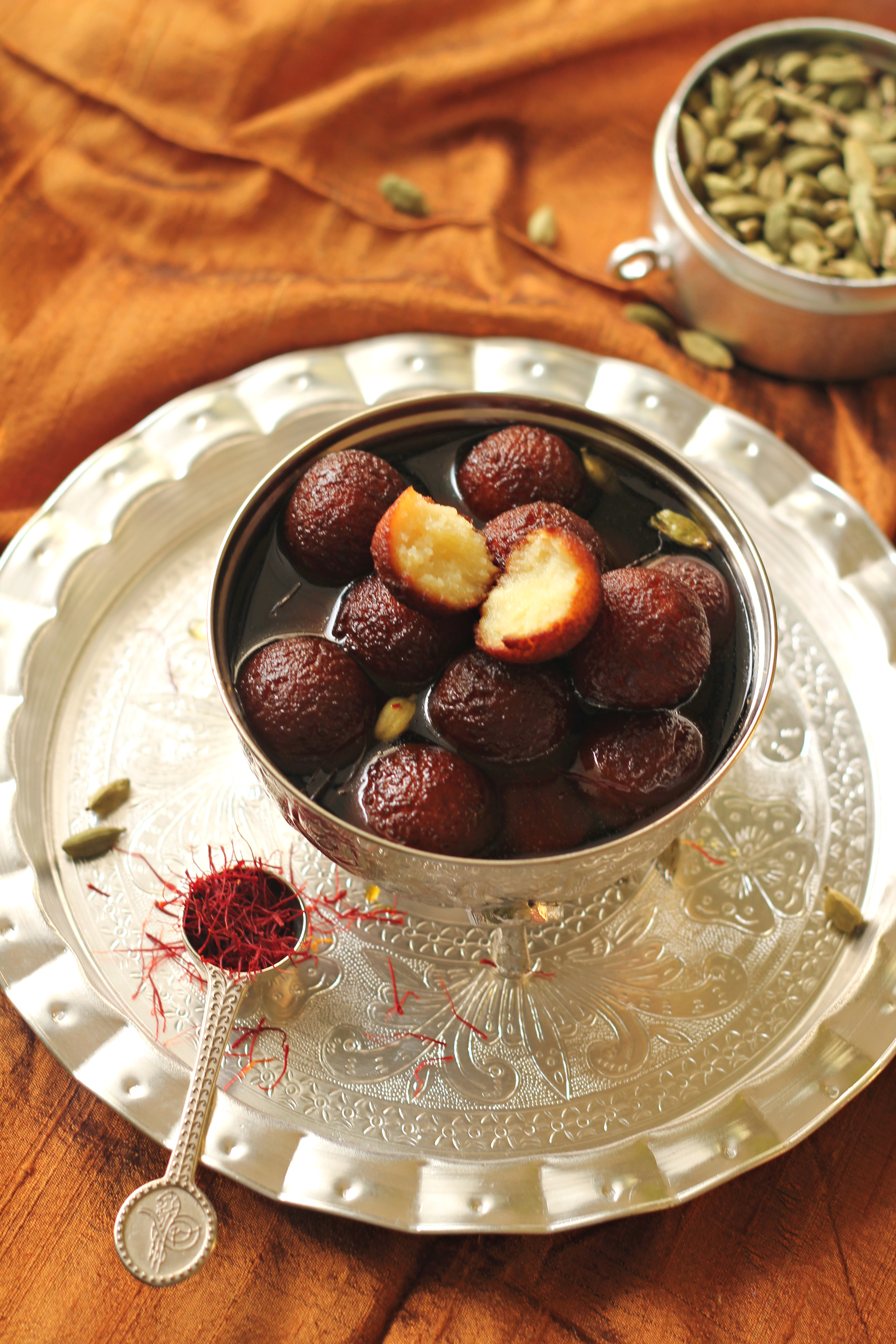 Pin
One of my most favourite Indian sweets of all time is the gulab jamoon. I don't think anyone is unfamiliar with this sweet treat, but for those who are, 'gulab' means 'rose' and 'jamoon' is a kind of a seasonal Indian summer berry which has many fans. I am not sure who named this sweet as gulab jamoon, perhaps the round shape and the colour can be best matched with pretty roses. Whoever it was is a genius because I know many people who can kiss their foul mood away after a single bite of this amazing sweet. This is so popularly served at weddings and parties these days that perhaps the only strong contender to the gulab jamoon would be ice cream. And perhaps that is why most people serve both together. The combination of fresh and hot gulab jamoons with a dollop of vanilla ice cream is a match made in heaven. Jamoons dunked in a syrup that isn't very sweet pairs very well with ice cream I must say because you don't get an over dose of sweetness. Creating this fine balance of sweetness is imperative. During my growing up years I only remember eating gulab jamoons at home, or perhaps at a house party, never at weddings and the like because only ice cream or fruit custard used to be served. Today, we are tempted with a plethora of fine sweets to choose from.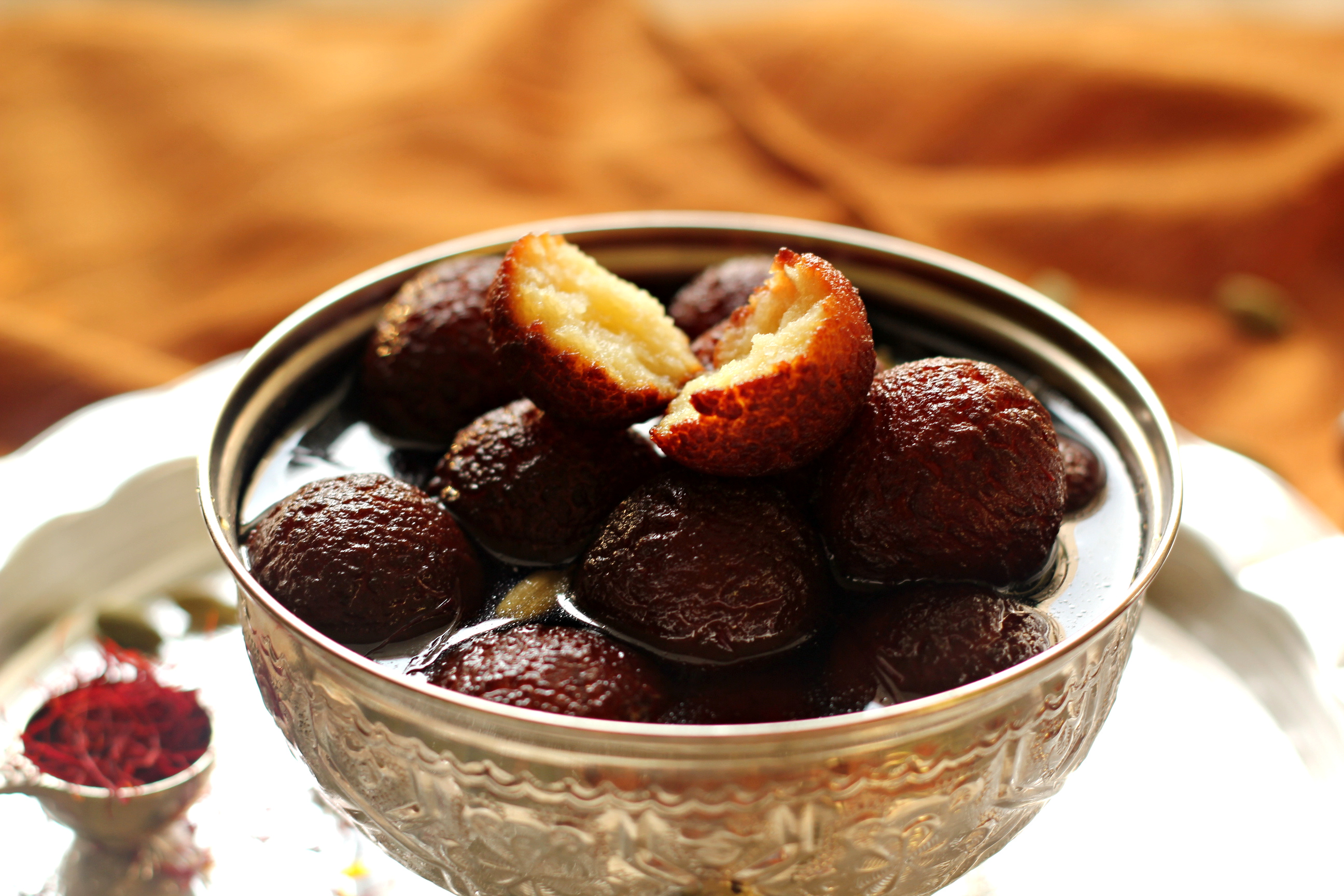 Pin
During my growing up years my mother made gulab jamoons on request using store bought ready gulab jamoon mix ofcourse. Since the requests always came from me, I was also given the task of rolling the dough balls. Now, that is a tricky challenge (yep, tricky and challenge used in the same sentence because that's how it was). One drop of extra water and your dough was doomed to die. You ended up with a sticky mess that warranted more flour which is not recommended to be added at all as it would make the jamoons hard. The second challenge was to get the temperature of the oil right. Too hot and the jamoons browned quickly on the outside and remained uncooked inside. Not hot enough and the jamoons absorbed too much oil and it took forever to fry them. Somehow I made the same mistake with the previous batch before I finally got it right.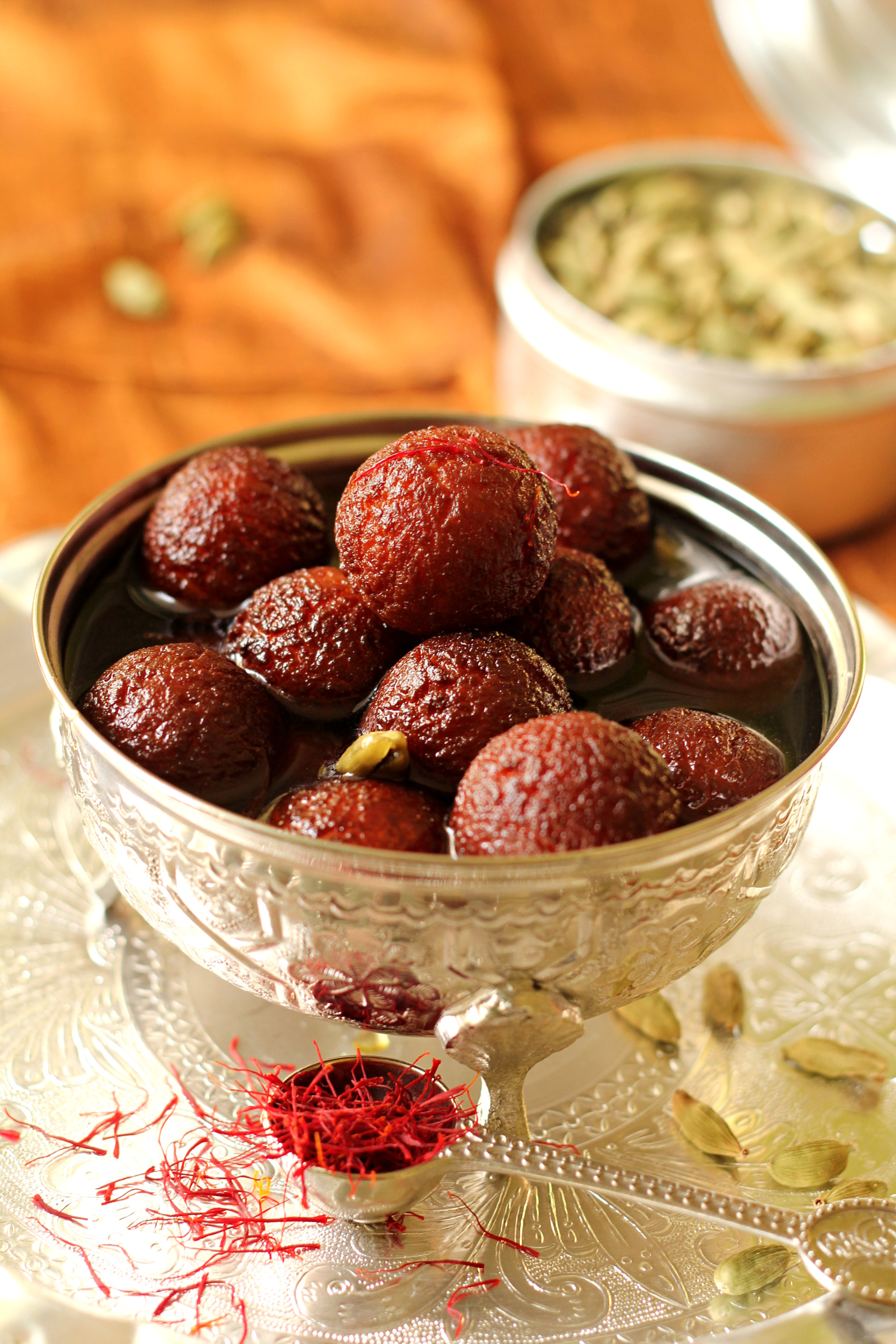 Pin
The birth of these jamoons happened when I had a box of milk powder almost untouched for months. I don't bank on milk powder here in Dubai as getting fresh milk is not a hassle but I do like to stock up on it for the sake of those relatives who prefer their tea with it. When the box was nearing expiry and the relatives showed no signs of popping by for some tea I decided to put the milk powder to good use. I found a couple of recipes online (there are tons of them), so adapted them to suit whatever ingredients I had. This recipe is largely adapted from yummytummyaarthi.com – so thank you Aarthi!
Pin
Traditionally gulab jamoons call for khoya/khova which is nothing but solidified milk which can be easily substituted with dried milk/milk powder. Finding fresh khoya is not something I wanted to do and plus I thought it would be expensive as well. I really hope you get to try this soon. While I made these jamoons a couple of months ago I decided to post them during Deepavali as it is a festive dish as well!!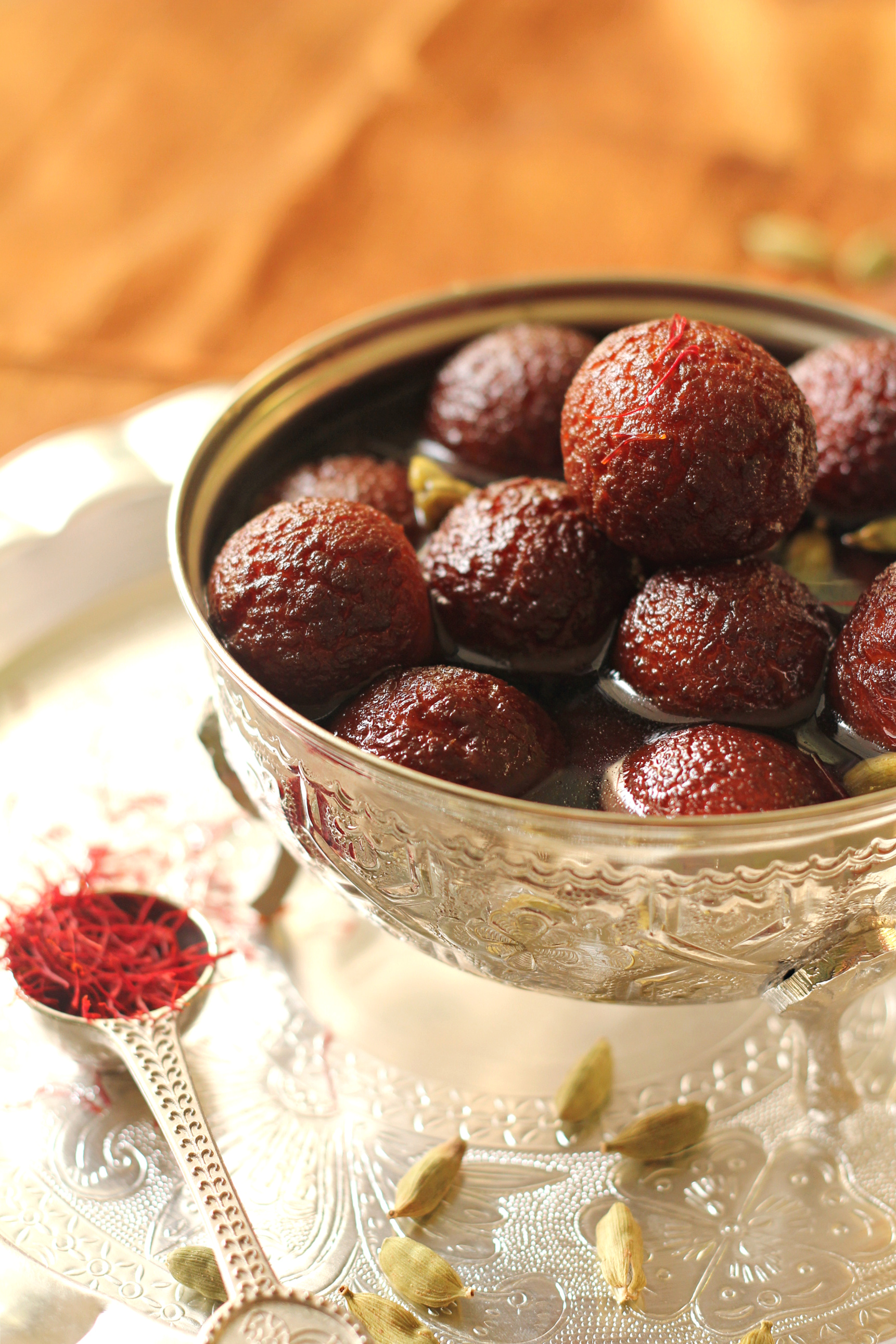 Pin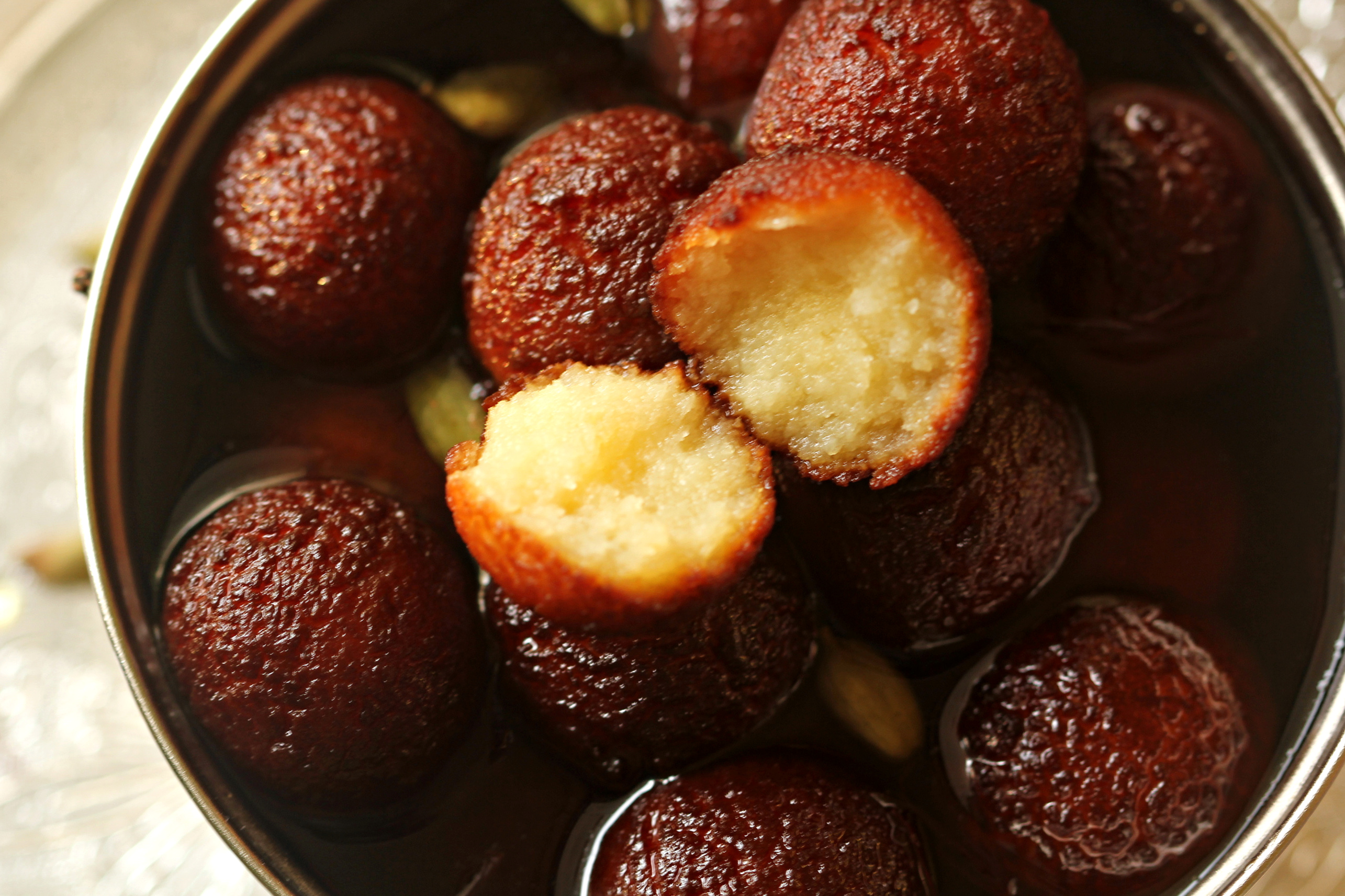 Pin
I wish all my readers a safe, beautiful and wonderful Deepavali. May love, happiness and laughter be yours this festive season. Have a prosperous New Year!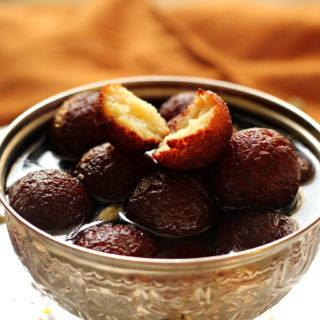 Gulab Jamun
Deliciousness in every bite, these dried milk & dough balls are dunked in aromatic sugar syrup until they swell and melt in your mouth!
Print
Pin
Rate
Ingredients
1

cup

milk powder

3

tablespoons

all purpose flour

1/8

th teaspoon baking soda

a fat pinch of salt

1

tablespoon

ghee plus 1/2 teaspoon extra if required

to knead

2

tablespoons

yogurt plus extra 1 or 2 teaspoons if required

to knead
For the sugar syrup
200

grams

1 cup granulated white sugar

500

ml

2 cups water

2-3

cardamom pods

bruised

a few drops of lime juice

a few drops of rose essence or 1-2 teaspoons of rose water

optional * I skipped it

a large pinch of saffron strands

optional
Instructions
Sift the milk powder, maida, baking soda & salt together into a deep bowl.

In another bowl whisk together the ghee & curds and pour this mixture into the sifted milk powder. Initially the mixture will resemble breadcrumbs. Knead together until you get a smooth, crack free dough. Avoid adding more flour as it will make the jamoons hard. Drizzle a few drops of curds or ghee in between to achieve the desired consistency. Make sure not to add any milk or water. The moisture in the curds will suffice. The dough should be pliable - sticky yet should not stick to your fingers (test by poking the dough, your finger should come out fairly clean). Cover the bowl and allow the dough to rest.

While the dough is resting prepare the sugar syrup. Place the sugar into a deep and water in a wide based saucepan (wide enough to accommodate the gulab jamoons when they begin to absorb the syrup and swell up). Add the cardamom pods and bring the mixture to a rolling boil and cook over a medium heat for about 7-10 minutes or till the syrup begins to thicken slightly. We just want a syrup that is light and not too thick.

Add the rose essence or water and the saffron if desired. Add the lime juice as this will prevent crystalisation of the syrup. Take the pan off the heat, cover and keep warm

Heat oil in a small pan (big enough to fry the dough balls in 1-2 batches) on a medium-low heat. We need to fry the jamoons on a low heat as they need to cook right through the centre. If the oil is too hot, the jamoons will brown quickly on the outside and turn black within minutes and remain uncooked inside.

When the oil is getting heated, knead the dough for a couple of minutes and pinch out small balls, a little smaller than Indian limes or slightly bigger than marbles. Dab your fingers with ghee if need be in order to roll out balls that are free of any cracks. You should get around 19-21 balls.

To test the readiness of the oil drop a tiny ball of dough into it. If it settles at the bottom and comes up to the surface slowly, at the count of 10, it is ready. If it comes up too quickly, the oil is hot (in which case you can either turn off the heat and wait for the oil to cool down a bit or add some extra oil to balance the temperature - either way, make sure that you have oil that is ready at the correct temperature)

When the oil is ready, drop the dough balls into the oil a few at a time. Do not overcrowd the pan. Leave them untouched for half a minute and then toss them around for even browning. When the balls turn golden brown, remove with a slotted spoon to drain excess oil and transfer into the saucepan containing the sugar syrup. Repeat till all the dough balls are fried. Ensure that once the fried jamoons have been dunked into the sugar syrup you shake them a bit. Keep aside for at least 1-1/2 to 2 hours to help them absorb the syrup generously.

Before serving, you may want to lightly heat the saucepan. Discard the cardamom pods, garnish with more saffron strands and serve with a generous helping of syrup. Gulab Jamoons tasted great when fresh & hot and also pair wonderfully with vanilla ice cream. Enjoy!
Disclaimer
The nutritional values are only indicative.
Tried this recipe?
Please leave a comment & rate the recipe below or share a photo on Instagram and tag me @ruchikrandhap