I am going to be posting some recipes that were pushed to the back burner during the festive season that just went by. It's nice to be back to the regular recipes, to be honest. There is so much 'normalcy' in the routines of life, isn't it? Now that the little boy is back to school I am back to spending couple of hours every morning doing what I need to do – organize my thoughts and my posts. I spent a good 2 hours yesterday sifting through my mails, trashing the junk mails and responding to tons of emails that I had been unable to answer. My apologies to those of you who asked me queries during the last few weeks and didn't get any response from me. Usually I address queries first and then the rest of the emails. I plan to respond to all the pending mails hopefully by the end of this week.
Also, in the upcoming days, I plan to post all my pending recipes that have been languishing in draft mode since ages. The stories surrounding these recipes may not be many as the focus is more on sharing recipes and less on tales. So here goes!
The breadfruit is a favourite in many Mangalorean homes and we buy it often in Dubai (available at Lulu – mostly imported from India or Sri Lanka). Not sure how true this is but someone who visited Sri Lanka on a holiday claimed that the fruit was in such abundance that most of it was falling and rotting away. Such is the plight of Avocados in Chikmangalore (again, something that a person from that place once told me). In Mangalore breadfruit is sold at exorbitant prices in the market but if you have the tree which yields fruit then you are lucky. Lucky are those who have generous neighbours who share the crop with you – I lived in such a neighbourhood some decades ago and always thing of Mr. Bhat who was always generous and shared a breadfruit or two which mum would cook into a 'sukhe' or add to a curry. Three of these recipes are shared below. Do try them all when you get the chance!
For now, enjoy this simple, shallow fried version which is usually eaten as an accompaniment to lunch!
Have you tried these breadfruit recipes?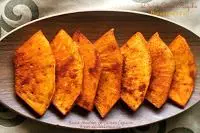 Deviso Guzo Bazcho ~ Breadfruit Fry
A simple, vegan recipe to transform slices of breadfruit into a delicious snack or accompaniment. They also taste perfect with a cup of tea or coffee.
Print
Pin
Rate
Ingredients
1/2

a medium sized breadfruit

oil for shallow frying
For the marination:
1-1/2 - 2

tablespoons

bafat powder * adjust according to the number of slices and thickness of masala

2

marble sized balls of tamarind (soaked in a little warm water or tamarind paste (adjust to taste)

salt to taste
Instructions
Remove the skin of the breadfruit and make slices of medium thickness.

In a bowl, mix all the ingredients mentioned under 'For the marination' and make a thick paste using a few drops of water (the moisture from the tamarind paste should suffice, but if required, add some water too). Apply this paste to the breadfruit slices and keep aside for 10-15 mins.

Heat oil a heavy based frying pan and fry the slices (don't overcrowd the pan) till golden on both sides. Remove onto an absorbent kitchen tissue.

Serve hot as a side to rice and curry.
Notes
If you don't have bafat powder you can use any spice blend of your choice that has a mix of red chillies, coriander, cumin and turmeric (basic). Kundapur Taal Masala is a good substitute.
Disclaimer
The nutritional values are only indicative.
Tried this recipe?
Please leave a comment & rate the recipe below or share a photo on Instagram and tag me @ruchikrandhap