During my growing up years in Mangalore North Indian food was synonymous with Punjabi food. Tandoori Chicken, Butter Chicken & Naan satiated those rare cravings for food that wasn't home made or Chinese (which was also synonymous with 'eating out'). As far as I can remember eating out wasn't so fashionable in Mangalore twenty years ago. Thrifty mothers made sure they provided nutritious yet frugal meals at home and hence most restaurants were patronized by those who primarily went there to enjoy a peg or two besides restaurant style meals that were rarely replicated at home. However, a couple of (Indo) Chinese restaurants (Hau Hau & Hau Ming) did some good business there (I mean who doesn't like Indo-Chinese??) which eventually helped the restaurant industry to pick up as the years went by.
Despite having eaten a decent amount of Punjabi food in Mangalore my taste buds have never outgrown it. But stepping out of Mangalore and into the 'real' world helped me broaden my horizon and explore the different cuisines that came under the big umbrella called 'Indian Food'. Earlier, food that typically belonged to the northern hemisphere of India was labelled as North Indian food. While time spent in Bangalore helped me savour South India's variety of food, my life in Bombay enriched my culinary experience with a larger variety of cuisines and sub cuisines. It is in Bombay that I was able to figure out the finer nuances of North Indian food.  Till then I guess I was similar to those people in the North who thought that South Indian food only consisted of Idlis & Dosas 🙂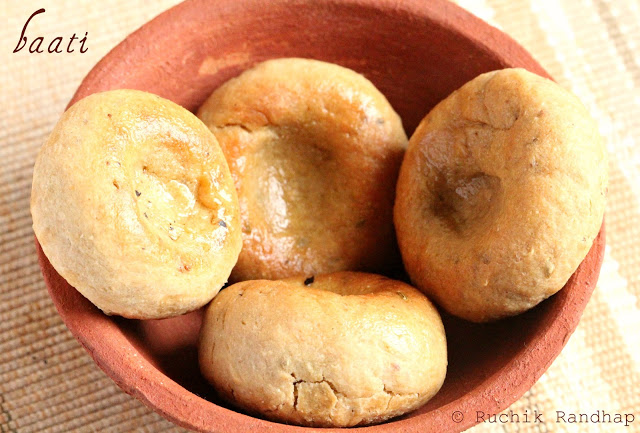 Like I have mentioned many times before about my love affair with vegetarian food, it was truly a delight to taste some amazing Rajasthani food at
Rajdhani
 and be treated to unlimited food served on a
thaali
(platter) . I was completely bowled over by the variety of flat breads – fried or baked in
tandoors
that were served during every meal
.
The guests at Rajdhani are treated rather royally. Once you are seated the Maître d' summons the waiters who cheerfully set the table for you and the noisy service of serving the food starts almost immediately. There is no time to think or talk as the food speaks for itself and all you do is simply watch in delight as this wonderful gastronomical journey unfolds itself in front of you and you are lost in the flow. While you are busy indulging in the awesome spread, in true Indian style they insist on serving you some more of this and a little of that until you are stuffed to the gills & actually (and politely) beg to be excused – all in good humour of course. The meal ends with a sweet dish of your choice which you need to select before the meal commences. Well, I know this drill so well because I was Rajdhani's prized customer when I was expecting my son. Not only did I drag hubby to this place but also guests who visited us had to go through the ordeal of eating an 'eat-all-you-can' for 200 bucks meal. Maybe I should go back to Rajdhani and ask them to issue me a loyalty card or a monthly pass maybe 😀
Coming back to today's dish – The Daal Baati is supposedly the most popular item on the Rajasthani menu. No festival or wedding menu is complete without this dish. Besides being absolutely simple it also is a lovely medley of ingredients, primarily lentils. My love for lentils found a new dimension with this beautiful recipe. Dal (lentils) in South India is often eaten in a watery form unlike how it is eaten in most of North India – a thick soup like consistency that is a perfect accompaniment to chapathis, rotis or naan. This particular combo consists of the Panchmel Dal (made of five lentils) and the Baati (a hard unleavened bread usually baked over firewood or over kandas – ie cow dung cakes). Baatis can be baked in a gas tandoor or an electric oven as well (which is what I did). The steamed version of the Baati is known as the Bafla. And irrespective of their cooking technique they are always served dipped (read drenched!) in ghee and accompanied by the Panchmel dal and choorma (deep fried dough balls crushed and mixed with sugar or jaggery and served with mixed nuts). This trio makes for a delicious, filling & satisfying meal.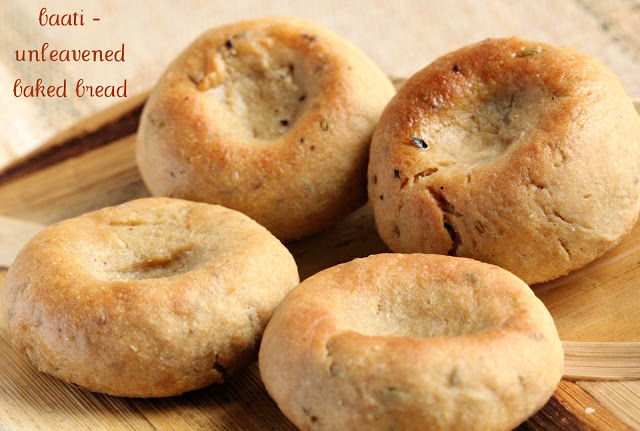 Pin
I tried this recipe a few months ago from Priya Mitharwal's blog Mharorajasthan and instantly fell in love with this super delicious meal. My son loved it the most and still dreams about the hard buns – Baati as he is an ardent fan of Indian breads – any form, any texture, any flavour. While the Panchmel Daal was a fantastic blend of flavours from the different kinds of dals used I was quite happy to get the Baati right in terms of texture and flavour. I sorely missed the Choorma though, but I am sure I will make up for it when I make this super delicious dish again.
By the way, the Rajasthani Baati is a lot like the Litti-Chokha of Uttar Pradesh which is made with a spiced Sattu (a special gram flour/besan) filling. I hope to try that soon besides another couple of Rajasthani recipes that I have bookmarked. For now, enjoy the Daal-Baati!
Dal Baati
Rustic hard bread made of whole wheat flour, chickpea flour & semolina seasoned with aromatics served with mixed lentils is a hearty meal relished in Rajasthan
Print
Rate
Ingredients
For the daal:
1/4

cup

toor dal (split yellow pigeon peas soaked for 10mins)

1/4

cup

moong dal (split skinless green gram soaked for 10mins)

1/4

cup

masoor dal (split red lentils soaked for 10mins)

1/4

cup

chana dal (split chickpeas soaked for 10min)

1/4

cup

whole moong (whole green gram with skin soaked overnight/8 hours)

1

cup

finely chopped onions

1

cup

finely chopped tomatoes

1

tsp

or to taste red chilli powder

1

tsp

turmeric powder

1

tsp

coriander powder

1

tsp

cumin powder

1/2

tsp

garam masala powder

1

tsp

oil

salt to taste
For tempering/tadka for the daal
1

tsp

mustard seeds

1

tsp

cumin seeds

2

green chillies sliced, adjust to taste

1

inch

ginger chopped

5-6

cloves

of garlic crushed

2

tsp

ghee
For garnishing the daal
1/2

cup

finely chopped coriander leaves
For the baati
1

cup

whole wheat flour

1/4

cup

chickpea flour (besan)

1

tbsp

semolina

1/2

cup

ghee, melted

2

tsp

coarsely crushed fennel seeds (saunf)

2

tsp

coarsely crushed carom seeds (ajwain)

salt to taste
For basting the baatis and serving
Instructions
Heat the oil in a pressure cooker and fry the onions till translucent. Toss in the chopped tomatoes and cook for 2-3 minutes. Add the dry masalas, mix and fry for a couple of minutes.

Add the washed & soaked dals and fry for 2 minutes. Add enough water so that it covers the dals for about an inch above them. Cover the pressure cooker lid & cook for 12-15 minutes on a medium high flame.

When the cooker comes to room temperature (the whistle/weight comes off easily), mix the contents and add water to arrive at the desired consistency. Don't add too much water, the daal should be thickish. Toss in the chopped coriander leaves. Cover & keep aside.

For the tempering/seasoning, on a medium flame, heat the ghee in a smaller pan and toss in the mustard seeds and cumin seeds. When they stop spluttering add the green chillies, ginger, garlic and onions and fry lightly until you get a nice aroma and take care to see that the contents do not burn. Quickly pour this seasoning into the prepared daal.

Serve hot with baati or rice!Preparing the baati

In a flat wide bowl mix all the ingredients mentioned under 'For the baati' and knead it into a smooth dough. Add very little water only if required. Keep covered until required. Pre-heat the oven on Low on grill/broil mode (I preheated at 110 degrees C for 10mins). Keep a baking tray covered with aluminium foil ready

Pinch out lemon sized balls out of the dough and roll between the palms to ensure that the surface has no cracks. Gently make a dimple (thumb impression) in the centre of each baati.

Brush each baati generously with the ghee and place on the baking tray and into the oven on the top rack and broil/grill for approx 20-25 minutes flipping them halfway across bake time. Add or reduce bake time depending on your oven to ensure that the baatis turn a golden brown evenly.

Remove, dunk them in ghee (unless you are health conscious) and serve hot with Panchmel Daal
Notes
The baatis do not fluff up and are not soft like regular bread/buns. This is because there is no leavening agent (like yeast, baking powder etc) used. The baatis remain the way they looked before you put them into the oven, except that they emerge harder, browner and tastier.
Disclaimer
The nutritional values are only indicative.
Tried this recipe?
Please leave a comment & rate the recipe below or share a photo on Instagram and tag me @ruchikrandhap