It's been a long wait for you readers isn't it? I mean, a long wait since my last post 😛 Yeah, the scorching Indian summers have arrested me and confined me into the four walls of my home. Summer vacations have finally begun for my little fellow and laziness has crept up on his mom. There is nothing better than to wake up at one's own time and not bother too much about what to make for breakfast and other sundry things which otherwise grip my mornings. I am too lazy to try out any new dishes and I guess when the man is away it is best to order in some food to feed two tiny appetites. 
I've been dilly dallying with this post since ages. Coconut burfi or barfi was on my list of things to make for a long time. However since I had never made it myself before (and only eaten what my mom used to make) I had a few flops before I perfected it. Although I used to find Indian sweets a tad too sweet for my liking all through my growing up years, I cannot help gorging on them since the time I delivered my son – talk about pregnancy playing havoc with my hormones and influencing my sweet tooth in such a big way. However, of late I have curbed this obsession and eat sweets only when it is totally unavoidable and even though R is not a sweet lover, the coconut burfi wins hands down!
Coconut Burfi
Preparation time 5 mins | Cooking time: 15mins | Cooling time : 45min-1 hour (approx)


You Need:
2 cups or grated white flesh of 1 medium size coconut
50gm (1/2 cup) cashewnuts coarsely powdered (optional)
1-1/2 cups sugar (regular)
3/4 cup water (approx)
3-4 tsp ghee + extra for greasing the plate
3-4 cardamom pods powdered
Method
1. If using, coarsely powder the cashewnuts and mix with the coconut. Grease a 8 or 9″ steel plate with tall sides with ghee and keep it ready.
2. In a heavy bottomed pan or kadhai (wok) melt the sugar & water until you arrive at a thick syrup like consistency (the sugar granules have dissolved). Stir until the syrup has reached a one-string consistency. Add the coconut & cashewnut mixture and cook stirring continuously on a medium flame until the mixture thickens.
3. Add the ghee and continue to stir, reduce flame to avoid scorching. When the mixture begins to leave the sides of the pan it is ready (takes about 10-12mins). If you cook beyond this point the mixture will begin to lose moisture and start to brown which we want to avoid.
4. Turn off the flame & quickly transfer the contents into the prepared pan – there is no need to smoothen the surface perfectly, just ensure that the mixture has been spread evenly.
5. Place the plate on a wire rack/metal mesh to cool. After about 7-8 minutes run a knife along the surface to make diagonal cuts (or whatever shape you desire). Let it cool completely before cutting out the pieces.
Notes:
Addition of cashewnuts brings in a nice nutty flavour to the burfi. Do ensure that you don't powder it too much. Just pulse them a couple of times in a dry grinder without any traces of moisture else it will turn into a paste and the mixture wont harden properly once spread onto the plate
What is one string consistency – Carefully scoop out the sugar syrup with a spoon and cool it a bit, dip your index finger into it and press the liquid between your index finger and thumb – the syrup should form a string without breaking.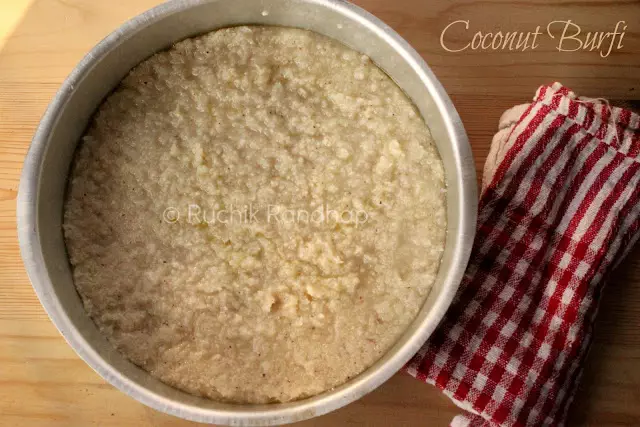 Pin