Carrot Cake with Cream Cheese Frosting!! Mmmm! Who doesn't love carrot cakes? Well, here I am presenting my beloved carrot cake in a new and improved avatar. That's a paradox you will say. What is improved can't be new right?! Well oh well, my cake is new because the pictures are 🙂 and improved because I have improvised on the recipe that I shared on this blog 10 years ago to give it a complete face & taste lift! If you scroll right to the bottom of this page you will see the different pictures of the cake when I made them in the past. I first made this cake using a microwave convection, when I was still a beginner at baking cakes. I was quite pleased with the results and hence shared it on the blog. I then made it again using only white sugar as I didn't have any brown sugar and the result was good yet again. So basically, what I am trying to say here is that this is a very forgiving recipe, you can use white or brown sugar but do note that the sweetness will vary. I like my cakes to be less sweet so I have used soft brown sugar which also gives it that rice, depth of flavour. The cream cheese frosting gives a wonderful balance to the sweetness of the cake but you can totally leave out the frosting if you wish. The cake tastes lovely on its own.
This cake can be what you want it to be. Bake it on a weekday afternoon as a tea time accompaniment. Dust it with some icing sugar to make it a bit fancy for your weekend treat. Birthday coming up? Frost it with cream cheese as mentioned in my recipe below and make it look all nice and pretty. No cream cheese? No worries, just use your favourite, simple vanilla buttercream frosting. You can leave out the walnuts too, it won't make much difference.
I baked this cake a couple of months ago when we were still not eating out. The kids fondly remembered the carrot cake they used to enjoy at IKEA. I got into action and decided to shoot the video as well. This cake tastes almost like the one we used to enjoy there on our several trips to buy knick knacks and other home & utility products.
So whether you are a fan of the IKEA carrot cake or not, you must try it out soon. I am sure you will enjoy it as much as we did!
Pin
New here? Subscribe to my free newsletters with my latest recipes!
Tried my recipe? Do leave a comment on this post down below and don't forget to give it a star rating! It will really help more readers discover my recipes! Do share a picture on Instagram and tag me @ruchikrandhap and I will feature your post in my stories!
Don't forget to check out my latest videos on my YouTube channel. If you like what you see, do give me a thumbs-up (like), share & comment and subscribe to my channel so that the gods of YouTube (a.k.a algorithms) recommend my channel to a wider audience with similar tastes and more & more people can discover my videos!
And while you're here, do follow me on Instagram, Pinterest,  Facebook and Twitter. If you'd like to say hello or have detailed queries do send an email at [email protected]. I'd love to hear from you!
Carrot Cake with Cream Cheese Frosting
This is a classic cake that is simple yet rich, you can have it as your teatime cake, without frosting. Doubles up as a birthday cake or a showstopper for your next festive meal!
Print
Pin
Rate
Ingredients
150

grams

all purpose flour

50

grams

almonds

with or without skin, ground to a powder

1/2

tsp

ginger powder

3/4

teaspoon

mixed spice (1/4 tsp each of clove cinnamon & nutmeg powder)

1

teaspoon

baking powder

1/2

teaspoon

baking soda

1/4

teaspoon

salt

175

grams

unsalted butter at room temperature

175

grams

soft brown

light or dark-muscovado sugar * see notes

3

eggs

at room temperature

100

grams

carrots grated

1 loosely packed cup

zest/grated rind of 1 orange

1/3

cup

unsweetened orange juice
For the frosting
1

tablespoon

unsalted butter

at room temperature

280

grams

cream cheese

150

grams

confectioners'

icing/powdered sugar
To decorate
1/2

cup

or more

crushed walnuts
Instructions
Grease a 9" round pan with butter and dust some flour. You can also line it with baking parchment if you wish. Keep it aside. Preheat oven to 170 degrees.

Sift the flour with the almond powder, ginger, clove, cinnamon & nutmeg powders, baking powder, baking soda and salt together into a bowl. Repeat one more time to make the cake fluffier. Keep aside.

Beat the butter & sugar until light & fluffy. Add in the egg one at a time and beat until the mixture looks creamy

Blend in the orange zest, juice and the grated carrots.

Now add the flour mixture in parts & gently fold until all the flour has been incorporated.

Pour the mixture into the prepared pan and level up the surface. Tap twice to remove any excess air bubbles.

Bake in the preheated oven for 35-40 minutes or till the skewer inserted comes out clean.

Remove & cool on a wire rack for 15 minutes. Then turn out the cake on a wire rack and cool completely.

When the cake has cooled, slice it horizontally into two halves. Keep aside.

Prepare the frosting by mixing the butter, icing sugar and cream cheese together until blended. Then beat using a whisk till the mixture is smooth & fluffy and no lumps remain.

Dab the centre of a cake stand/serving tray with a little frosting to keep the cake in place.

Place one layer on top of it and cover the surface with 1/3 of the frosting. Place the second layer of the cake over it and cover the top and sides with the rest of the frosting. Level up the surface.

Decorate the entire surface with the crushed walnuts. Serve immediately. The cake tastes good even when served slightly chilled, for about 30-45 minutes.
Notes
If you do not have soft brown sugar, you can use caster sugar. The cake may be a tad sweet but the cream cheese will balance it.
If you prefer a sweeter cake you can add 25 grams of white sugar to the brown sugar and beat it along with the butter.
The butter & eggs should always be at room temperature otherwise the batter resembles curd like consistency. The flour should be sifted with baking powder from a height as this also ensures that the cake turns out fluffy.
Disclaimer
The nutritional values are only indicative.
Tried this recipe?
Please leave a comment & rate the recipe below or share a photo on Instagram and tag me @ruchikrandhap
The picture of when I first baked this cake in a microwave with convection 10 years ago!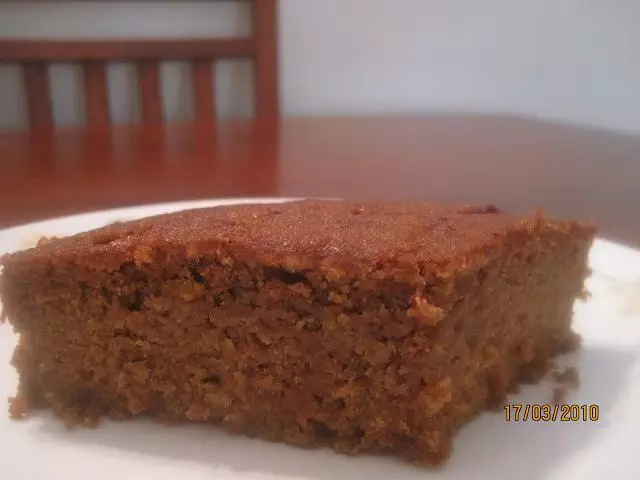 Pin
Second attempt – when I made the cake using white sugar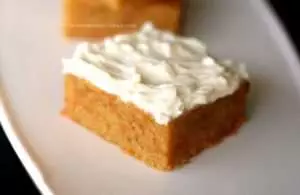 Pin