Hello folks! I am back again with another video and hence reposting this recipe. I had first shared this recipe on Mar 30, 2014 and have made it a zillion times over the years. This is one of my absolute favourite banana bread recipes and so I decided to shoot a video. So do scroll down below and watch it!
This banana bread is very easy to make as the steps are very simple. It is dense and flavourful. Cut the loaf into thick slices and toast them if you wish. Slather with some butter and you have the perfect breakfast. You know I love those banana breads that are displayed at any breakfast buffet at hotels. I never miss tasting a slice or two whenever I am on a holiday. You can recreate the same magic with this recipe. The addition of dates gives it a nice flavour and adds to the texture and sweetness ofcourse. You could add prunes or apricots in the same quantity if dates is not your thing. I tried making it a healthier banana bread by adding some whole wheat flour & oats (the regular porridge variety which is very handy). You can make it with only all purpose flour if you wish, but if you are like me and want to experiment, then you can replace a part of the flour with ragi flour or any other millet flour. Nuts & seeds are a beautiful addition so throw in a handful of walnuts and some pumpkin seeds too if you wish. I really hope you enjoy making this!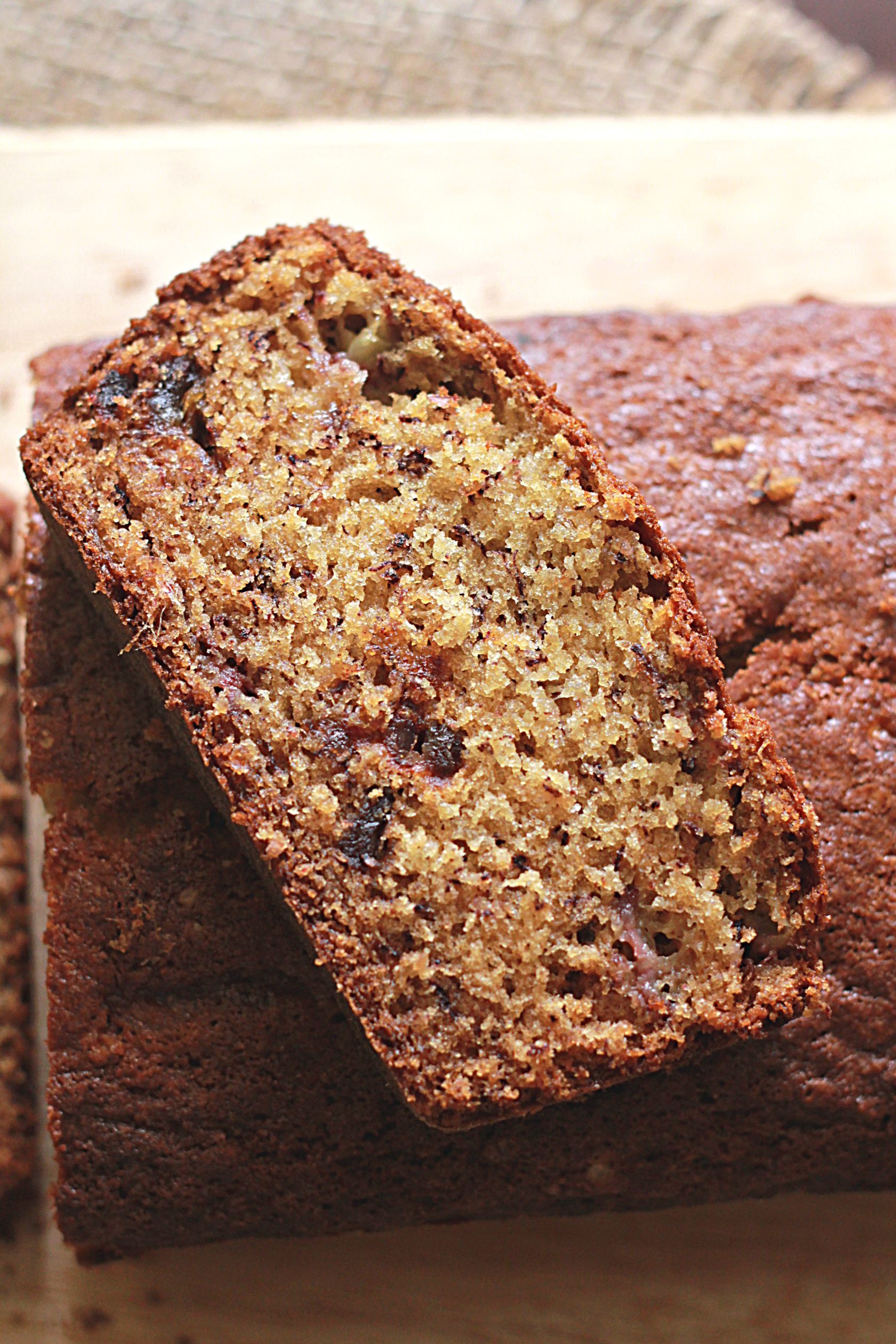 Pin
Excerpts of my old post (when I first published this post in 2014)
Now that lil baby Zee is almost 15 months old her appetite is ever increasing making it absolutely necessary for me to innovate on a daily basis as I have to feed her interesting things almost every 2-3 hours. I rummaged the internet for some interesting ideas to create a healthy meal plan for my baby. Honestly I am not excited by the prospect of waking up every morning and drawing a blank when it comes to give her something nutritious and fun. Thankfully I came across this very nice article on babycentre.in which had a meal plan chalked out for Indian babies aged 1 and above. I immediately took a printout and pinned it up on my pin board in the kitchen.
I don't follow the meal menu to the T but it saves me the heartburn when I am running out of ideas sometimes especially on the first two days of the week when I am still in the weekend hangover mood and I can't think of any fresh ideas. That's when I glance through it to give her something I can put together in a few minutes. One such recommendation was to give the baby a banana muffin. Now who doesn't like muffins? And who doesn't like bananas in cakes? Instead of muffins I decided to make a banana loaf which I could cut into slices and store easily, freeze if need be. I totally love banana bread and I keep hunting for new recipes although I have already posted a couple of baked goodies with bananas in them. The Banana Choco Chip Muffins are an all time hit with my family and a lot of readers have tried it too. The Banana Bread with choco chips is another favourite too. And who can resist the Chocolate Banana Cake with all that gorgeous chocolate ganache?
I found this recipe in the Friday magazine and since all their recipes have worked for me I tried this one too and boy was I amazed with the results! This cake with the addition of dates was amazing. Simply stunning! It was such a hit when I made it the first time that I decided to make it again but with a healthy twist. Since Roshan and I are watching our diet and always try to eat desserts that make us feel less guilty I experimented by replacing part of the all purpose flour (maida) with whole wheat flour (atta) and threw in some oats. The result was even better and I am so glad I have this new recipe to hang on to. My daughter freaked out on this cake for the next two days – yeah, I am guilty of feeding her cake for her evening snack on two days, but not so guilty because it is healthier than store bought cakes and she gets to eat sweets very very rarely.
By the way, I know that most of those who observe the holy season of Lent may have given up sweets and hence baking too. But I urge you to make this as soon as you are able to. This bread is a wholesome food (for the soul) I would say, not too sweet and with a nice dose of dates that are extremely good for health. So I am dedicating this post to two people. My dearest grand-uncle Fr. Francis Rodrigues, who lives in Nairobi and had requested me a while ago for a banana bread recipe and my new and lovely reader turned friend Susanna Farias Mendonza whom I promised I would post this recipe soon.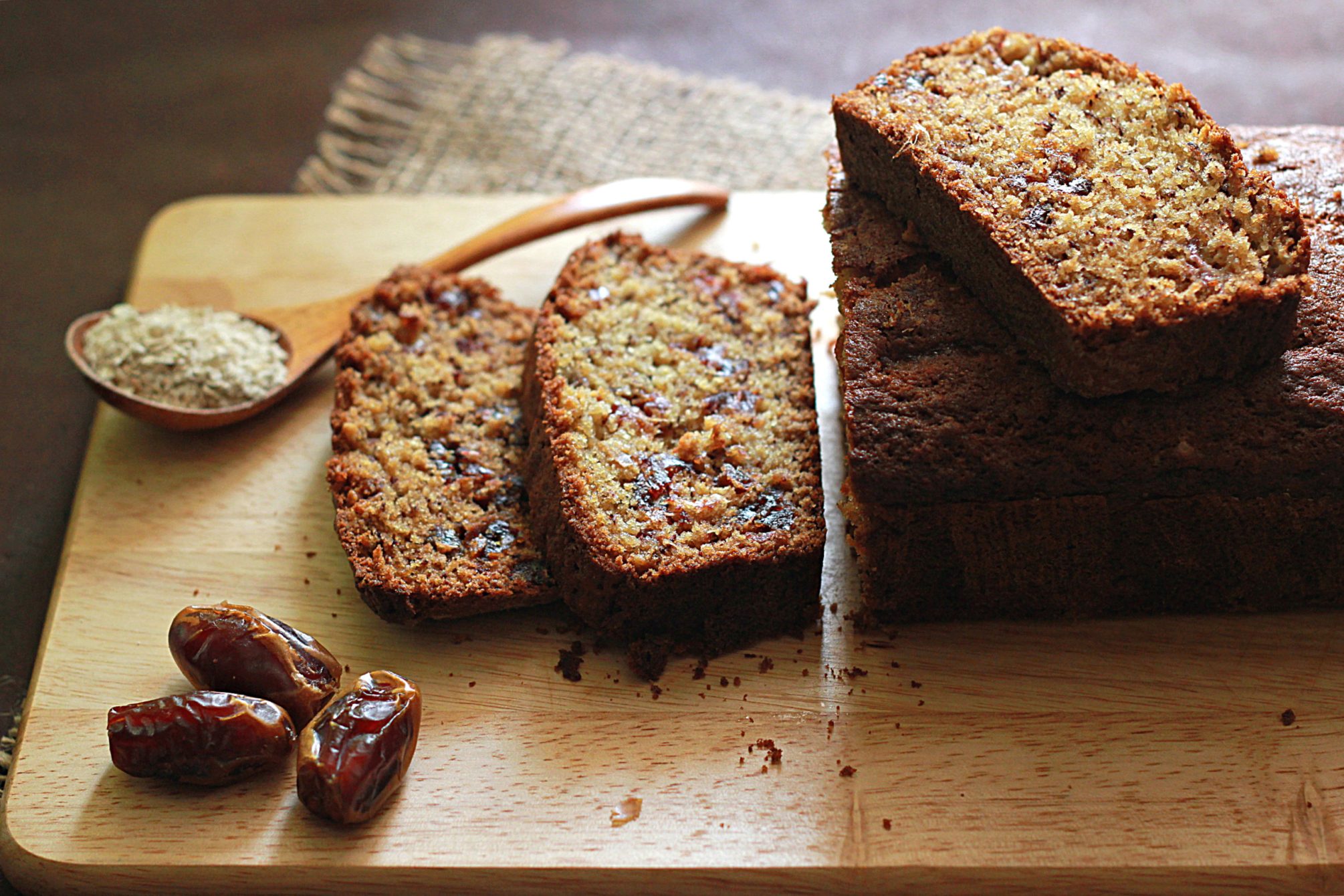 Pin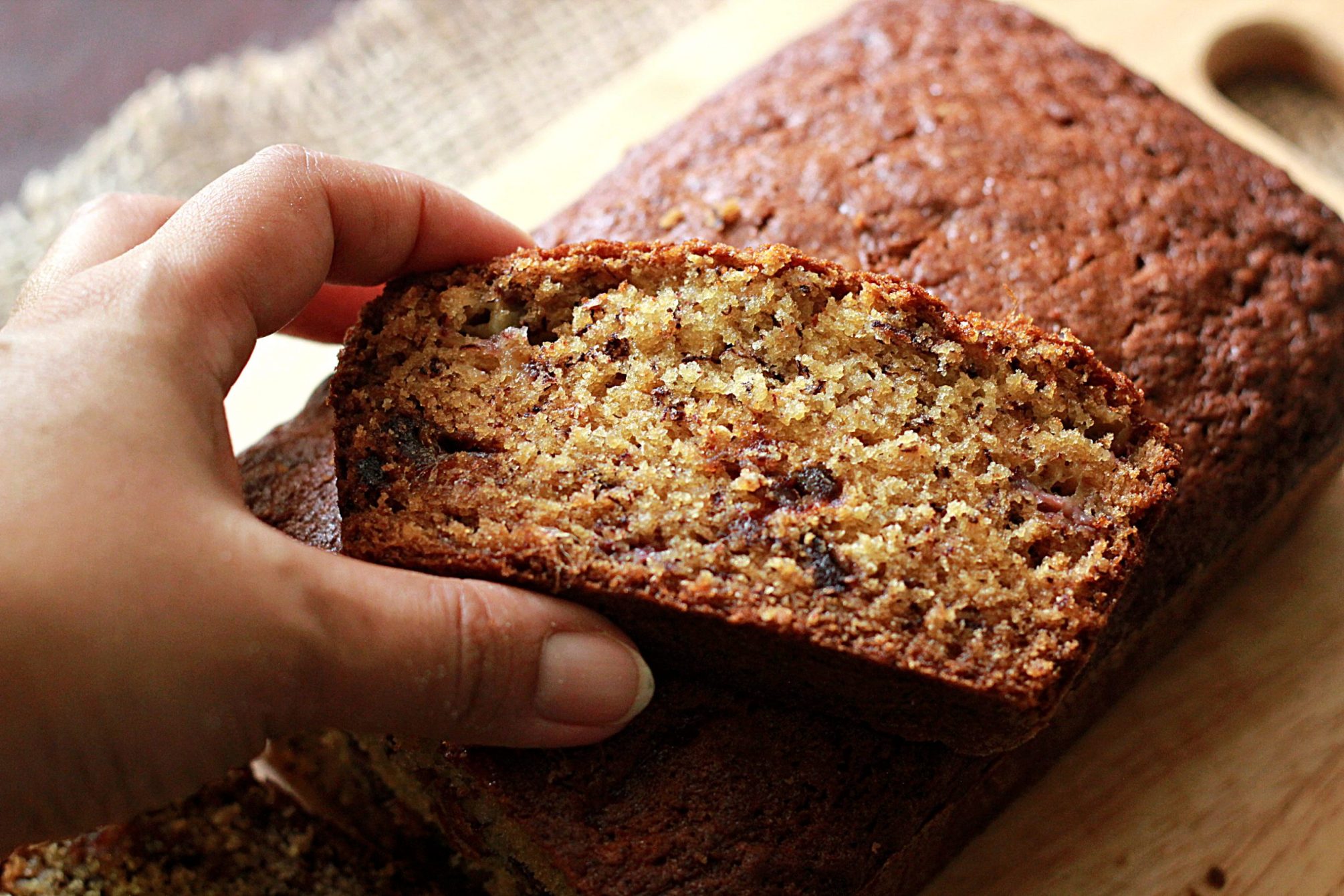 Pin
Click the image below to save this recipe on Pinterest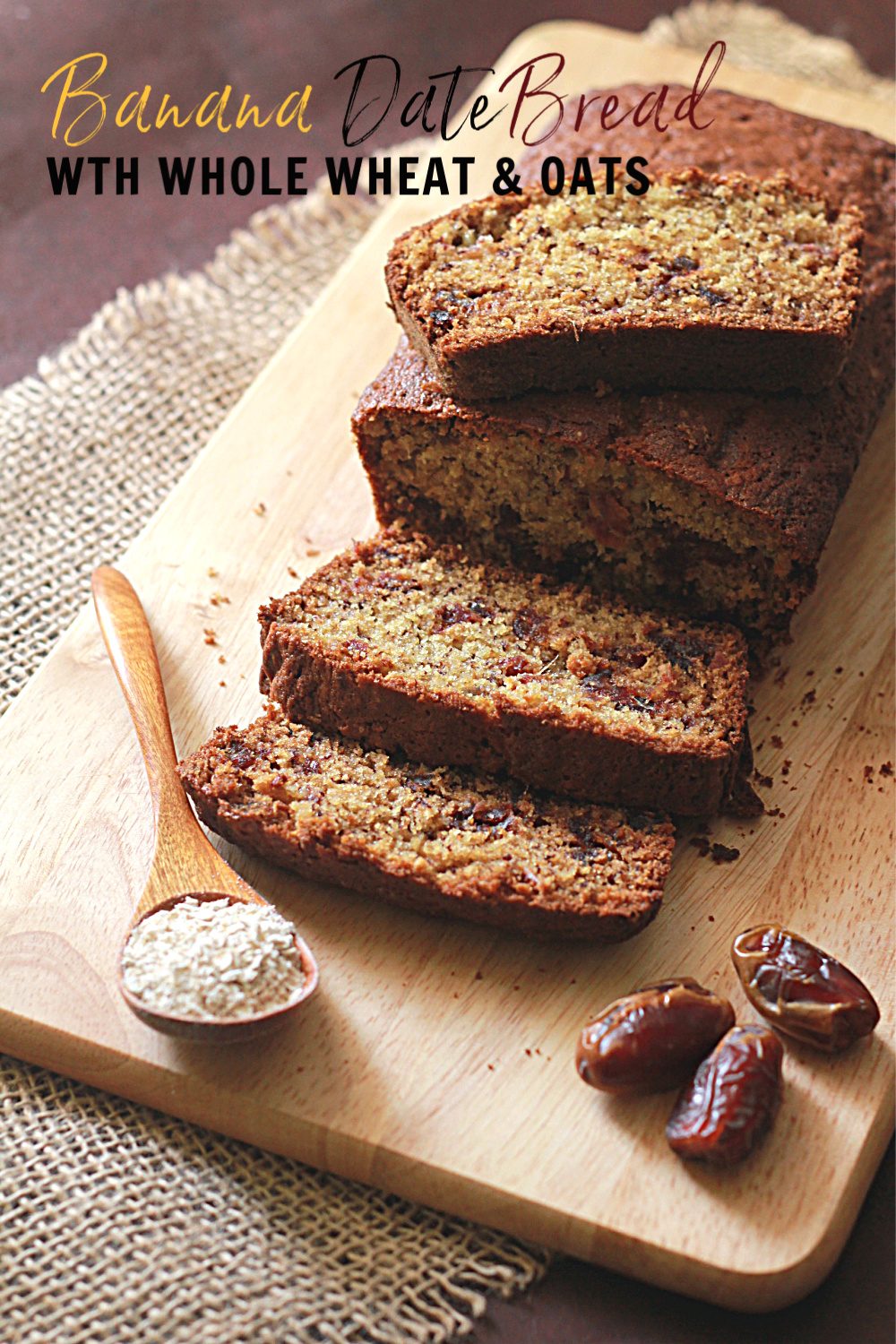 Pin
New here? Subscribe to my free newsletters with my latest recipes!
If you give this recipe a try do leave a comment on this post down below and don't forget to give it a star rating! It will really help more readers discover my recipes! Don't forget to check out my latest videos on my YouTube channel. If you like what you see, do give me a thumbs-up (like), share & comment and subscribe to my channel so that the gods of YouTube (a.k.a algorithms) recommend my channel to a wider audience with similar tastes and more & more people can discover my videos!
And while you're here, do follow me on Instagram, Pinterest,  Facebook and Twitter. If you'd like to say hello or have detailed queries do send an email at [email protected]. I'd love to hear from you!
Don't forget to watch this video! Please share, like & subscribe!
Banana Date Bread with Whole Wheat & Oats
A super simple, easy to make banana bread with dates. Add some whole wheat & oats to make it a tad more nutritious & delicious!
Ingredients
125

grams

all purpose flour/maida * see notes

75

grams

whole wheat flour

25

grams

quick cooking oats * see notes

1

teaspoon

baking powder

125

grams

seedless dates, chopped * notes

2

tablespoons

hot milk

1

teaspoon

soda bi carb/baking soda

2

big

slightly overripe bananas * see notes

125

grams

butter

175

grams

caster sugar

2

eggs at room temperature
Instructions
Preheat oven to 180 C. Grease and line a 9x5 inch loaf pan with parchment. Sift the all purpose flour, whole wheat flour and oats with the baking powder and keep aside.

Take aside a little flour and roll the chopped dates in it so that they don't sink to the bottom of the cake.

In a mixing bowl mash the bananas to a smooth consistency. Keep aside.

Dissolve the baking soda in the hot milk and when it turns slightly foamy pour into the mashed banana mixture.

Add the butter, caster sugar, eggs and mix well. Add the flour (in parts) and mix well. Stir in the dates and mix.

Pour the batter into the prepared tin and bake for 45-55 minutes. My loaf was done in exactly 55 minutes. To check doneness of the cake, insert a skewer or knife into the cake and if it comes clean the cake is done.

Remove the tin and place on a wire rack to cool for about 10 minutes. Invert the loaf onto the wire rack and let it cool completely before serving. If you cut it before it cools there is a chance that the cake will crumble. Garnish with chopped banana slices if desired.
Recipe Notes
I used two big bananas - golden bananas or cavendish variety. You may use 4 small bananas (Elaichi/Kadholi variety)
 I used regular, quick cooking Quaker oats (easily available in all stores) and not instant oats (which needs to be added to boiling water in a mug)
The original recipe called for 225 grams of all purpose flour/maida. I replaced part of with oats & whole wheat flour. You may make it healthier by adding any other healthy flour of your choice or just make it out of all purpose flour.
I used about 21 medium-big sized dates. You can use any variety. The weight is without the seeds. 
This was how the cake looked when I made it the first time on March 30, 2014!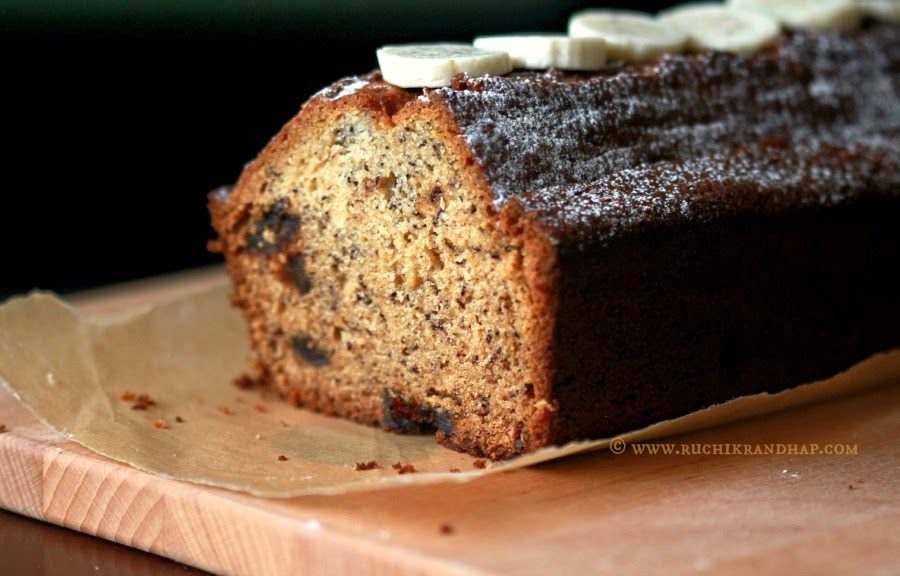 Pin