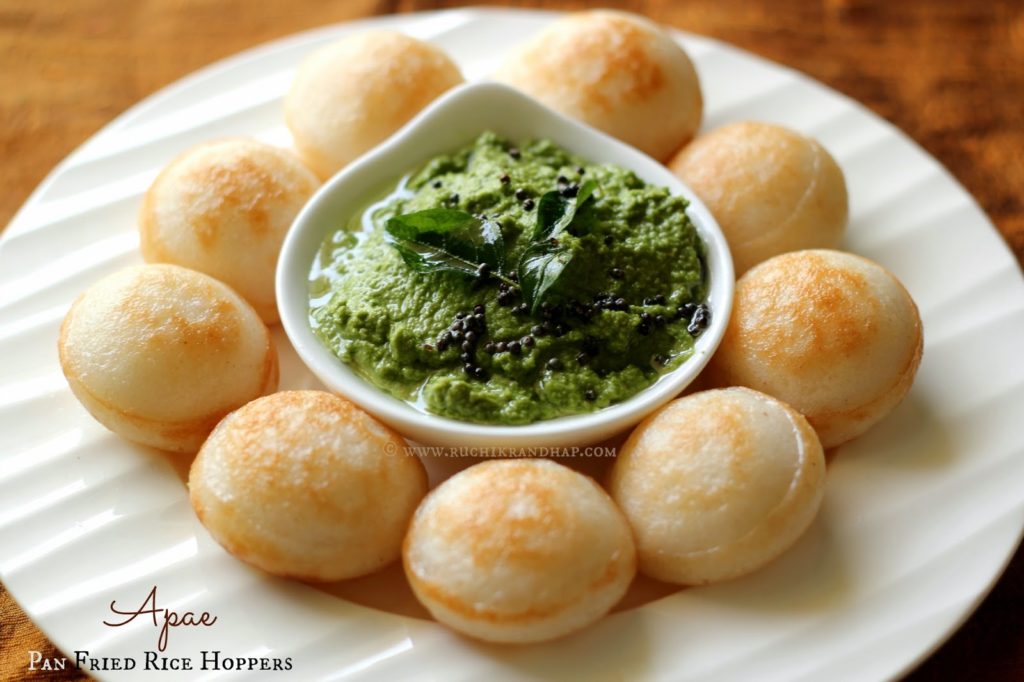 Today I added one more dish to my culinary repertoire – apae! These lovely little dumplings are also called as hoppers and are primarily made from ground rice and black gram (urad dal) and have various other versions that call for whole wheat or even beaten rice (poha) as the base ingredient. Just in case you thought that hoppers are 'sheviyo', well those are 'string hoppers'. Apae (plural) is called as the 'apo/appo' (in its singular form) and is a favourite of the Konkanis (GSBs) of Mangalore and hence a regular fare on their breakfast menu. Ever since I joined whatsapp and formed groups with my school and college friends where we share our daily ramblings I have been getting to see various kinds of apae – sweet & savoury. I have always been tempted by the display and planned to try it out myself as I have owned the skillet for it since ages but never put it to use.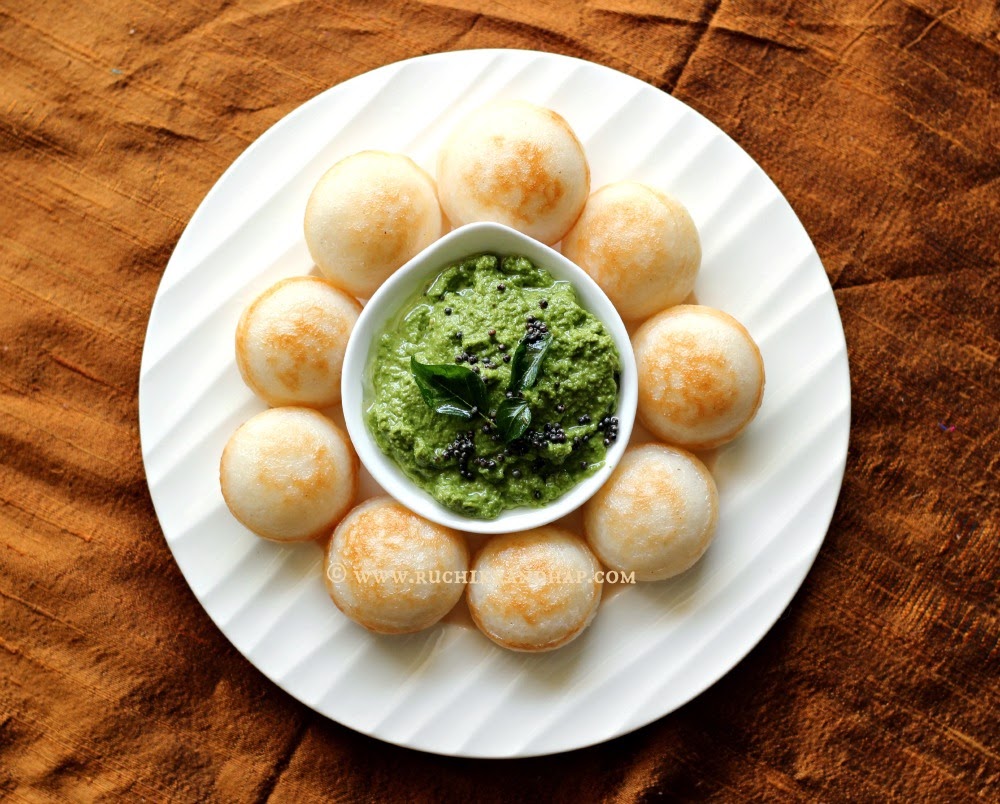 While the rice apae are made with a batter that has both rice and black gram (urad dal) in it, I tried this recipe without the urad especially because my niece has severe lentil allergy and initially I intended to try making
sanna
(Mangalorean idlis made of yeasted batter) without urad so that she could enjoy them too. My aunt Frenny is a fantastic cook and keeps making all kinds of Mangalorean PoLi (a collective term for Mangalorean breads made from rice batter) on a regular basis. Last year when I went to stay at her place she had made these lovely apae for breakfast. I thoroughly enjoyed
eating
hogging them with some piping hot potato sambhar garnished with loads of fresh coriander. Such a beautiful combo! I polished off like a dozen apae in one sitting and then asked her for the recipe which she generously gave me. However, I never got around to trying them out as I heavily banked on ready-made idli batter for my idli-dosa needs. It was just recently that I decided to don my invisible chef's hat and start making batter at home. Now I am all set to explore many more almost forgotten Mangalorean breakfast options and other sweetmeats.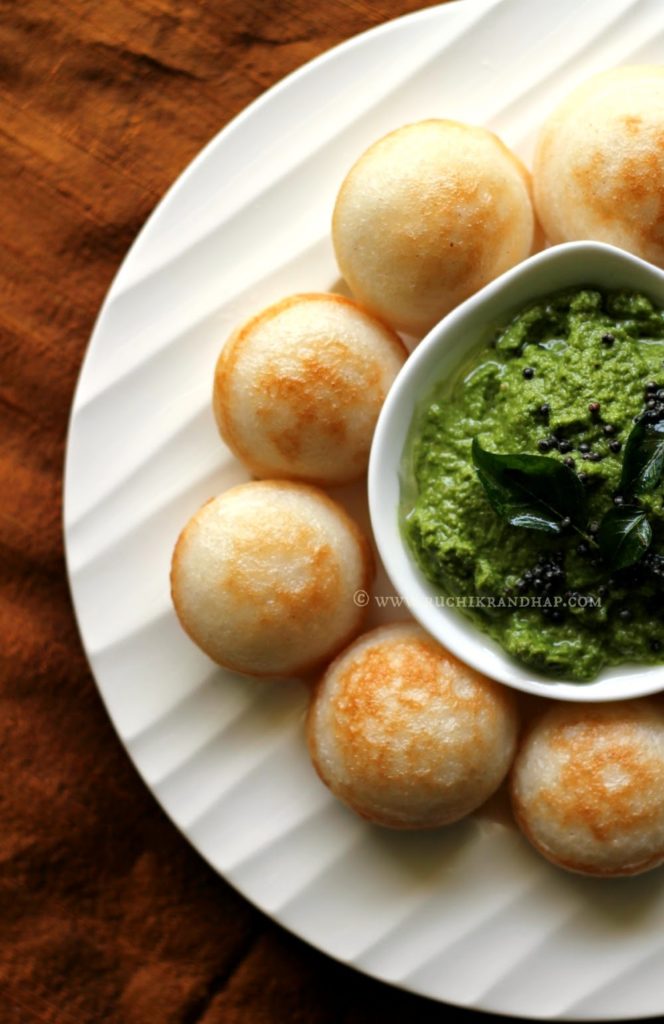 And hey, if you have tried and liked any recipe from my blog please give me a shout! Drop me a line at
[email protected]
or simply click a picture from your mobile before you gobble up the food and send it to me. I will post it in the folder for tried & tested recipes on my
Facebook page
. So far I have uploaded the pictures sent in to me by many readers in these albums here. Do spare a moment to go through them – you don't need to have a Facebook ID for that!
And yes, it encourages me a lot when you try out my recipes, write to me or send me the pictures. It boosts my spirit even more when you share my recipes with your friends, so if you have a Facebook account, do join me there – its a sure shot way to make sure that you don't miss a single post!
I Made This!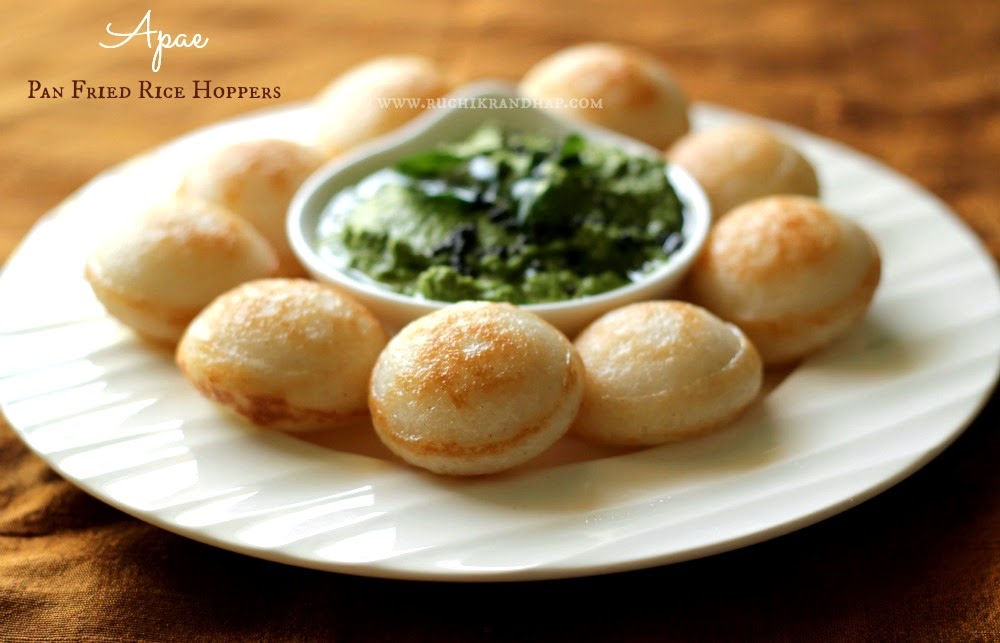 Apae / Appe / Paniyaram (Pan Fried Plain Rice Hoppers)
Prep time: 3 hours (soaking time) + 2 hours (fermenting time) | Cooking time: 15 mins | Yield: 21-25 apae
Ingredients:
1 cup boiled rice (ukda chawal/ukdo/katsambar)
1/2 cup raw rice
3 tablespoons coconut milk powder (or approx 1/2-3/4th cup thick coconut milk)
2 tablespoons sugar (adjust to taste)
salt to taste
To activate the yeast:
1 teaspoon active dried yeast
1 teaspoon sugar (to activate the yeast)
1 tablespoon warm water
Method:
1. Wash the two types of rice separately till the water runs clear and soak them (separately) in plenty of water for 3-4 hours.
2. Drain the water and grind the rice along with the coconut milk powder and a little water till you get a fine paste.
3. Transfer into a large deep pan that should be big enough to accommodate batter that has almost tripled in volume.
4. To activate the yeast place all the ingredients mentioned under 'To activate the yeast' in a small bowl. Stir the contents gently and leave the bowl undisturbed for 10 minutes. The yeast gets activated and mixture will turn frothy (foamy) and cloudy. * see notes
5. Add the yeast mixture to the batter, the sugar and salt to taste and give the batter a quick good mix.
6. Cover the mouth of the pan with a thin muslin cloth and keep it to ferment in a warm spot of your kitchen, undisturbed.
7. Depending on the quality/brand of yeast used and the weather it could take anywhere between 1-1/2 hours to 2 hours for the batter to ferment and almost triple in volume. Take care not to shake the vessel or place it on the kitchen counter with a thud. This can cause the air bubbles to escape and the batter will 'fall' or reduce/turn flat.
8. To fry the hoppers you can either use a traditional appe kail or paniyaram kadai as it is called in India or an aebleskiver pan. Just heat it and put a drop of oil in each of the slots. Pour about 1 tablespoon of batter or fill it upto 2/3rds with the batter.
9. Cover the pan and cook on a low heat for about a minute. Using the sharp wooden tong that comes with the pan, lift a hopper and check if the base has turned a golden brown. If yes, flip all of them over to be cooked on the other side, if not, cover and cook for another half a minute.
10. Once done, remove and continue the process till all the batter has been used up.
11. Serve hot with chutney or sambhar.
Notes:
It is always recommended to use good quality and fresh (new packaging) of yeast. When you activate the yeast if there are no signs of froth then the yeast is no good – discard it.