In the recent times I have come across many people who have special dietary needs. A lot of people I know are gluten, dairy or lentil free. Sometimes, they are off all products that fall in these categories. It becomes especially hard during the festive season when one sees so many goodies around and not much to nibble on, it can be really hard. I have been in tune with these special needs as I belong to a family that is filled with people who cannot eat one thing or the other, either during to severe intolerance or allergy to one or more food category and hence menu planning is always done with the utmost care at my place.
When I came across this recipe recently I took a picture of it and bookmarked it to be tried out soon. This recipe is perfect for those who are only gluten free as the cake contains almonds (nuts), eggs (dairy), cream (dairy) and chocolate (dairy)
This cake is so delicious that it will definitely sparkle on your festive menu. My friends who tasted it said it was really very rich! Use the best quality dark chocolate you can afford to make this cake a real winner. Then just sit back and wait for the compliments to pour in! Who says you can't have the cake and eat it too?
So here's presenting the prune and chocolate dessert cake, the new definition for festive decadence!
New here? Subscribe to my free newsletters with my latest recipes!
If you give this recipe a try do leave a comment on this post down below and don't forget to give it a star rating! It will really help more readers discover my recipes! Don't forget to check out my latest videos on my YouTube channel. If you like what you see, do give me a thumbs-up (like), share & comment and subscribe to my channel so that the gods of YouTube (a.k.a algorithms) recommend my channel to a wider audience with similar tastes and more & more people can discover my videos!
And while you're here, do follow me on Instagram, Pinterest,  Facebook and Twitter. If you'd like to say hello or have detailed queries do send an email at [email protected]. I'd love to hear from you!
Click the image below to save this recipe on Pinterest!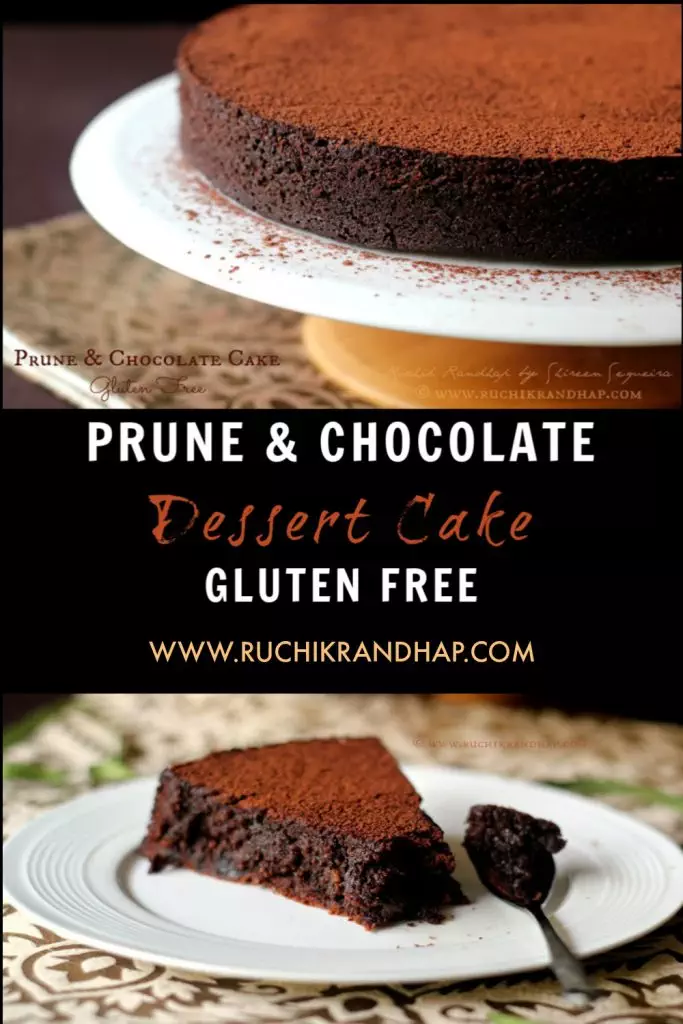 Pin
Prune and Chocolate Dessert Cake ~ Gluten Free
A very deliciously decadent gluten free dessert cake that is sure to win many hearts. Rich and apt as an exquisite ending to a meal
Keyword:
Prune & Chocolate Dessert Cake
Ingredients
100

(3-1/2 oz) grams seedless prunes, finely chopped

100

ml

(3-1/2 fl oz) brandy or tea * see notes

100

grams

(3-1/2 oz) ground almonds (almond powder)

125

grams

(4-1/2 oz) unsalted butter

150

grams

(5-1/2 oz) caster sugar * see notes

250

grams

(9 oz) good quality dark chocolate, chopped

3

eggs, separated * see notes

pinch

of salt

cocoa powder, sifted, to dust

whipped cream to serve (optional)
Instructions
Soak the finely chopped prunes in the brandy or tea overnight. The longer you soak the stronger the flavours. Alternatively, if you don't have time to soak, just heat the brandy or tea lightly and cook the prunes in it for a few minutes or until the prunes have absorbed most of the liquid. Cool completely.

When you are ready to bake, grease a 9" springform pan and line the base with baking parchment. Alternatively you may use a regular tin of the same size but make sure it is greased and lined with parchment completely (base and sides as well) - this is because the cake is delicate and can crumble easily when you try to remove it. Preheat oven to 180 C

Place the chocolate and butter in a heatproof bowl and place it over a small saucepan of simmering water taking care to see that the water does not touch the base of the bowl. Stir to melt completely and then let the mixture cool.

In a large bowl beat the egg yolks and the sugar till well blended. Add the cooled chocolate mixture, the almond powder, the prunes and its soaking liquid to it and mix well.

Beat the egg whites with the pinch of salt till soft peaks appear. Add this to the chocolate mixture, 2-3 tablespoons at a time and fold (not beat) gently into the mixture till everything is mixed.

Pour the mixture into the prepared tin, smoothen the surface using a spatula and bake for 40-45 minutes or till the surface appears springy. The skewer or toothpick inserted may not come out completely clean as the cake is meant to be extremely soft and moist inside

Remove from the oven and leave the cake to cool in its tin for a while, then turn it onto a wire rack to cool

To serve, invert it upside down onto a cake stand/serving plate for a smoother finish to the top. Dust with cocoa powder and serve with cream
Recipe Notes
1. If you are soaking the prunes in tea then just brew some tea powder (approx 1/2-3/3th teaspoon) in 1/2 cup of water. Strain off the tea leaves before using. Do not add milk. You can substitute the brandy with rum.
2. If you don't have caster sugar just measure out 150 gms of regular, granulated sugar and then powder it in a grinder.
3. Make sure that you don't get any yolk into the egg whites while separating them. This is essential to get the egg whites to form soft peaks