Today's bread is native to Spain and has an interesting history behind it. Hornazo, comes from the word 'horno' which means oven. It is a traditional bread, more like a meat pie is made and eaten after Easter in Salamanca, a province in Spain. It is made with flour and yeast and is stuffed with pork loin (bacon), chorizo (pork sausages) and hard boiled eggs. This bread is made and eaten on the monday after Easter and not on Easter day.
The Hornazo De Salamanca dates back to the reign of King Felipe II ( 1540s – 1598 ) where he had ordered the prostitutes of Mancebia of the city of Salamanca to leave the city for Lent to make sure that the men of the land had no distractions during the Holy Season. However, Padre De Putas, a very caring, generous man would ensure that when the ladies returned to the city after Easter they were given a portion of home baked warm Hornazo, on Lunes de Aguas ( Mondays of Water ) festival. The name of this festival is supposedly an adaptation of the word 'enagua' or petticoat, which the prostitutes of the town used to wear beneath their dresses. This tradition is still celebrated in the province of Salamanca.
While searching the net, I found different variations of the same bread where in some recipes the eggs were simply placed beneath the shaped dough with a cross made out of pastry dough placed on top. At the very last minute I switched the recipe and quickly browsed through videos on Youtube to get a fair idea of how the Hornazo actually looked. I saw beautiful breads with lattice on top, a technique I was not able to figure out or perfect at the last minute and so I simply made a criss cross pattern on top of the bread.
I was very pleased with the outcome of my experiment. I had never baked a bread that looked or tasted so lovely before. I know that this is not the best looking bread, but to me it was a feat accomplished. A few months ago I never imagined that I would venture out into baking breads. For this, I am truly grateful to be a part of this lovely group of bread bakers!
The Hornazo is one bread that I will bake again as it has my favourite fillings – chorizo, bacon and eggs – I mean who won't love it? When eaten warm it can take you straight to heaven! Bliss! Truly!
The best part about this bread is that it is a complete meal by itself thanks to such a lovely variety of fillings. You can serve it as a snack or eat it for breakfast (which is what we did for the next couple of days as it was just the husband and I who ate it – the kids didn't enjoy the chorizo as expected). Do try and use the best quality and your favourite kind of sausages – the success of this bread depends on its fillings. Having said that, you don't need to stick to the fillings as suggested. If you like, use some leftover cooked mince (keema) or salami or cocktail sausages or just about any filling of your choice. This bread will not fail you no matter what the stuffing!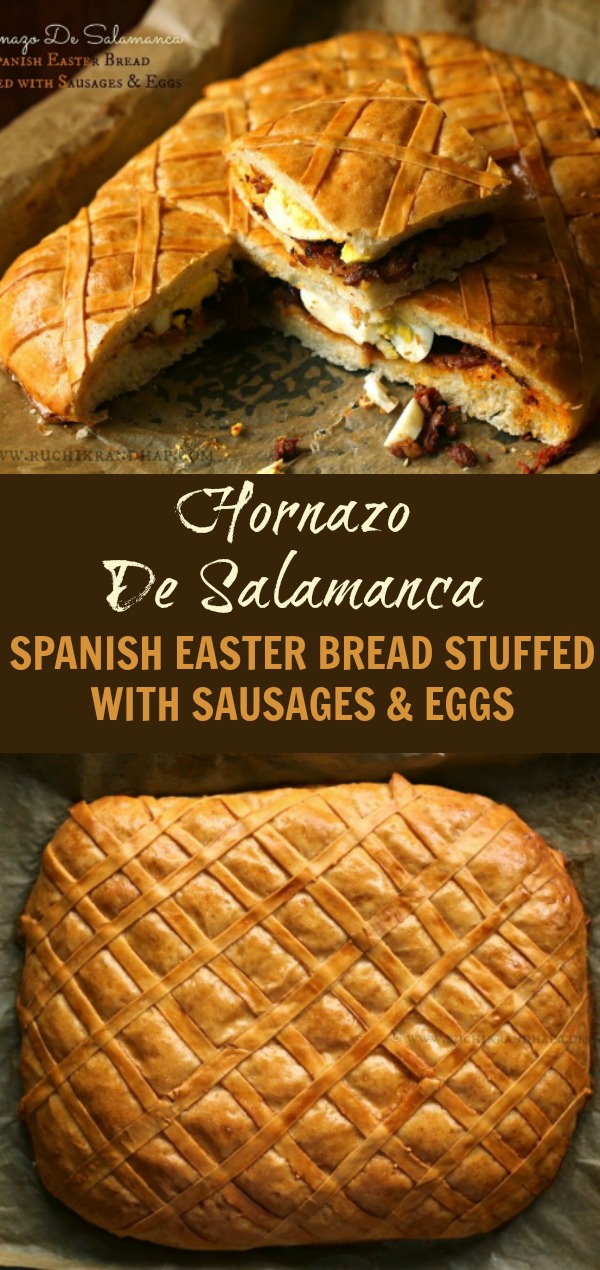 Hornazo De Salamanca ~ Spanish Easter Bread Stuffed with Sausages & Eggs
Prep time: 3 hours (incl proofing time) | Bake time: 30 mins | Yield: 1 large loaf / 9 single servings
Ingredients:
For the bread:
1-1/4 cups lukewarm water
2-1/4 teaspoons (7 grams) instant yeast
1/4 teaspoon sugar
3-1/4 cups (380 grams) all-purpose flour (maida)
1-1/2 teaspoons coarse sea salt (substitute with 1 teaspoon of regular table salt)
For the stuffing:
2 tablespoons oil
200 grams bacon
200 grams chorizo (I used 2 links of Goan chorizo) * see notes
2 hard boiled eggs * see notes
For the egg wash:
1 egg, lightly beaten
1 tablespoon water
Method:
1. Mix 1/4 cup of the lukewarm water with the yeast and the sugar and leave it in a warm place till it froths, for about 10 minutes. If the mixture has not frothed, discard it and repeat the process with some new/good quality yeast.
2. Mix the flour and salt in a large bowl and when the yeast is ready, add it to the flour. Add the rest of the warm water in parts and mix everything till combined – the dough will be very sticky. Turn it out on a well floured surface and knead/stretch using the heel of your palm for about 10 minutes till the dough is nice and smooth.
3. Place the dough in a well greased bowl and turn it over a couple of times till covered in oil completely. Cover the bowl with a towel and keep it in a warm place until it doubles in volume – It took me about 2 hours for the dough to double.
3. In the meanwhile prepare the stuffing. In a non stick skillet saute the bacon first till golden on both sides, remove onto a plate – and reserve the fat that gets released from the bacon. Next, saute the chorizo in the same fat till golden and remove. Once cool, cut the chorizo into 1-1/2 cm slices. Hard boil the eggs and once they cool completely, cut them into thin slices.
4. Once the dough has doubled in volume cut out a strip of dough to be used for the lattice (criss cross strips on top of the bread) and divide the rest of the dough into two equal parts using a knife or a dough scraper. Punch down each part lightly to release the air trapped during the rising period.
5. Take one portion of the dough and roll it into a rectangle of approx 20cm x 30cm and place it on a baking tray lined with parchment.
6. Brush the reserved bacon fat over the surface and place the fried bacon slices leaving a 2 cm gap on all sides. Next, place the chorizo slices and finally the sliced hard boiled eggs.
7. Cover it with the remaining dough that has been rolled out into the same size. Lightly pinch the edges to seal properly.
8. Now roll out the reserved strip of dough into a rectangle and cut out thin strips out of it and place them in a criss cross manner over the hornazo. Cover with a cloth and leave it for another 30-35 minutes till it rises in volume
9. Preheat oven to 200 degrees C and brush the hornazo lightly with the prepared egg wash and bake for 30-35 mins or until golden on top. The bread is done if it sounds hollow when tapped lightly on the surface.
10. Remove, cool completely before you slice it (or it will crumble). The bread will seem very hard from the outside but once it cools down it will be nice and spongy inside with a slightly hard crust.
Notes:
1. You can use any kind of chorizo (pork sausages) for this recipe. I just used the Goan ones as I had some. In Dubai you can find chorizo at Waitrose Supermarket (Dubai Mall), Spinneys and West Zone Supermarket
2. You can make this bread all year round with any stuffing of your choice – minced meat, salami, cocktail sausages, scrambled eggs – you don't have to stick to pork sausages.
3. To hard boil eggs just place them in a pan wide enough to comfortably accommodate them (without dashing each other). Add enough water to cover them and bring it to a boil. Let the eggs cook for 12 minutes in the boiling water, then remove them and place in a bowl of room temperature until cool enough to handle. Shell them and use as required.
Recipe adapted from weareneverfull
#BreadBakers is a group of bread loving bakers who get together once a month to bake bread with a common ingredient or theme. You can see all our of lovely bread by following our
Pinterest board
right here.
Links are also updated after each event on the
BreadBakers home page
.We take turns hosting each month and choosing the theme/ingredient. This month Camilla at
Culinary Adventures with Camilla
has chosen breads from around the world that are traditional for Easter, Passover or Springtime.If you are a food blogger and would like to join us, just send an email with your blog URL to Stacy at
[email protected]
.
Here's our International Easter/Passover/Spring Bread Basket, in alphabetical order…