I was not a jam & jelly kind of a person. Until now. Well, I took up the challenge on Mumbai Food Bloggers' forum on Facebook that revolves around creating a dish with the fruit, vegetable or ingredient of the week. And hence my hunt began for figs, that are in season now. Although I sent hubby to look for them all over the place the week before last, we eventually found them in Hypercity Malad, our well stocked supermarket, and I couldn't wait to try my hand at making my own home made jam!
When I was little the only jam I knew was the mixed fruit jam by Kissan – the quintessential Indian brand for jams & tomato ketchup. We used to buy it occasionally and slather it generously on buttered bread slices for our Sunday breakfast – breakfast on Sundays was always bread, butter, jam & a Cavendish banana. The kind of 'light' breakfast that used to make my head go dizzy in exactly one hour – yes, somewhere in the middle of the Sunday morning mass that I used to attend. Being a hearty breakfast kind of a person, this 'light' breakfast used to vanish before I took my last bite. The hunger pangs would then send signals to my brains and I used to only picture all kinds of delicious things that my mum had set out to prepare for the Sunday afternoon meal and actually pounce on the food the moment the table was laid without even as much waiting to say the grace before meals.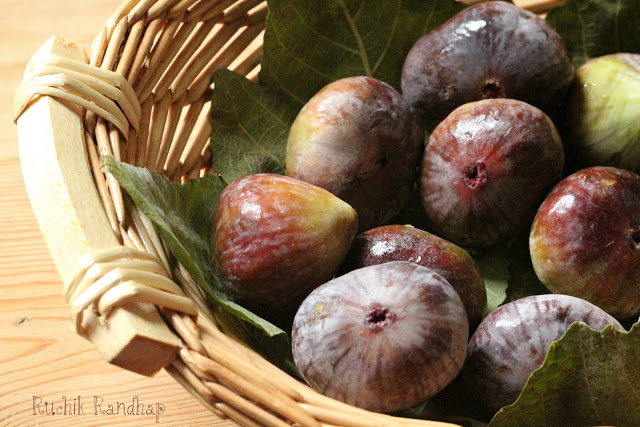 Well, I simply abandoned the Kissan jam when my cousin from abroad (who was exposed to all kinds of organic jams) told me that most Indian jams were loaded with artificial/synthetic flavours & colours. This was decades ago – before 'organic' became popular even in a place like Mangalore where half the produce was grown at home and was organic anyway. Then came the weight loss era and so once again anything sweet for breakfast (or any meal) was a big no no. Last year I did attempt making Strawberry jam, however, it was done so dispassionately, that I don't think it had any takers and luckily it was a small batch so down the drain it went eventually.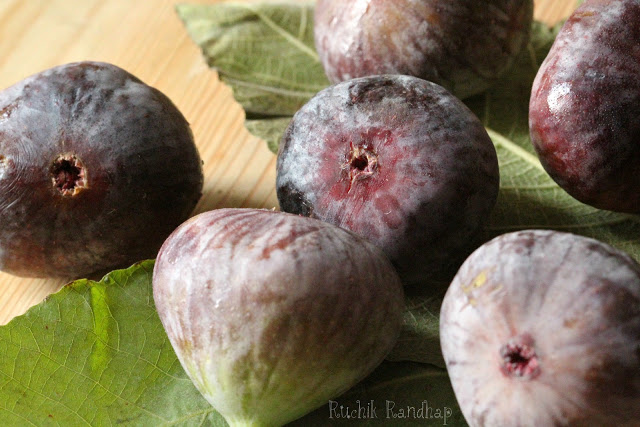 In 2011 I tried my hand successfully at making wines and I thought it was a good start to try my hand at other kinds of preserves – jams & pickles as well. So luckily for me, this challenge was announced and I am glad I made this jam although a very small batch. I managed to get 600gm of fresh figs that were in good condition. If you wish to make a small batch for yourself (and not to distribute) anything between 500gm-700gm of figs is good to go (unless you plan to eat this seasonal fruit the whole year through). If you have never bought fresh figs before (like me) – remember to pick those that are not pre-packed & sealed (especially in supermarkets in India) – you may get cheated (like me). Clever packing techniques ensure that bad fruit is placed at the bottom of the box and the good ones facing up. You will be in no position to check if each fruit is perfectly ripe and firm. Some of them will be on the verge of rotting. It is better to buy from a known source especially your local fruit vendor who stocks up the best produce.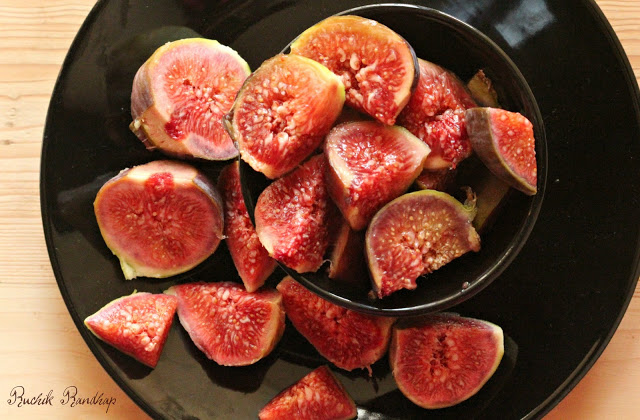 Figs, known as Anjeer in India range in colour from purple-black (which is what I bought) to pale green. When buying look for slightly yielding flesh as figs don't ripen after picking so buy them ready to eat. Figs go well with sweet and savoury dishes and you can find some yummy and exotic yet simple to make recipes in this month's (Jan '12) BBC GoodFood magazine.
Figs by the way are one of the oldest fruits – references to the fig tree are made in the Bible as well. The reason why I have named this recipe as a Fresh Fig Jam is because 'Figs' often invoke the picture of dried figs that are very popular. However, this jam is made from the fresh fruit.
By the way, this time I think I should shut up and let the pictures do the talking. The first one below is my favourite. I have got a million shots of this one. Figs coated in granulated white sugar. Every time I see it a  sense of calm descends over me. I can stare at this picture forever! Pink, white and traces of green – such beautiful colours of life in full bloom. For all those of you who are living in places where the weather is bleak & dreary, I hope these pictures brighten up your mood a bit!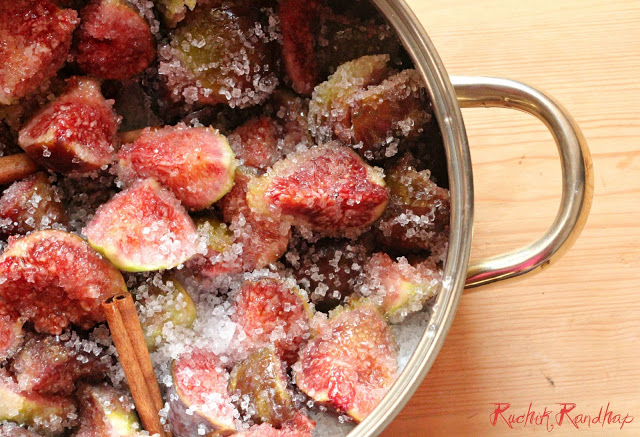 (Above Pic: Figs quartered and mixed with granulated sugar and a cinnamon quill)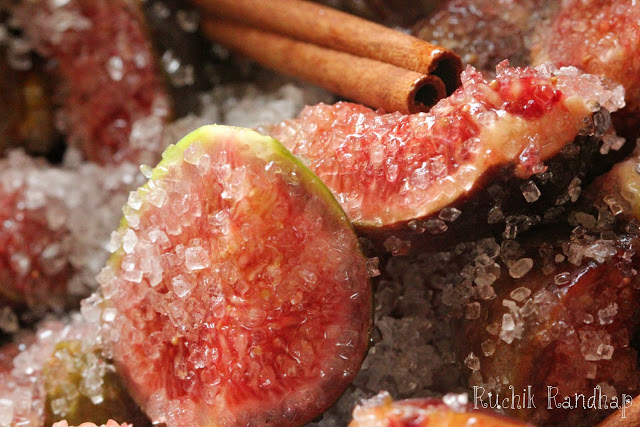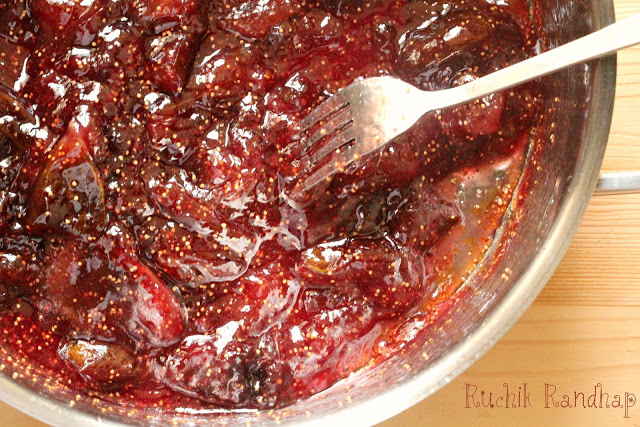 (Above Pic: Figs gently stewed on a slow fire for 45 minutes and then mashed with a fork)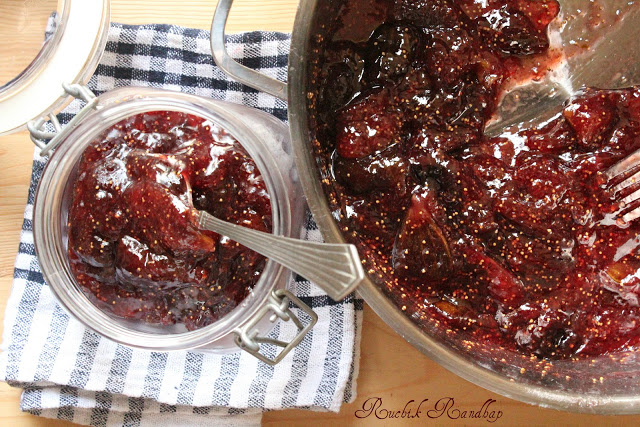 (Above Pic: Fig jam, cooled and packed into a sterilized jar)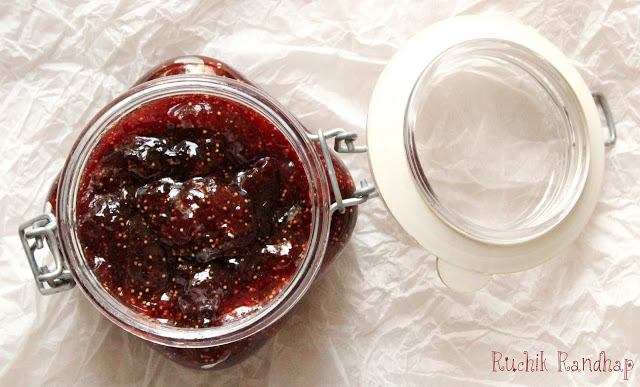 Pin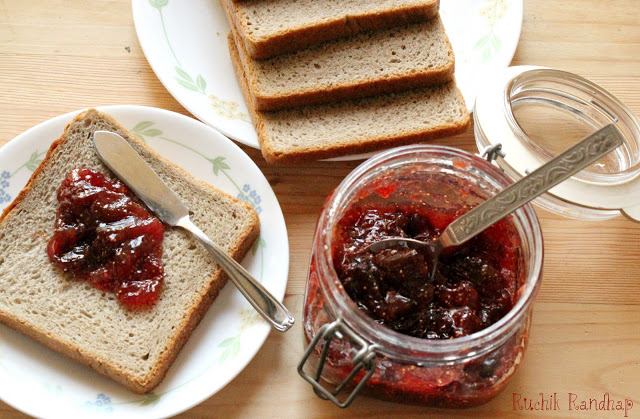 Pin
Fresh Fig Jam
Easy jam made from fresh figs stewed gently with sugar and a stick of cinnamon makes for a wonderful gift or something to have along with your English breakfast!
Print
Rate
Ingredients
500

gm fresh figs

200-250

gms sugar

juice of 1/2 lime

1/2

cinnamon quill/stick

optional
Instructions
Remove the stems of the figs, wash & drain them. Cut into quarters or chop them up if you want jam in a paste like consistency (I prefer a junky jam so I quartered each of them)

Ideally after de-stemming the figs you can weigh them again & use sugar which is half the weight of the figs - this is for a mild to moderately sweet jam. If you wish to make a very sweet jam you can use figs and sugar in the ratio of 1:1

Place the figs, sugar and cinnamon quill in a wide bowl & mix the ingredients well. Cover and keep refrigerated overnight.

The next day, heat a heavy bottomed pan on a slow fire and add the fig & sugar mixture. Add the lime juice and let it cook for approx 35-40mins - the sugar will thicken while the figs get stewed. Ensure that the mixture does not stick to the bottom of the pan. Stir every now & then. Crush the figs gently using a fork.

Towards the end of the cooking time you can do a 'gel' test by placing a little jam on a metal spoon that has been dipped in ice cold water. Allow the mixture to cool and check the consistency desired. When a good gel stage is reached, the surface of the fruit mixture will wrinkle slightly when pushed with a finger

Turn off the flame and spoon the mixture into sterilized jars when the mixture is still hot (once the mixture cools it will get sticky and it will be hard to handle). Leave the jar lids open until the mixture has cooled. Close the lids and store in a cool place.

Enjoy the jam with some warm bread & butter!
Disclaimer
The nutritional values are only indicative.
Tried this recipe?
Please leave a comment & rate the recipe below or share a photo on Instagram and tag me @ruchikrandhap