Seafood is a significant part of our meals in Mangalore and cutlets are something I've always grown up eating, especially during parties and such. While most people in Mangalore have the pleasure of eating regular sea food in many interestig ways (prawn pulao if you please?) than just in curries or fried form, I never had such luck thanks to my prawn and crab allergy, so I have always loved the option of fish cutlets that many of my aunts used to prepare. 
I've been meaning to try out fish cutlets for a long time, but was worried if they would turn out alright. I was very pleased at the outcome and I think you should give it a try too! 
Also, read all about Mangalorean Catholic cuisine – what our everyday meals are like, how we celebrate with food during special occasions, parties and weddings and much more on  Sailu's Kitchen in the last & final part of my article on her lovely blog.
Fish Cutlets
Prep time: 30mins | Cooking time: 10mins | Yield 13-14 medium
sized cutlets
You Need:
500gm boneless fish (Ghol or Shark)
2 tsp cumin/jeera powder
1-1/2 tsp pepper powder
1/2 tsp turmeric powder
2 tsp lime juice
1 tsp (or to taste) salt
1/2 cup water
1 large slice of bread
2 egg whites beaten – for coating
oil for shallow frying
To be finely minced
2 medium sized onions
2-3 small green chillies (or to taste)
1-1/2 inch ginger
1/2 packed cup of coriander & mint leaves
(use less of mint)
Method:
1. Wash the fish pieces with salt & turmeric (to remove the
fishy smell) and allow to drain on a colander. Marinate it with 1 tsp cumin
powder, 1 tsp pepper powder, 1/2 tsp turmeric powder, salt & 1 tsp lime
juice. Keep aside for 15-20mins.
2. Finely mince each of the ingredients mentioned under 'To be
finely minced'. Heat oil in a non stick pan and fry the ginger, green chillies
for a couple of seconds and then add the minced onions and fry till they turn
pinkish. Add the minced coriander and mint leaves and fry till you get a nice
aroma (takes about 12-15 seconds). Toss in the remaining cumin & pepper
powders and lime juice, stir and turn off the flame. Allow this mixture to
cool.
3. Boil/cook the marinated fish pieces with 1/2 cup of water till
the pieces are tender and almost all the water has been absorbed/evaporated – a
little moisture should be retained. Let the fish not get too dry or else it
will lose its juiciness and flavour. Remove onto a plate, allow to cool and
mince it finely and evenly (for best results pulse it in a food processor/mixer
grinder with a mincing blade).
4. Transfer the minced fish in a large bowl, add the fried onion
mixture and mix well. Adjust salt to taste. Try to shape the mixture into balls
– if they don't hold shape, then wet the bread slice lightly (with about 1tbsp
water), mash it & add it to this mixture. Form a lemon sized ball and
flatten it in the centre of your palm. Continue to make balls until the mixture
is used up.
5. Heat oil in a non stick frying pan, gently dip/coat each
cutlet in the egg whites and fry the cutlets on a medium flame till golden
brown on both sides.
6. Serve hot as a meal time accompaniment or as a starter along
with ketchup or dip of your choice and a garnish of tomato wedges, onion rings
and lime slices.
Notes:
1. First timers please note: Do ensure that you check for bones
after step#3 even if you have purchased boneless fish. Tiny pieces of broken
fish if present can get stuck in the throat while you eat them – totally
avoidable!!
2. If you are using frozen fish make sure it is properly thawed at
room temperature or it will leave fishy smelling water into the mixture making
it soggy and unsuitable for shaping up into cutlets.
3. If you are adding more than 1 slice of bread, adjust the spice
and salt accordingly.
Don't miss a post! Join me on my Facebook page today!
Indian Food Trail – Mangalorean Cuisine (Part 1)
Indian Food Trail – Mangalorean Cuisine (Part 2)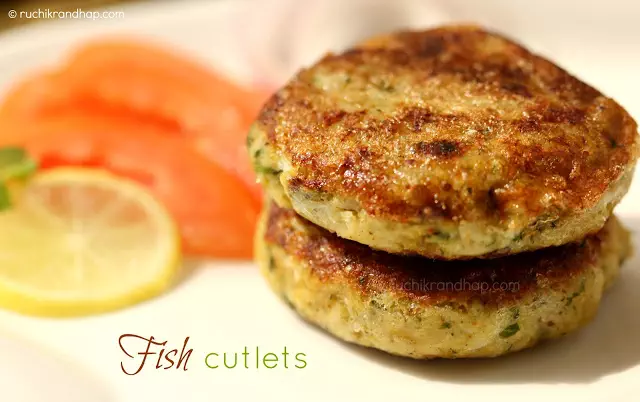 Pin