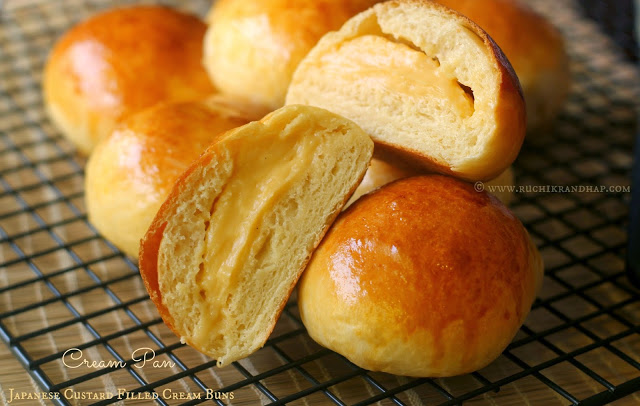 Folks, I am back with another delicious bread this month!
This month's host is Jenni of
Pastry Chef Online
who chose 'stuffed breads' as the theme and I was absolutely thrilled. Imagine all the delicious stuffed breads that I was going to discover! Everyone was just as excited as I was on our baking group. For the past two themes I had chosen to make savoury breads and so I decided to make another savoury bread for this month too! When I was flipping through the Bread Bible, I came across a mouthwatering bread from Japan called the Kare-Pan or the Curry Pan (where 'pan' stands for bread in Japanese and Kare or Curry is just that – a thick curry filling). The bread in question was oval shaped (pretty much like the Totapuri mango), was rolled in Panko breadcrumbs before being deep fried (or baked). I was actually salivating at the thought of eating fresh Kare Pan but to my bad luck when I finally found a recipe I realised that I may have to run from pillar to post to find the ingredients, although I am pretty sure that some well stocked supermarket would have them. However, since I like making stuff that calls for easily available ingredients I didn't want to go ahead with this bread and make my readers in India face the problem of sourcing expensive ingredients that perhaps would not have a repeat use. I kissed the dream of eating Kare-Pan goodbye and proceeded to flip through the book some more. Thankfully, the Japanese have been generous with their variety of confections and it so turned out that the Cream Pan is a pretty popular and much loved snack. There was no way I was going to miss making these!
While looking for recipes online I came across plenty of them – they all looked so good and the reviews of those who had tried them out was even better. However, there was one recipe that called for using the dough of the Japanese milk bread to make these buns. The milk bread dough essentially makes use of a water roux or a kind of a 'dough starter' called as the 'Tangzhong' which gives the bread its soft texture (ultra soft actually) and also keeps it fresh for longer. Now this bread would have been a breeze if I had paid more attention to the fine details (and comments) in the recipe. I ended up trying this bread twice and learnt plenty from my mistakes.
Attempt#1
Since I was excited to try something new in my baking expedition I went ahead with the process without having read all the comments. To my horror the dough turned out to be extremely sticky. It was maddening! I panicked and added some extra flour to the dough. Realising that the dough was not going to co operate at any given point I added all the flour I had and reached out for some whole wheat flour too as I ran out of the all purpose flour. Somehow after a lot of effort the dough came together and I proceeded with the recipe. These buns were delicious despite the fact that they didn't turn out ultra soft (thanks to the excess flour I had added) and the taste was largely of the whole wheat that I had added over and above the extra flour. My neighbour Mitchelle who is my baking buddy loved them too but there was no way I could post an incorrect recipe on the blog could I?
I decided to make these buns again the next day. I was well prepared this time. Experience is a great teacher and I knew exactly the kind of mistakes I should be avoiding. The previous night while I tossed and turned in bed I ran the entire process in my mind and made a mental notes of how I would proceed (yeah, I am crazy that way! I can eat, sleep and dream breads now!). Honestly, I couldn't wait for the next day to dawn so that I could start baking these buns again.
Attempt#2
The second time around was a breeze. I worked on auto pilot and the bread is what you see in the pictures. I was patient and kind to the dough and kneaded it for a full 10 minutes without stopping until what I had was a smooth, soft dough with a window pane effect (which is what you get when you stretch it a bit and hold it against the light and see the light pass through)
I couldn't wait for the buns to come out of the oven so that I could finish the photo shoot in the evening sun and sink my teeth into these gorgeous babies. One bite and I was in heaven! The bread was so soft, so melt in the mouth and the filling was delicious! If you like custard then this bread is for you!
My little baby girl was most delighted that I made these buns two days in a row. She ate the maximum number of buns and thoroughly enjoyed them. She has a sweet tooth I can tell, contrary to the older fellow who twitched his nose and said that he didn't like sweet breads. He was only excited about drawing the flag of Japan and helping adorn my photoshoot. The oriental paper fan and the flag were placed by him at the last minute.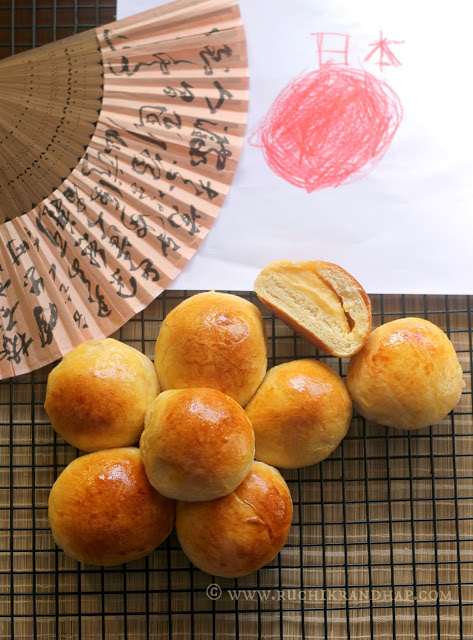 Making Pav
Since these buns were such a hit I decided to use the same dough to make pav for dinner when we had guests a couple of weeks ago. This time around, I decided to revive my half sleeping Kenwood food processor which I have never used much – my excuse? The mixing bowl is too big for small quantities of cake batter. The good news is that the processor came with a dough hook that I never put to use and since I knew this recipe like the back of my hand I was sorted. The pav turned out deliciously soft – mind blowing actually. My guests were bowled over! I am definitely making them again – perhaps make the dough in bulk and freeze it until required.
You should definitely make these too but remember that patience is a virtue and you will be richly and deliciously rewarded for it! If I can do it, so can you! Just remember to read all the instructions twice before proceeding! And yes, if you have a bread machine or a food processor with a dough hook attachment, use that! If you can make your life easier, why not?
New here? Subscribe to my free newsletters with my latest recipes!
If you give this recipe a try do leave a comment on this post down below and don't forget to give it a star rating! It will really help more readers discover my recipes! Don't forget to check out my latest videos on my YouTube channel. If you like what you see, do give me a thumbs-up (like), share & comment and subscribe to my channel so that the gods of YouTube (a.k.a algorithms) recommend my channel to a wider audience with similar tastes and more & more people can discover my videos!
And while you're here, do follow me on Instagram, Pinterest, Facebook and Twitter. If you'd like to say hello or have detailed queries do send an email at [email protected]. I'd love to hear from you!
Recipe for the dough adapted from food.com and recipe for the custard adapted from 350degreeoven.com
Cream Pan | Japanese Custard Filled Cream Buns
This beautifully soft & melt in the mouth Japanese style bun with a delicious custard filling. A must make for everyone with a sweet tooth. You won't regret it!
Print
Pin
Rate
Ingredients
For the dough
2-1/2

cups

(300 grams) bread flour (or all purpose flour/maida)

2

teaspoon

instant yeast

4

tablespoons

60 grams caster sugar

3

tablespoons

45 grams butter

1/2

teaspoon

salt

4

teaspoons

(7 grams) milk powder

1

egg, lightly beaten

1/2

cup

(125ml) milk
For the tangzhong
2

tablespoons+2 teaspoon

(25 grams) bread flour (or all purpose flour/maida)

1/2

cup

(125ml) water
For the custard filling
1-3/4

cups

milk

4

tablespoons

(60 grams) unsalted butter

4

egg yolks

1/2

cup

caster sugar

5

tablespoons

(40 grams) flour

2

tablespoons

(15 grams) cornstarch (cornflour)

1/2

teaspoon

salt

2

teaspoons

vanilla extract or vanilla bean paste
For the egg wash
1

egg yolk beaten with 1 tablespoon water
Instructions
Make the custard
Make the custard first as you need to chill it till it turns firm and easy to scoop. This could take at least 3 hours. By the time your dough is ready to be shaped, your custard will be too.

Place the butter and the milk in a microwave safe bowl and heat it for 1-2 minutes or until the butter is melted completely.

In another bowl beat the egg yolk lightly and add the flour, cornstarch, sugar and salt to it and whisk till you get a thick crumbly mixture. Add the melted butter+milk mixture little by little and whisk till you get a smooth, thick paste.

Strain this egg+milk mixture into a saucepan (preferably non stick pan) to catch any lumps. Stir with a metal spoon until all the egg bits are smoothened and no lumps remain. Add the vanilla extract to the saucepan and cook it on a medium heat whisking continuously.

The mixture will thicken in a few minutes – do not stop whisking until you see swirl lines appearing over the mixture. Remove from heat and continue whisking for another half a minute.

Allow to cool a bit and then place contents in a box and refrigerate until required.
Make the tangzhong
Gently heat the water for the tangzhong in a small saucepan and sprinkle the flour. On a moderate heat whisk the mixture till it thickens and swirl lines appear. Remove and cool completely. Keep aside until required. This recipe requires 1/2 cup of the tangzhong, refrigerate the excess (if any) for upto 3 days.
Make the dough:
If you have a bread machine, use that (see note#3). Please note that kneading the dough by hand can be extremely messy initially as the dough is very sticky. Do not multitask if you are going to knead by hand.

If you are going to knead by hand:

Place the flour on a clean, large working surface. Add the prepared (and cooled) tangzhong and rub it until the mixture looks like breadcrumbs. Next add the rest of the dry ingredients mentioned under 'For the dough' and mix well. Now add the egg, butter and mix and add the milk in parts until you get a very sticky mixture. Resist the urge to use extra flour. Use a dough scraper to scrape the dough from sticking to the working surface and knead for 10-12 minutes continuously until the dough shapes up. Trust me, it can be very frustrating in the beginning but I promise you that as the gluten develops it will make the mixture less messy/sticky and you will get a nice, smooth dough.

If you are going to use a bread machine: Follow the instructions on the manual of the bread machine

If you are going to use the dough hook of your stand mixer (like KitchenAid/Kenwood): Add all the ingredients (for the dough plus the tangzhong) in one go and start the machine on medium speed – pause at intervals to scrape down the dough using a spatula. Continue for 10 mins or until all the flour/mixture has come together into a smooth dough

You need to knead for a minimum of 8-10 mins or until you get a windowpane effect i.e when you stretch the dough and hold it against the light, the dough should be transparent enough to let the light in. When you have achieved this, the dough is ready for proofing.

Place the dough in a warm spot, covered, till it doubles in volume. This could take about an hour and half. When the dough has doubled, punch it down and leave it to rise for another 30 mins.
Assemble & bake
Line two baking sheets with baking parchment.

Use the dough scraper or a knife to divide the dough into 16 equal parts. Divide the chilled custard cream into 16 equal portions using an ice cream scoop.

Now take a portion of the dough and roll it into a smooth ball and stretch and flatten it slightly, big enough to place the scoop of custard in the middle. You can place the flattened dough over your 1/4 cup measure to make things easy for you.

Now place the custard scoop in the centre of the dough and carefully pull the edges together and seal them.

Place the buns seam side down on the baking sheets and cover with cling film/plastic wrap and allow to rise for another 30-40 mins.

Preheat oven to 175 degrees C and brush the top of the buns with the egg wash.

Bake for approx 12-15 mins or till the buns turn golden on top.

Remove and cool thoroughly. Store in the refrigerator for upto 2 days. Do check for spoilage (as custard may go bad) after 2 days.
Notes
1. Try and make the custard much in advance, perhaps the previous night if you intend making the buns the next morning. It will save you a lot of work and also give the custard enough time to chill and firm up to be scooped up with an ice cream scoop.
2. The longer you cool the tangzhong the better it is for the dough.
3. If you have a stand mixer (like KitchenAid or Kenwood) with a dough hook, use that. Just place all the ingredients in the bowl of the food processor and turn the machine on a slow speed for 10 minutes or till you get a smooth dough. If you have a bread machine, follow the instructions on the manual.
4. If you are hard pressed for time you can make the dough in advance and freeze it. Just thaw it on the counter and allow to rise for at least an hour before you are ready to bake.
Nutrition
Nutrition Facts
Cream Pan | Japanese Custard Filled Cream Buns
Amount per Serving
% Daily Value*
* Percent Daily Values are based on a 2000 calorie diet.
Disclaimer
The nutritional values are only indicative.
Tried this recipe?
Please leave a comment & rate the recipe below or share a photo on Instagram and tag me @ruchikrandhap