It's been a while since I baked and since I have been spending a good deal of time drooling over all the cake recipes that I could possibly find online, I thought that it was time to bake a cake for no real reason of course. I love trying out new recipes. Actually I am extremely passionate about baking cakes and cooking biryanis. Thanks to my diet, I am not able to indulge in either of these sinful goodies. But of course, nothing could stop me from baking it for someone else right? So after having bookmarked this incredibly simple recipe which makes no use of butter or eggs, I set out to bake it last week. I wanted to send over this cake to some dear family friends of ours who are more family than friends actually. I have mentioned about my friend Jen who I met here in Bombay, but feel like we have some deep connection (although I don't believe in the past life funda). She's more than a friend – a lot like an elder sister (and I call her so) and being Mangalorean too, we have plenty to share besides a common language (we speak in Kannada as she is a Mangalorean Protestant). She was the one who introduced me to the art of making Italian at home and is a terrific cook herself. So if you've liked the recipes of some Italian goodies like 
Lasagne
,
Spaghetti & Meatballs
, the Middle Eastern 
Hummus
,  the very English
Simple Chicken Roast
 or a typical Mangalorean
Bella Metthe Dosa,
well, that's all thanks to her. So you see, besides making frantic calls to my mum or jotting down recipes from my MIL, I also get detailed step by step instructions & tips and tricks from Jen when it comes to cooking. I have many lovely recipes from her which are yet to be tried in my kitchen which I hope to share in the days to come.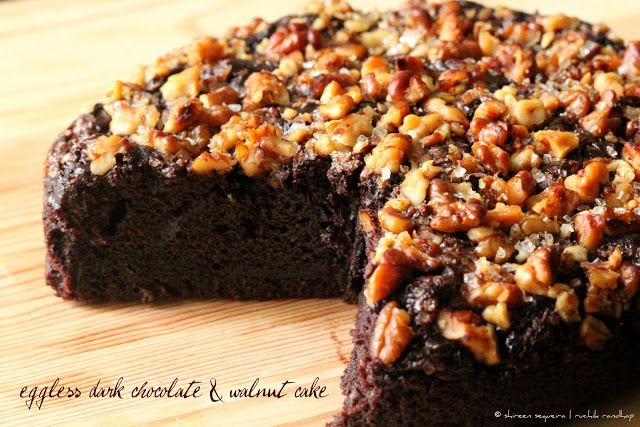 So coming back to this cake, if you have guests coming over for a house party or a birthday party which needs a 'different' kind of a cake or expect guests with special needs (allergic to eggs, on a diet or religious requirements) you can bake this cake as it makes no use of eggs and the best of all is it does not need butter! Finding unsalted butter is a big challenge for me in the area where I live so I totally adore cakes that make use of regular/olive oil.
I know cakes with refined flour (all purpose/maida) are not the best bet from a health point of view and if you are watching your weight, then forget about having cakes with heavy icing – whipped cream & the sort. This nutty cake (unless you are allergic to nuts!) is the best bet for parties where you have a mixed bunch of guests – vegetarians and those with special needs (I remember throwing office parties not so long ago with so much attention being paid to the cakes – eggless and with egg – phew!).
Like I said, I randomly tried this cake and it turned out very delicious. Since Jen's family loves chocolate in any form especially dark chocolate, it was an instant hit in their house. You can use semi sweet or regular cocoa powder while you bake the cake. If you just have dark (more than 75%) cocoa, then increase the sugar by 1/4 cup or just be more generous while you sprinkle the sugar over the walnut crumble. Ideally you can use real vanilla extract (recipe to follow) by using Vanilla beans soaked in Vodka or Rum for at least 2-3 months, but if you don't have that just use synthetic vanilla essence. The original recipe asked for Vanilla Sugar but I did not have any so I used regular granulated sugar + home made Vanilla extract.
 This cake is a perfect tea time cake (because it is delicately sweet) and also a dessert (try serving it warm with some vanilla ice cream!), the toasted walnuts and the sugar give that extra crunch! Try it!!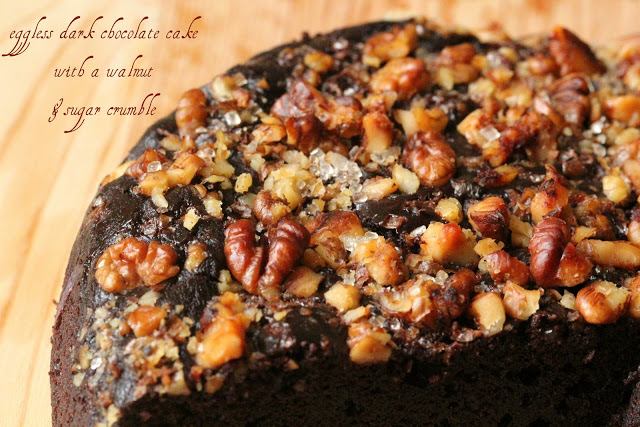 Eggless Dark Chocolate and Walnut Cake
You Need:
1 cup all purpose flour (maida)
1/2 cup cocoa powder (I used Hintz dark cocoa)
1 cup thick yogurt
3/4 cup caster/powdered sugar
1/2 teaspoon baking soda
1-1/4 teaspoons baking powder
1/2 cup odourless oil (I used Borges olive oil)
1 tsp pure vanilla extract/essence
For the crumble
1/2 cup chopped walnut kernels
1-1/2 tablespoons granulated sugar (for the crumble)
1 teaspoon pure vanilla extract/essence
Method:
1. Preheat oven to 200 degree C. Line a 6″ or 7″ round tin with parchment paper.
2. Sift the flour & cocoa powder 2-3 times. Keep aside.
3. Beat the yogurt, sugar and vanilla essence on high speed. Add the baking powder & baking soda and whisk it lightly. Allow to stand for 3 minutes – you will notice that the mixture has turned a little frothy. Add the olive oil and mix well.
4. Add the flour in 3-4 parts mixing until all the flour is well incorporated. The mixture will be rather thick but that's ok. Pour it into the prepared tin. Cover the surface with the chopped walnut kernels and generously sprinkle the granulated sugar and vanilla essence over it.
5. Bake at 200 degree C for 10 minutes and reduce the temperature to 175 degree C and continue to bake for 40 minutes or till the skewer comes out clean.
6. When done, remove and allow to cool for 30 minutes before turning over a wire rack to cool further. Remove the parchment paper carefully and serve.