There's nothing like a peaceful routine – sometimes an uneventful a.k.a 'boring' day is all you need to unwind and smell the flowers and take it easy. Today is one such Sunday. While I am happily posting this recipe, R has taken over the kitchen, making his favourite
Beef Sukka
– love the way he prepares it. Our little one is busy with his crayons and munching his favourite snack whilst listening to his favourite Bollywood tracks on TV – already a multi tasker! After a lazy lunch and a siesta we will go to church in the evening and then head to the mall to pick up our weekly groceries. All in all a family day – doing everything in general but nothing in particular. So much better than the mad rush of a life I had a few years ago when I was working.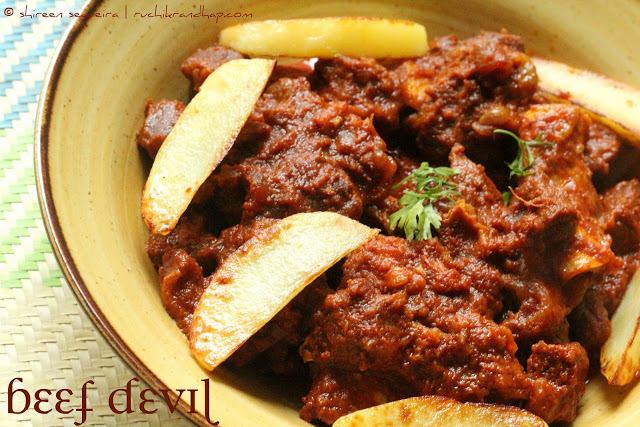 Well, today's recipe is a typical Mangalorean style Beef dish which is originally listed as a Mutton preparation in probably one of Mangalore's oldest and first recipe book authors – Mr. Isidore Coelho who has painstakingly put together over 800 recipes although not restricting to Mangalorean cuisine alone. It is one of the must haves on every housewife's bookshelf and is like a Bible to every novice at cooking. My mum gifted me the English edition of this book lately although she owned the Konkani version for many years. I have tried many a recipe from this book and I'll begin with this recipe which you can make with Mutton or Beef (I made it with Beef).
It's the perfect weekend recipe – a dish you can put together in no time, thanks to the pressure cooker. It tastes awesome when eaten with Chapathis or served with Rice & a simple Dal and some steamed Thel Piao (Mangalorean Oil & Onion stir fry style veggies) on the side. The fried potato wedges are an added attraction to this dish making it a filling meal.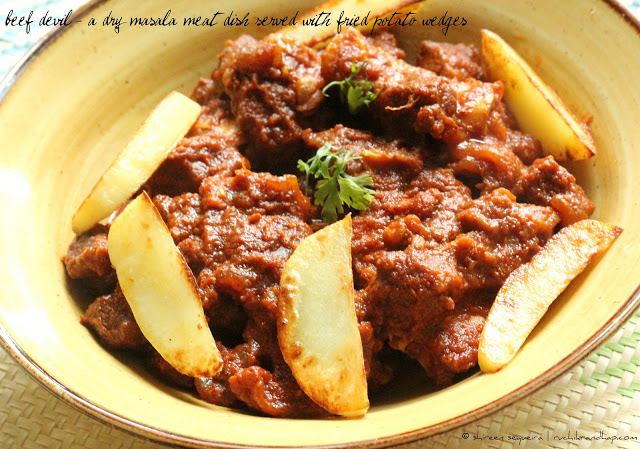 So this recipe is for all my friends who are looking for a typically Mangalorean style red meat recipe and have been a little disappointed to find only vegetarian recipes lately. I hope to clear my backlog of non vegetarian recipes soon especially some fish & chicken recipes. Do watch this space for more!
Beef/Mutton Devil
Adapted from: 'The Chef' By Isidore Coelho


You Need:
750gm beef or mutton
1-2 large potatoes
1 tsp vinegar (optional)
a sprinkling of sugar (about 1/2 – 1 level tsp) (optional)
salt to taste
For the masala
8 long dry red chillies (seeds removed)
8 peppercorns
1 level tsp cumin (jeera)
1/4 tsp turmeric (haldi)
1 inch ginger
6 large cloves of garlic
1 green chilli (increase or skip this according to taste)
1/2 tsp tamarind
10 almonds
20 raisins (kishmish)
2 medium onions
4 cloves
2 inch cinnamon
150gm tomatoes or about 2 medium sized
For frying
1 medium sized onion finely sliced
3 tsp olive oil or ghee (or a blend of both)
Method:
1. Cut the meat into medium size pieces, wash and allow to drain on a colander. Wash and peel the potatoes, cut them into thin wedges, apply some salt to the wedges and keep the vessel a bit slant so that excess water gets drained.
2. Grind these ingredients to a fine paste using a little water – dry red chilli skins, peppercorns, cumin, turmeric, ginger, garlic, green chilli, tamarind, almonds, raisins, onions, cloves and cinnamon. Retain the masala water (from the mixer grinder). Grind the tomatoes separately – keep this purée aside.
3. In a pressure cooker heat some oil or ghee and fry the sliced onion till it turns slightly golden in colour. Add the ground masala and fry for a few minutes and then add the tomato purée, fry a little and add the masala water. Fry on low fire for about 5-7 minutes, stirring every now & then.
4. Add the meat pieces and mix well. Add about 1/4 cup of water if necessary (just about enough to cover the meat or more if you require gravy). Add salt to taste and vinegar if you wish. Mix well
5. Cover the pressure cooker with the lid, place the weight (whistle) and cook on full flame till the first whistle goes off (should take about 7-8 minutes). Reduce the flame completely and cook for a further 13-15 minutes (if you are cooking tender Mutton) or 20-25 minutes (if you are using tender Beef). You may need to cook for an extra 5-7 minutes if the meat is not tender – please use your discretion. Turn off flame and wait for the pressure to get released on its own (whistle becomes loose). Open the lid, mix well.
6. In a frying pan fry the salted potato wedges (see step#1) till they turn just about golden in colour. Fry on both sides and add them to the cooked meat. Garnish with chopped coriander (optional)
7. Serve hot with rice, chapathis or dosas